Last year G2 introduced predictions for 2018's major digital trends, but this year the focus is on trends in specific industries and how digital transformation will affect them in 2019.
This post is one part of G2's 2019 digital trends series. Read more about G2's approach to digital transformation trends in an introduction from Michael Fauscette, G2's chief research officer.
Hospitality Trends in 2019
The hospitality industry, despite being one of the oldest industries, is fully embracing digital transformation. As a consumer, you've likely booked a hotel room online, unknowingly using hotel reservations software. Or perhaps you've checked out of a hotel using your phone or email. It's easier than ever to book a hotel room, check in, and check out; facilitated by technology, the customer's direct access to these services has contributed to the industry's growth.
Since the 2008 recession, hospitality earnings have been steadily growing year over year, with 2017 bringing in $208 billion, nearly $10 billion more than 2016. One cannot overlook the fact that millennials are becoming the demographic with the most purchasing power and that they prioritize spending their money on experiences over objects.
According to the World Travel & Tourism Council, global travel makes up 10.4% of global GDP (contributing $8.27 trillion) and has grown 4.6% in 2017. That's an incredible amount of money being spent on travel.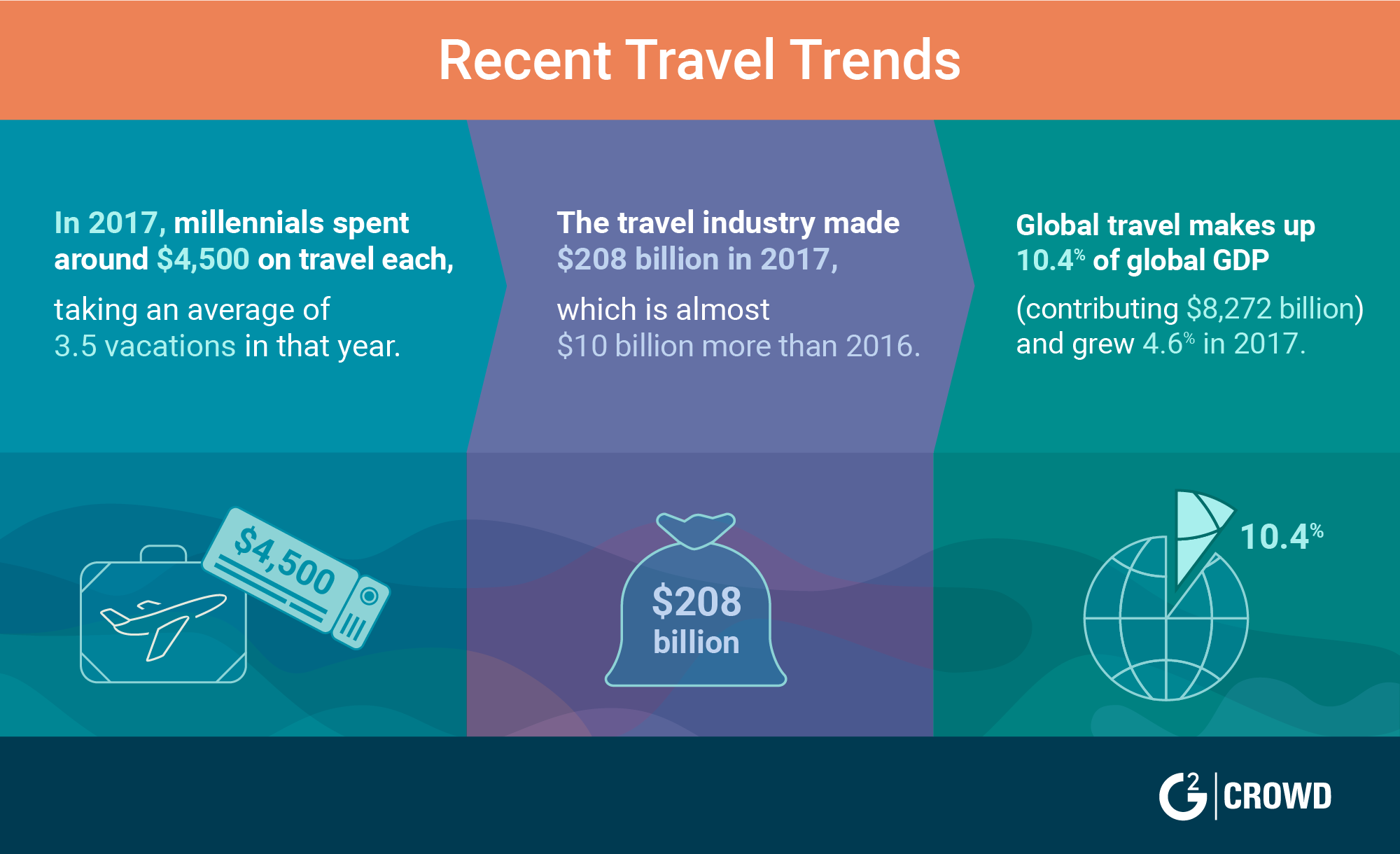 Like many industries, a lot of that money is being funnelled into digital transformation. Hotels, particularly luxury hotels, are beginning to transform themselves from the inside out. From more modern interiors and smart rooms that can be controlled by tablet to using mobile phones as room keys and self check-in kiosks, hotels are using technology in more and more visible ways. But the real technology drivers are behind the scenes.
Artificial intelligence and personalized services
With disruptors like Airbnb continuing to arrive on the scene, the travel and hospitality industries must adapt to the on-demand service that millennials expect. This is difficult, however, for large hotels whose rooms are booked sometimes months in advance. Booking engines have helped in this regard, since they provide customers with a wide variety of available rooms and prices, but this is not so different from the traditional hotel booking model.
Consider that more than 60% of U.S. travelers would consider a spontaneous trip if they found a good deal on a flight or hotel. While there are still a large amount of travelers who plan their trips months in advance, the window between booking a ticket and getting on a plane is growing smaller and smaller. Hotels need to be able to adapt to this shorter lead time.
Travel agents are expected to become a thing of the past, with the Department of Labor's Bureau of Labor Statistics predicting a 12% decline in the number of travel agents between 2016 and 2026. This is in spite of the fact that the number of travel agents actually increased 10% between 2014 and 2016. Though the industry is growing, the BLS still predicts a decline, since people tend to book their own travel and accommodations because it's faster and easier, and allows for more control over their itineraries. However, there is still the desire for curated experiences. Traveling can require a lot of research and legwork to organize, especially if one is traveling overseas. Between passports, vaccines, navigating a foreign language, and exchanging currency, there are a lot of "i"s to dot and "t"s to cross.
Enter artificial intelligence software. Artificial intelligence and machine learning have the ability to create customized recommendations based on a user's preferences and past travel experiences. It sounds invasive, but, in fact, 57% of U.S. travelers want brands to use their data to personalize their travel recommendations and experiences. And, according to the same source, 36% of these people would be willing to pay more for such a personalized experience.
Prediction:
We predict that the number of hotels and travel businesses implementing artificial intelligence and other personalization services will increase by 30% in the next year. For some, particularly millennials, travel is a large priority and they are willing to spend more money on a superior experience. On average in 2017, millennials spent around $4,500 on travel, taking an average of 3.5 vacations in that year. It may seem surprising that in a world full of data breaches that people would be willing to share their data, but it's a classic risk vs. reward scenario.
For customers, especially millennials, sharing data to receive a superior experience is very on-brand. Experiences are their main motivator for spending money, so it makes sense that one might sacrifice a bit of security to enhance an experience that will end up costing a significant amount of money. Hotels and travel businesses benefit greatly from this data, since digital marketing is fueled by SEO and customer metrics.
Loyalty programs are another example of this. 61% of hotel guests are attracted to a hotel loyalty program based on experiences rather than a point-based system. Because most current loyalty programs are point-based, according to the same source, only 46% of guests sign up for relevant loyalty programs.
While that isn't a huge margin, there's definitely ground to be gained if hotels vary the structure of their loyalty programs to something more gamified. Perhaps a customer could earn a reward if they stay in a certain number of countries or states within a defined period of time. Perhaps they could earn rewards for utilizing the hotel spa or restaurant often. Experience-based rewards are the way to go for millennials.
Want to learn more about spa and salon marketing? Discover the best marketing strategies and practices with our ultimate guide to spa marketing.
In many ways, loyalty programs benefit both the business and the customer. The customer gains rewards for repeated business, and the business gains a repeat customer and the possibility of future referrals as well as data on the customer's travel habits. In this day and age, many loyalty programs are purely digital, making them easy to use from both sides of the transaction and providing even more data than ever before.
The hospitality industry is evolving, and the changes within it are being embraced by both hotels and customers. Hotels seem extremely invested in providing better, more modern services for their guests, and guests are responding positively. People are traveling more, and that can only mean good things for the industry. With technology like artificial intelligence on the rise, the possibilities are nearly endless. Hotels in some form will always need to exist, and they will only improve as time goes on.
To read more about the restaurant side of hospitality and restaurant technology trends, check out 2019's restaurant trends.