This post is one part of G2's 2020 digital trends series. Read more about G2's approach to digital transformation trends in an introduction from Michael Fauscette, G2's chief research officer.
Cannabis technology trends for 2020
The global cannabis market is on a steady climb, and North America is quickly "going green" as one by one, municipalities in the United States legalize the selling, growing, and use of marijuana behind Canada's 2018 legalization. Despite the rocky road from issues with THC vaping products, the continued legalization of recreational and medicinal cannabis keeps the market growing. In this piece, we will look at various trends taking hold of the cannabis technology market.
Artificial intelligence will continue supporting cannabis
PREDICTION:
The cannabis industry will continue to utilize AI technology to support the growth, production, and sale of cannabis. We will see more companies creating and adopting cannabis cultivation options.
Artificial intelligence (AI) has already expanded the possibilities of the cannabis industry in a few ways. Using AI to tailor search, product recommendations, and delivery capabilities to individual cannabis customers boosted sales and revenue. The use of chatbots has made finding which strain is right for you a smoother process. Just as other e-commerce businesses have started to use AI and machine learning technology to boost their operations, cannabusiness is well on its way to reap the advantages and benefits of this technology.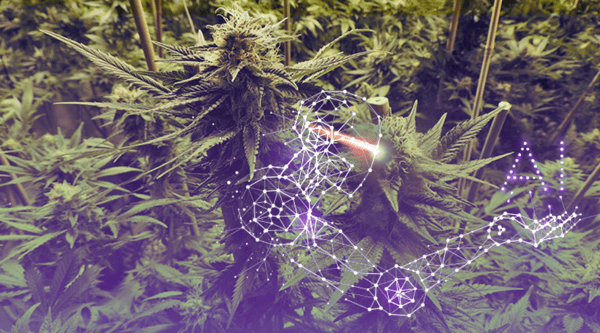 Source: Cannabis Tech
There are already companies using AI and machine learning technology to optimize cannabis crop growth in seed to sale software, allowing for higher yields at lower prices. Sensors from specific growing platforms can gather real-time information from each plant, letting farmers know what's wrong, and guiding them on how to fix it. Different strains of cannabis have different levels of natural compounds such as tetrahydrocannabinol (THC) and cannabidiol (CBD). Machine learning and AI helps growers follow strict regulations surrounding levels of compounds, assuring they stay compliant.
AR technology will make the cannabis shopping experience more accessible
PREDICTION:
AR technology will expand past the Canadian cannabis market into the rest of North America, aiming to increase accessibility and education surrounding cannabis.
Even in places where recreational marijuana is fully legalized, not everyone can easily access a dispensary. In an industry that supplies people with medicine, catering to individuals that can't easily travel could lead to a boost in sales. A Canadian company has already created an AR dispensary experience that aims to educate, invigorate the online shopping experience, and increase accessibility all at once. I don't think it's far off idea that more companies will consider adopting augmented related (AR) technology.
Using only a tablet or phone, shoppers can access technology that uses 3D 360-degree photography and virtual employees—referred to as budtenders—that can educate users on the specifics of what they want to buy. For people that are ashamed to purchase cannabis, this allows anonymity, and cannabis delivery. Even if you don't reap any accessibility perks, it's pretty cool to see what you're buying, and have someone to explain the product to you.
Consolidation will grow with legalization
PREDICTION:
Established cannabis companies will continue to seek out smaller companies for acquisition. By the end of 2020, we will see a 30% increase in mergers and acquisitions in the cannabis industry.
In the United States, state-by-state legalization has benefits and drawbacks; states like Colorado, California, and Washington have set the stage for how to handle recreational legalization. However, no two places will have the same regulations regarding compliance. Companies that have operated in states that legalized recreational marijuana in 2012 have had time to test and revise business strategies, as well as learn how to navigate different challenges that come with a fast-growing industry.
Companies starting from scratch in newly-legalized states have the burden of new business expenses (cannabis business permits alone can be thousands of dollars) and the lack of experience in a new industry. Established companies will seek out smaller companies in newly-legalized states to expand their market reach. Strict regulations surrounding the transportation of cannabis products over state lines makes acquiring a functioning business in newly-legalized states easier than starting from scratch with permits, industry connections, and regulations that change state to state.
With much of North America "going green," Arcview Market Research and BDS Analytics recently released a report that dives into the state of legal cannabis spending, and scopes its expected growth. Global spending is expected to increase by almost $4 billion in 2020, more than double global spending in 2017. Considering legal cannabis spending will increase as it becomes more accessible, a slew of consolidation makes sense.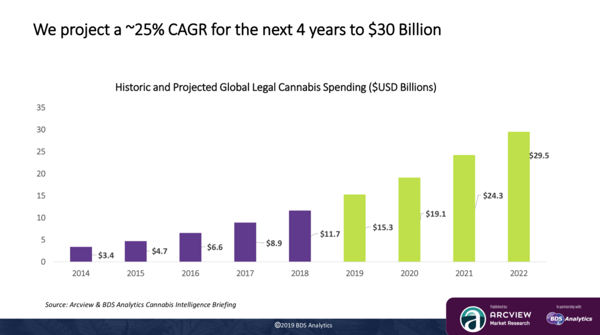 Source: BDS Analytics
Blockchain, the missing puzzle piece in cannabis banking
PREDICTION:
---
In 2020, there will be a 10% increase in cannabis businesses adopting blockchain banking technology.
All the industry growth in the world will not change one very inconvenient fact for the marijuana industry in the United States: Cannabis is still a Schedule I drug under the federal Controlled Substances Act, or simply put, it is federally illegal.
This complicates things like personal travel with cannabis products, differing medicinal regulations in different states, and perhaps even most tricky, banking. The Schedule I drug status means that accepting deposits from businesses that handle marijuana can be considered money laundering, and banks risk their FDIC insurance by acquiring those clients. That fact, along with the stigma cannabis already faces in the world, makes many banks unlikely to accept cannabis businesses. Those that do sometimes have months-long waiting lists.
Some businesses go cash only, but the issues of cash-only businesses aren't anything new. A solution to this issue is already available, and from many angles seems like the perfect fit. Blockchain banking technology is powerful, complicated technology that naturally addresses a few concerns involved with cannabis banking including fraud, money laundering, and illegal transactions; blockchain technology makes those things impossible.

Continuous growth expected
There is no stopping the legalization and acceptance of marijuana. Even if regions decide to resist, proof lies in the economic benefits that come with legalization. It's exciting to see new and innovative technology used to further education and increase accessibility in an industry experiencing breakneck growth. According BDS Analytics, the global cannabis market will hit $40+ billion in the next five years, let's see what 2020 brings us, as the industry continues to flourish.