This post is one part of G2's 2020 digital trends series. Read more about G2's approach to digital transformation trends in an introduction from Michael Fauscette, G2's chief research officer.
It wasn't too long ago that the most advanced piece of technology in many classrooms was the trusty overhead projector.
Forget the blackboard, a salesperson might say—dazzle your students with illuminated images, your words dancing on the wall with a stroke of your pen! Supersize your teaching!
But in today's high-tech classroom, it's more likely that the lights are on. Students' attention might be trained on their tablets; an adaptive algebra app adjusts the day's lesson after every problem. A pair of students might strap on virtual reality glasses to take an up-close look at the ruins of a Mayan temple. Perhaps a student is curled up in the corner with an eReader, reviewing a digital textbook's chapter on cell structure before tomorrow's biology quiz.
If you're an educator, this isn't the first you've heard of innovations like virtual reality or next-generation textbook products. There's also a good chance that your classroom has none of these tools.
While technology has changed education in profound ways in recent years—student information systems (SIS) that streamline gradebooks and attendance tracking, smartboards, test prep software, paperless classrooms—many institutions have been slow to adopt some potentially powerful tech tools.
There are signs that many of these innovations—machine learning, AR/VR, and digital textbooks—will see substantial growth in 2020. Educational institutions will focus on data; both how to leverage it to improve student outcomes and how to protect sensitive data from cybersecurity attacks.
Edtech trends to watch for in 2020
Cybersecurity attacks on schools will get worse
The shift to cloud computing for major systems used by educators—student information, facilities, accounting, grades—has brought countless benefits, but also greater security risks than ever before.
Out of 17 major industries in the United States, the education industry is the least prepared to handle cybersecurity threats, according to a report from SecurityScorecard. These institutions are aware of the issue—in another report produced by Jenzabar, 83% of IT administrators in education reported IT security as their top priority.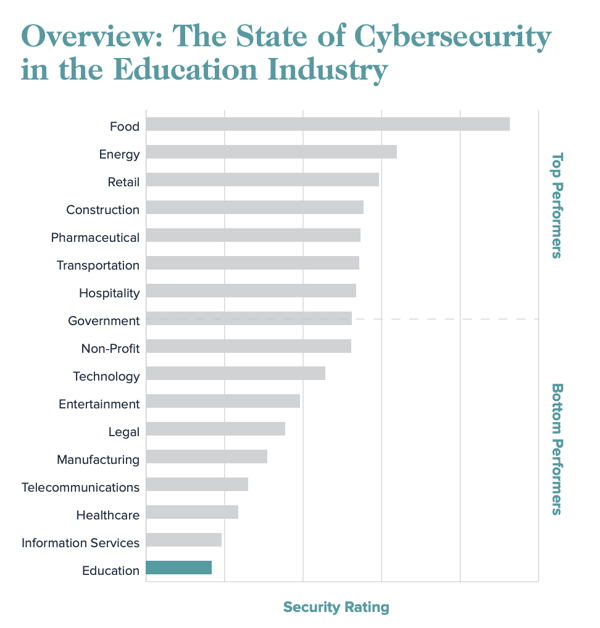 Source: SecurityScorecard
While the final numbers for 2019 aren't available yet, reports by groups that track education-related cybersecurity incidents suggest the danger isn't going away anytime soon.
Since 2016, there have been at least 721 cybersecurity incidents involving K-12 education agencies, according to the K-12 Cybersecurity Resource Center, which tracks publicly disclosed incidents.
In 2018, the resource center says there was an attack on an education agency about once every three days, totaling 122 cybersecurity incidents across 119 agencies in 38 states. That's only publicly disclosed incidents, so the actual number of incidents is likely higher.
Schools are attractive targets for several reasons. They host troves of sensitive student data that hackers can steal, such as home addresses, medical information, academic records, and Social Security numbers. Some hackers may be interested in stealing confidential research conducted at universities as well.
Education institutions frequently have large numbers of users who use the school's network but may not be well-informed about safe IT security practices, making them vulnerable to phishing attacks or malware.
In the first three quarters of 2019, ransomware attacks—when a hacker locks down an agency's data unless the victim pays a ransom—hit 62 education agencies, impacting upwards of 1,000 schools, according to a report from anti-malware company Emisoft. One highly publicized ransomware attack shut down schools in three different parishes in Louisiana, causing the governor to declare a state of emergency.
These attacks will continue to threaten schools at all levels in 2020. However, administrators can take steps to reduce the likelihood of a successful attack, including training staff on how to prevent cybersecurity incidents and investing more resources in preparedness efforts.
As the saying goes, invest now or pay later.
AI and adaptive learning
Students are no longer the only learners in the classroom—their computers are learning, too.
One of the hottest buzzwords in edtech is adaptive learning, also commonly referred to as personalized learning.
Adaptive learning tools use advanced algorithms and predictive analytics to present lessons to students and adjust the content or the assessment based on the student's individual performance. Some tools, like online learning platforms, integrate adaptive learning technology via artificial intelligence and machine learning to understand what learning path or instructional support are most appropriate for each student.
As a result, a room of students could all be working on math, but focusing on different lessons. For example, one student might be reviewing the basics of finding the area of a triangle while another student studies Pythagorean theorem proofs.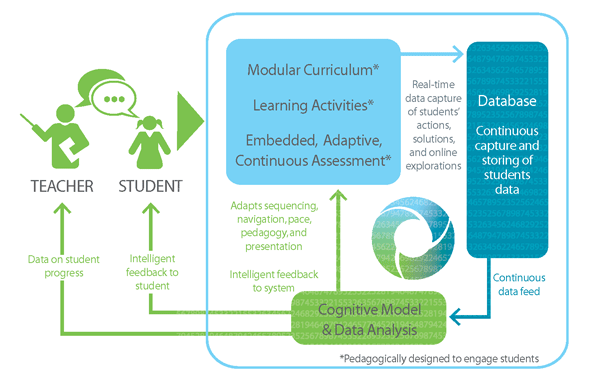 Source: DreamBox Learning
It's easy to see the potential benefits of adaptive learning tools. One of the most important things a teacher does on a daily basis is differentiate their instruction to ensure each student can be successful. Nevertheless, a room of 30 students contains many different skill levels; effective differentiation is difficult, even for veteran educators.
Adaptive learning software helps teachers deliver lessons that simultaneously challenge students who quickly master the material while providing extra support for students who don't understand it the first time. Teachers can then assist individual students who need additional help.
Many decision-makers are convinced of adaptive learning's potential. Spending on adaptive products and training in education reached $41 million in 2017, three times what it was in 2013, according to a report by Noodle Markets and SmartProcure. That upward spending trend should continue in 2020.
The adaptive learning space will continue to, well, adapt to other trends in the edtech market.
In a nod to the growing prevalence of natural language processing (NLP) software, Pearson released a new version of its adaptive learning platform, Revel, that includes integration with Amazon's Alexa. Another education giant, McGraw-Hill, announced it is working with edtech startup Alchemie to develop 3D and AR tools for college-level chemistry. They eventually hope to bring that content to its own adaptive learning platform, ALEKS.
While the adaptive learning space is still developing, many administrators will adopt this potentially high-impact technology for the first time in 2020.
Digital products disrupt the centuries-old academic publishing industry
For generations of college students, the beginning-of-semester ritual has been the same: Stand in line at the bookstore, pick up your texts for the term, head back to your dorm with a bag full of books and a significantly lighter wallet.
In recent years, digital access codes have been added to bookstore bills. Mandatory for many courses, access codes are unique passwords that unlock an online platform where students access readings, homework assignments, quizzes, and other course content.
When I was a high school teacher, I frequently assigned students readings from history textbooks (the old-fashioned print ones) for homework, so that they would have the necessary background knowledge to understand the content we discussed in class.
Textbooks aren't going away anytime soon, but these new digital products are changing the way they are bought and accessed. And there's an ongoing debate over whether the shift to digital will save students money or drive up costs.
Critics have raised concerns that the shift to digital access codes is contributing to the rising cost of attendance for today's college students. Students often have little choice but to buy the access codes bundled with a textbook through the campus bookstore at an average price of $157, according to a 2017 report by Student PIRGs. Since the codes can only be used once, the bundle has little to no value on the used textbook market.
But big textbook publishing companies are touting the benefits of digital products. Pearson, which reported a $3.3 billion loss in 2016, announced its shift to a digital first strategy across all of its 1,500 textbook titles in the United States this past July.
The academic publishing industry has faced significant disruption amid the digital shift. According to the American Association of Publishers, revenues for higher education publishers dropped 24% from 2014-2018, falling from $4.85 billion to $3.69 billion. According to the same report, revenue for K-12 publishers declined 19% from $4.27 billion to $3.46 billion as well.
Pearson's main focus is expanding its digital offerings, which currently make up 62% of its revenue. The company says its shift to digital will save students money, since the average eBook costs $40 and a digital learning tools suite costs an average of $79. Students who want a print textbook will still be able to rent one from Pearson.
Another major textbook publisher, McGraw-Hill, announced plans to merge with Cengage, an education and technology company that produces digital academic content. However, the proposed merger between McGraw-Hill and Cengage is still under review by the Justice Department's antitrust division amid concerns that the move will reduce competition in the market and hurt consumers.
SPARC is a key opponent of the merger. This global alliance of research libraries advocates for the open sharing of academic materials. SPARC warns that the deal could have "potentially dire consequences in terms of price, access, and control of student data."
It seems likely that 2020 will see the industry continue to turn the page on the printed model in favor of a digital future.
Big data on campus gets bigger
PREDICTION:
---
Spending on analytics software in the higher education market will increase by 25% in 2020, but institutions will continue to wrestle with how to leverage the data effectively.
Advanced analytics and big data have made their way from Fortune 500 executive suites to college administration buildings. But, how can education officials maximize the usefulness of those gigabytes of data?
Analytics tools have a range of potential uses on campus. These tools can assist with anything from a recruiter identifying which prospects are most likely to enroll (and graduate on time) to a counselor flagging an enrolled student who needs extra academic support.
Ultimately, administrators hope these analytics tools will improve student outcomes and boost graduation rates. According the National Center for Education Statistics, only 60% of first-time college students in the nation complete a bachelor's degree within six years.
Leveraging data to improve student advising—and ultimately, student outcomes—is a difficult undertaking, and some institutions, despite the potential benefits, have struggled to fully adopt analytics tools.
While analytics tools often have the ability to pull data from multiple sources to generate a complete profile of a student, a 2018 report by McKinsey found that many institutions don't have established practices for how to share this data amongst departments.
On top of that are the technical challenges that arise from trying to get different data systems to integrate. According to the same report, many colleges lack the budgets to attract and retain the best analytics talent on their IT teams. Higher education institutions will need to ensure that data sharing across departments and data integration is a priority to make the best use of analytics tools.
Aside from the practical challenges surrounding predictive analytics, institutions must address the ethical implications that arise from using analytics, including the potential for implicit bias.
For example, models that rely on race or demographic data to predict student success could unfairly single out students from historically underrepresented groups as less likely to succeed, according to a 2016 analysis by New America. This could negatively impact a prospective student's chances for admission, or discourage an enrolled student from pursuing a certain major.
While it's impossible to avoid bias completely, administrators must recognize the potential for algorithmic bias in predictive models and use analytics tools with appropriate degrees of skepticism and critical thinking.
As institutions adopt new technology to manage mass amounts of data, they must also enact strong data privacy policies to protect how sensitive student data is being shared and used, or else risk violations of student privacy laws and potential fines.
Big data is here to stay in higher education institutions. Figuring out how to effectively and ethically use it to improve student outcomes will continue to be a challenge.
More eyes on XR
PREDICTION:
---
Spending on XR in education will climb 20% in 2020 as falling prices make the technology increasingly affordable.
Class field trips take on a new dimension when students can take a trip to study chimpanzees in the Congo Basin or dive into a deep sea trench at the bottom of the South Pacific—all on the same day. If they prefer to stay in the room, students might use their smartphones to summon a jade artifact from ancient China or generate a 3D working model of a human heart.
A new generation of technologies in the field known as extended reality, or XR—which includes virtual reality, augmented reality and mixed reality—are making immersive learning experiences an increasingly common part of a student's school day, both in K-12 institutions and in higher education.
While some schools have adopted XR in recent years, the industry is poised for a breakthrough in the next few years as equipment prices continue to fall and high-quality XR content becomes more available.
Most schools haven't implemented XR technology yet. About 28% of higher education institutions have deployed VR to some extent, while another 18% have fully deployed VR, according to a 2018 survey by Internet2, a non-profit research consortium, as reported by EdTech Magazine.
For cash-strapped educational institutions, the cost of XR equipment is still a significant barrier, but the systems are becoming more affordable. For example, one of the first next-generation VR products to be widely available was the Oculus Rift, which debuted in 2016. At that time, the device was $599 and required a powerful computer to run. This year, Oculus (which is owned by Facebook) released the Oculus Go, which retails at $199 and doesn't require a separate computer. That drastically reduces the required cost for a classroom set of VR goggles.
For an even cheaper foray into VR, cardboard viewers--like Google Cardboard--that hold a phone inside cost under $15. Students could use their own phones or schools could buy a set of cheap smartphones.
But in the long-term, phone-based VR seems to be on the decline as companies focus on developing more immersive stand-alone headset products. Google recently signaled it was pulling back from phone-based VR, announcing it will make its phone-based VR software cardboard open-source amid falling usage.
Augmented reality, in which a device can superimpose digital objects on a user's view of the real world, is expected to outstrip spending on head-mounted VR headsets, at least in the short term. According to a report from ABI Research, the market value of AR in education is expected to reach $5.3 billion in 2023, while VR head mounted displays will grow to $640 million.
The potential applications of XR extends far beyond field trips. Medical students are using it to conduct dissections of virtual cadavers. Car mechanic schools can use AR/VR apps to guide students through how to perform complicated repairs.
With decreasing costs and a growing library of content, XR should see wider adoption in 2020.
As 2019 comes to a close, it's clear there are a lot of exciting developments on the horizon for educators in 2020. Come back to G2's Research Hub for even more in-depth analysis of these topics and other trends impacting the education industry in the year ahead.