This post is one part of G2's 2020 digital trends series. Read more about G2's approach to digital transformation trends in an introduction from Michael Fauscette, G2's chief research officer.
2020 trends in the fintech space
Last year, I highlighted 2019's top fintech trends. This year I'm doing the same. This blog will look ahead to 2020, and the trends that are likely to drive the fintech space.
PREDICTION:
Embedded financial technology will proliferate in 2020. Banks will look to take up more space on their customers' devices and find ways to embed financial products in customers' daily lives.
This trend applies to banks, fintech companies, and big tech companies looking to break into the financial services sector. The goal is to weave financial products into customers' digital experiences so they always have access to the products they need. For example, offering point of sale loans on e-commerce platforms to facilitate purchases would help consumers. Another example is weaving payments solutions into messaging platforms like WhatsApp, Messenger, and WeChat. These integrations make it easy for customers to access financial products within popular applications.
Switching costs in the digital age are nearly nonexistent, so providing an all inclusive place for all things financial is key for banks. For tech companies, embedding financial products that make sense for their active consumer base helps expand market share on individual devices. Mobile usage has skyrocketed, and smartphones have proliferated unbanked and underbanked populations. Embedding payments products in messaging apps is a wise strategy to tap into new underserved markets. Expanding beyond payments will be a key theme for the embedded technologies that both big tech companies and existing financial institutions offer.
RELATED: Learn about fintech's expansion to the underbanked,

here →
Big tech will increase their market share in financial services
PREDICTION:
Techfin will hasten the evolution of digital financial services, even as big banks latch onto tech as a way to retain market share. Big tech's revenue share from financial services will increase from 11.3% to 15% by the end of 2020.
Traditional financial institutions will have historically stable profit centers threatened by big tech companies far more than fintechs. The nearly unlimited resources that big tech has, their ability to build excellent digital experiences, their demonstrated success launching payments solutions, and their massive customer bases are a dangerous combination for banks that can't gobble up the competition. Instead, they must focus on building high quality products and meeting customers exactly where they operate in the digital world.
Amazon is an excellent example of big tech's financial services expansion. They've quietly doled out over $3 billion in short term business loans the past few years to sellers on the platform via Amazon Lending. Additionally, they continue to sink money into financial product building and investment, particularly in India.
RELATED: Learn more about big tech's foray into financial services,

here →
Large technology companies (Apple, Google, Alibaba, Tencent, and a few others) are looking to expand into financial services. All of them offer payment options, and their slate of offerings will grow as they look to capture more customer activity and fuel their purchases with a variety of financial products. Big tech is uniquely equipped with several key advantages that point to their ability to immediately threaten large financial institutions (FIs). One of these is their existing customer base, giving them heaps of valuable 1s and 0s to shape their financial product development strategy. Another is the scale at which they operate—they can release immediately impactful products with little financial risk.
Asia will be a vital region for financial services in 2020
PREDICTION:
Asia will be a key region for fintechs, financial services companies operating globally, and techfins battling it out to capture market share in Asia's growing middle class.
Gaining a foothold in the Asia-Pacific (APAC) region is key to capturing global market share. The market is increasingly gobbled up by large technology companies expanding their platforms to include access to third-party financial products or integrating their own products into their platforms. Entry into the Asian market will be difficult for big tech companies; it's dominated by the conglomerate Tencent and the tech behemoth Alibaba. In particular, China has been a testing ground for these companies and shown Chinese consumers' willingness to use financial services, specifically mobile payments.
RELATED: Learn about the state of techfin in Europe and Asia,

here →
Even excluding China, the Asian market is massive, and presents a fantastic opportunity for any company to launch fintech products. Smartphone proliferation is high and, particularly in Southeast Asia, the populace is significantly underserved by existing financial services companies.
Ant Financial, the financial services arm of the popular ride sharing platform Grab, has been one of the first large tech companies to jump on the opportunity to address the lack of easily accessible capital for the underbanked in the APAC region. The ingredients for successful product launches are all there—smartphone proliferation, a large swath of underbanked or unbanked individuals, and willingness to use mobile financial services. There is a demonstrated need for financial products in Asia; fintechs, banks, and big tech companies have the opportunity to answer the call and capitalize.
Financial institutions will widely implement blockchain on the back-end
PREDICTION:
---
Private blockchain will become a vital part of financial services companies' operations on the back-end.
Public blockchain is not as easily implemented, particularly as consumer facing products deal with more regulatory scrutiny and are subject to stricter regulatory guidelines. Back-end distributed ledger technology (DLT) implemented via a private or semi-private permissioned blockchain is the way forward for banking operations. Hundreds of banks are already using blockchain in some way, shape, or form.
According to a G2 survey of financial services professionals, 56.5% do not use and do not plan to implement blockchain software solutions. That will change in 2020, as companies recognize the value of distributed ledger technology on the back-end and 60% of financial services companies will either implement or have plans to implement blockchain within the next year. While the true value of blockchain technology doesn't lie in a public ledger, particularly for sensitive financial data, back end operations can be significantly improved with the correct usage of private ledgers. This implementation would be in conjunction with other technology, as blockchain only goes so far.
Smart contracts—built and housed on a blockchain—will be key to blockchain adoption. According to the same G2 survey, 90% of CTOs said they either currently use smart contracts or plan to implement them in the next 12 months. Implementing smart contracts makes sense when there are many transactions involving multiple parties that require repetitive tasks, including a good deal of banking activities.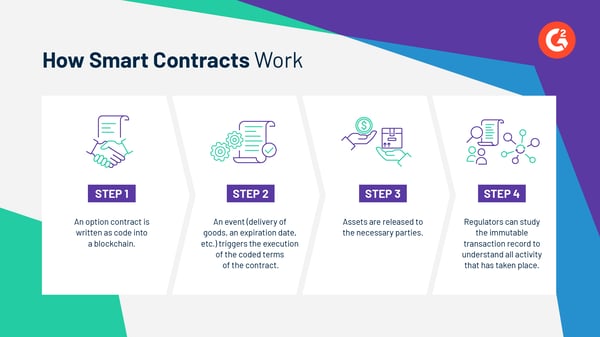 The financial services industry will lean heavily on AI
PREDICTION:
---
AI will continue to supercharge both back-end and customer facing applications, with 80% of financial institutions using AI in production environments by the end of the year.
Artificial intelligence (AI) is a hot topic in nearly every industry. If implemented correctly, it can add immense value to business operations. AI is responsible for everything from self-driving cars to credit decisioning—it's already widely used in financial services.
56.1% of respondents to G2's fintech survey said they either currently use AI-powered analytics solutions or will implement one in the next 12 months. That number will only increase in the coming year as analytics solutions improve in their accuracy and depth of functionality, and as more financial services professionals understand when and how to use them.
Outside of analytics, AI is used to make automated credit decisions, detect potentially fraudulent activity, engage with customers in valuable ways, and more. The "smarter" the AI, the more value it adds. For example, flagging potentially fraudulent activity is great, but can the application flag it, take additional action to verify if the activity is indeed fraudulent, and resolve the case if it isn't? Reducing false positives is key to implementing a value adding AI application.
RELATED: Learn about the impact of AI in fintech and common use cases,

here →
The key to extract value from AI applications is approaching them with a clear plan for implementation and use. Asking what problem the company wants or needs to solve, and looking at the most effective way to solve that problem instead of starting with the tech you want to implement is key to proper strategy selection. Regardless of where individual companies implement AI, it will be vital to enhancing both operations and customer facing applications for financial institutions going forward.
Both banks and regulators will leverage regtech to cut costs and drive decisions
PREDICTION:
---
Regtech will be increasingly implemented as a cost saving strategy, saving banks that use it about 20% on compliance related operational costs. On the other side, regulators will start to use analytics solutions to create and execute data-driven policy.
A recent G2 survey of financial services professionals found 28.1% of respondents that implemented a regtech solution save up to 25% in the amount of fines levied against their company. While not directly related to fixed operational compliance costs, it illustrates the efficacy of these solutions and the potential for them to prevent unforeseen costs that accompany non-compliance.
With the advent of primarily digital banking, compliance costs have skyrocketed; the pitfalls of data privacy coupled with the higher number of regulations to keep up with innovation have resulted in larger compliance costs for companies.
RELATED: Learn more about the shift to embedded digital banking,

here →
These regulations can comprise up to 20% of the operational costs of a bank. Small banks have it even worse, as they lack the resources of their larger colleagues and struggle to maintain a sufficient number of compliance staff or technology needed to support them. Regtech can automate a good deal of compliance tasks, and become particularly vital for overseeing anti-money laundering (AML) and know your customer (KYC) activities.
On the regulatory side, analytics will be relied on to highlight potential problem areas that need addressing. For example, regulators could use an AI-powered analytics solution to comb through violations or suspicious activity in certain regulatory spheres (e.g., KYC, AML, or others). Companies can leverage this technology to flag particularly hot segments of non-compliant activity and shape their policies.
Global fintech funding will slow down
PREDICTION:
---
Funding is slowing down globally. As VC funds tighten purse strings ahead of a likely downturn, it will be more difficult for young fintechs to fill their coffers.
Fintech funding has skyrocketed in the past few years, showing insatiable investor appetite for both consumer facing and back-end focused fintech. Despite this, I expect investor pullback in the next year for a few reasons. First, there has been a good deal of consternation about an impending economic downturn. Even if the fatalistic predictions are incorrect or delayed, VCs will be wary of overextending themselves. Secondly, the entrance of big tech players to the fintech space, while certainly not new, introduces a significant hurdle to smaller fintechs looking to compete and the VCs that are backing them.
Midway through 2019, fintech funding was at $37.9 billion globally, compared to an average of $60 billion per half in 2018. United States' fintech investment was still robust in H1 2019 at $18.3 billion, but even that torrid pace is likely unsustainable as we head into an uncertain economic future. I expect investment to slow to 75% of 2019's total in 2020.

Looking to the future
Fintech is here to stay in one form or another. Big tech is launching an assault on the financial services stronghold, fintechs are linking up with big banks, and governments are fostering fintech innovation and development. Expect to see a slow in funding worldwide, but an increase in Asia, and the continued proliferation of financial products into consumer facing digital products.
Fintech has proven its value by enhancing product offerings and cutting costs. In the coming years, we'll see what incumbents stay ahead of the curve and which tech companies overcome hurdles to become big players in the space.
In the digital age, where consumers face an abundance of choice, the best products will win out. The seven trends illustrated here will contribute to the development of those products and the proliferation of fintech in 2020.