This post is part of G2's 2021 digital trends series. Read more about G2's perspective on digital transformation trends in an introduction from Michael Fauscette, G2's chief research officer and Tom Pringle, VP, market research, and additional coverage on trends identified by G2's analysts.
How will restaurants use tech to recover from COVID-19's impact in 2021?
No industry was spared from the impact of COVID-19 this year, but the restaurant industry took a significant hit as reduced capacity and total closure mandates shifted the way they were able to serve patrons. Within the first several months of the pandemic alone, 40% of America's restaurants had shuttered, and the industry as a whole is projected to lose as much as $240 billion this year. From small mom-and-pop restaurants to large international chains, every business has had to alter operations to preserve some of their revenue streams.
Months later, restaurants are still working under these unideal circumstances. Larger chain restaurants have fared better than smaller restaurants, as expected; they have vastly more resources and manpower to stay afloat. The forecast looks grim for smaller independent restaurants--85% could shutter permanently by the end of 2020 without economic aid.
Regardless of size, restaurateurs have had to rely on technology to weather the new digital shift many industries have been forced to prioritize throughout the pandemic. As restaurants look to 2021, the following tech trends will emerge among the ones that want to stay afloat until the world can resume some normalcy, and then continue thriving beyond that.
Delivery and takeout infrastructure will be mandatory
TITLE
Without indoor dining as a reliable revenue source, restaurants will invest more in their ability to handle delivery and takeout orders.
Restaurants have suffered from reduced capacity and total closure mandates throughout the COVID-19 pandemic in an effort to limit public spread of the disease. Just recently, cities and states across the U.S. announced more indoor dining restrictions, with Germany and France also announcing their own shutdowns. Online ordering systems have become essential tools for businesses to continue fielding food orders. G2's Restaurant Delivery/Takeout software category saw over 300% increased traffic between March and May 2020 (that's not a typo!) . While many restaurants had some online ordering system in place before the pandemic hit--whether through their website or third-party delivery apps, such as GrubHub or DoorDash--they did not need to rely entirely on these avenues to generate revenue. They were considered as "nice to haves" to supplement the larger pool of dine-in profits.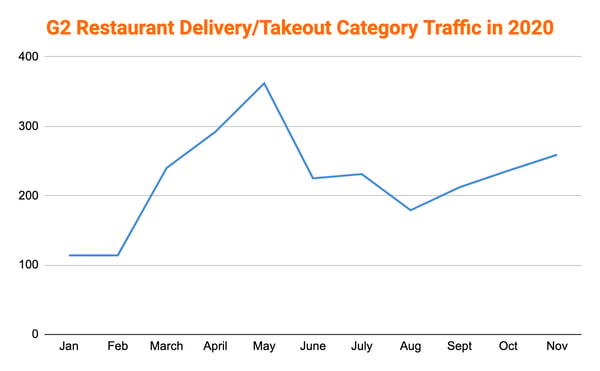 Even after the initial traffic spike, monthly visitors to G2's Restaurant Delivery/Takeout software category has remained consistently above average since the pandemic began.
The COVID-19 pandemic has forced restaurants to reassess their current online ordering infrastructure. Can consumers easily access their menu and place an order? Can staff easily access orders and ensure timely preparation for food? These are now important questions to be answered while developing a contingency plan. Consumers were already shifting towards mobile ordering options regardless of the pandemic and by 2021, nearly 50 million people will be using food delivery apps.
Restaurateurs would be wise to prioritize their off-premises options for serving consumers. According to new data from the National Restaurant Association, 66% of adults ordered delivery or takeout for dinner in the last week of October 2020, an increase from 58% in the last week of February this year, and this trend is expected to continue into the winter months. This presents an interesting shift in staffing priority for businesses as well. While host and wait staff have been reduced in many instances, delivery and food preparation staff will be critical to manage the influx of off-premises orders. Businesses shouldn't see this as an opportunity to cut corners in staffing; rather, they need to invest in staff that can meet the increased demand for delivery and takeout.
Delivery apps can be a double-edged sword for smaller businesses, with some taking as much as 30% of commission on each order. Consumers love the convenience of delivery as opposed to takeout, so we won't see these apps going away anytime soon. Instead, businesses should explore their options when selecting a third-party service, and, when feasible, build out their own ordering system through a website. Restaurants that already had these systems in place pre-COVID-19 have fared far better than those who had to scramble after the fact to create that system.
Cloud kitchens will increase in popularity
PREDICTION
The number of cloud kitchen businesses will increase in 2021, as more consumers turn to delivery services for their food needs and more restaurateurs look to optimize their spend.
G2's restaurant tech trends for 2019 saw the rise of cloud kitchens in a pre-COVID-19 world, and now that trend will only be further solidified. Cloud kitchens, otherwise known as ghost kitchens or dark kitchens, provide an alternative business model for restaurants that want to minimize overhead expenses. They are entirely off-premises, forgoing dine-in for delivery. This allows businesses to save the operational costs of owning a physical space and employing wait staff. These communal kitchen spaces also allow multiple ghost kitchens to operate at once, size permitting.
In alignment with this growing trend, G2 recently launched the Cloud Kitchen Management software category. Small restaurant owners may find this route particularly appealing, as the cost to operate a cloud kitchen is significantly less compared to renting, fully staffing, and maintaining a dine-in space. The barrier for entry is low, which allows more players to enter the scene and meet the growing demand for off-premises delivery. Cloud kitchens are also optimized to handle the multiple channels of delivery orders, which include websites, phone-ins, and third-party apps, ensuring an efficient and expedient delivery experience that will satisfy customers.
By 2023, online food delivery revenue is projected to reach $28 billion and COVID-19's impact only serves to accelerate that trajectory. Cloud kitchens are in a great position to capitalize on this rapidly growing revenue segment, as they're born from a delivery-based model. Traditional restaurants focus largely on capturing dine-in clientele, though we've already established that they can't ignore off-premise service altogether.
Cloud kitchens are still carrying their newborn scent, though. While this business model has gained notable popularity over the last several years, tech limitations haven't smoothed out the entire process. There is currently no unified cloud kitchen operating platform that handles all the moving parts for these businesses; rather, the common tech stack combines multiple software products to handle orders, payment processing, KDS syncing, and connected delivery services. As more cloud kitchens emerge, though, that increased demand will inevitably compel tech companies to answer this problem with a singular platform to optimize cloud kitchen operations.
Tech innovations such as delivery drones and kitchen automation also allow further long-term reduction in food preparation and delivery costs and show promise in challenging the traditional restaurant model that has long existed. Some brands are even throwing their own stake in this growing market, with UberEats, DoorDash, and Postmates all spurring a ton of growth in these virtual restaurants. Of course, this highlights a divide between the restaurants that want to adapt to shifts in consumer behavior and the tech companies that provide the foundational tech platforms and simply seek to capitalize on a booming market.
Restaurants will invest more in marketing and loyalty programs
PREDICTION
As restaurants turn to off-premise service to survive COVID-19, they will invest more in digital marketing to capture and retain customers.
Restaurateurs need to supplement their delivery infrastructure with a strong restaurant marketing program, ensuring that customers remain delighted and feel valued for their patronage. The challenge? Restaurants aren't known for being the best at marketing. Pandemic aside, restaurants only benefit from digging into their customer preferences. This allows them to tailor future experiences and ensure repeat business, as well as drive word-of-mouth endorsement of their establishment. There will always be customers that support the local businesses of their own volition, but restaurants should go that extra mile to understand their base, especially at a time when they're trying to retain and attract new customers.
If we look at email marketing alone, restaurants can expect roughly a $44 return for every $1 spent on these marketing efforts. Consumers across all industries, not just restaurants, want to feel valued and rewarded for their loyalty. Restaurants have access to a rich trove of consumer data to help tailor the appropriate marketing and loyalty programs, and this year has demanded that they operationalize that data to draw in customers across digital channels.
Equipped with data, restaurants can market deals to the right customers at the right time and drive critical revenue. I can't speak for everyone, but I know I feel more inclined to spend money on delivery when a well-timed email for a discount pizza enters my life at a vulnerable time. For larger restaurant chains, we've also seen the power of Twitter in turning data into revenue. McDonald's utilized the social media platforms several years ago to help market the launch of all-day breakfast, sending 12,000 personalized tweets to various users who had expressed desire for all-day breakfast at McDonald's. Restaurants exploring this route should be wary of trying to create a relatable social identity, though. Millennial consumers in particular are growing more critical of larger brands that try to capitalize on memes and trends via social media to appeal to them.
The bottom line? Consumers want to feel special. Some smaller restaurants have relied on the "support local business" mantra alone to capture customers, and while I don't disagree with that sentiment, it's not enough to keep them in business. Building a rewards program, whatever that may look like, is one step in attracting and retaining customers, but supplementing that with smart marketing campaigns to announce food specials and new menu items, and to thank customers for repeat patronage, will go a long way.
Contactless dining experiences will become preferred
PREDICTION
Contactless technology will see more proliferation across the restaurant industry, as businesses and customers both look to minimize unwanted contact.
Self-ordering kiosks have been around for some years now at some restaurants, allowing customers to eliminate waiter interactions and control their ordering and service experience. However, the ongoing unease for person-to-person interactions only amplifies the need for this kind of technology to be in place. Recent data from Morning Consult shows only 38% of U.S. adults feel comfortable going out to eat. Until a vaccine arrives for COVID-19, many consumers are rightfully avoiding any environment where they could be in contact with others for extended periods of time.
Contactless technology will be here to stay even after the pandemic is over. Digital menus, touchless payment options, and digital receipts all go a long way in reducing paper waste and unnecessary contact with customers. Cashless payment systems in particular, speed up the process for closing tabs and help simplify the accounting process for many restaurants. For digital menus, these can be as simple as a website listing or as detailed as a custom app. Digital menus also provide the added benefit of making it easier to update food offerings without having to reprint physical menus. This allows restaurants to offer dynamic options to consumers, providing a regular sense of excitement when dining.
Kiosks and similar hardware solutions may not be feasible or appropriate for smaller restaurants. QR codes, however, have grown in popularity for restaurants and don't require a lot of upfront cost to implement. There's even a bunch of QR code generators that restaurants can utilize to bring this option to life. These codes allow customers to quickly access a menu via their phone, and some codes can be customized extensively to allow them to make reservations, access rewards and loyalty programs, and even split payment among their dining party.
While contactless solutions may seem at odds with the restaurant's industry on providing memorable dining experiences for guests, these tools improve guest comfort. That goes a long way in enhancing their experience, and empowers them to have more control over their dining. Likewise, this reduces stress on staff and allows them to focus on other tasks that enhance overall operations. Contactless technology allows consumers to access what they need when they need it, and reduces unnecessary contact with staff, ultimately reducing transmission points and pointless guest interactions out of fear of providing poor service.
Food safety and traceability will be even more important
PREDICTION
Restaurateurs will turn to food safety and traceability technology to maintain greater control over internal products and ensure the trust of their clientele post-pandemic.
If contactless technology helps provide peace of mind for customers, then food traceability software will provide peace of mind for restaurateurs. Though these products are more commonly used by companies that process and distribute food, restaurants may find them useful to ensure greater internal control over food products. Now that COVID-19 has highlighted the rampant nature of disease transmission, food safety should be of the utmost concern for all businesses that handle food in any capacity.
Food recall has devastating impacts on brands. A recent poll found that 16% of respondents would purchase another brand and never purchase the recalled brand again, with another 17% saying they would avoid all brands owned by that product's manufacturer. How many times have you avoided a particular restaurant after an instance of food poisoning? Restaurants already face the threat of social backlash and revenue loss if any major food safety incident struck them, but now they may face even more scrutiny. Consumers will likely carry a lingering anxiety beyond this pandemic over what their favorite brands are doing to reduce transmission rates for illnesses.
Let's look at Chipotle as an example. After the chain faced considerable backlash following a rash of food poisoning cases in 2018, Chipotle adopted food safety more strictly into its culture and came into this pandemic at an advantage in that regard. They were recently ranked as the #1 chain among QSRs for COVID-19 safety measures. While a quarter of Chipotle customers at that time reported they were avoiding the chain altogether, the company has taken extensive measures to build a food safety system that significantly reduces their chances of similar incidents in the future.
Whether they employ a dedicated food traceability tool or implement a system of procedures, restaurants need to ensure they are doing their best to serve food that meets all health standards and that the staff preparing that food are following all health and safety procedures. The challenge, of course, is that many restaurant workers lack paid sick leave to ensure these types of food safety incidents can be minimized. COVID-19 has highlighted the ongoing dilemma that plagues the hospitality industry, which often forces low-paid employees to choose between a paycheck and being proactive with their health. Chipotle pumped millions of dollars into their food safety response, but how will restaurants shift their operational model going forward to ensure their workers can reduce the spread of disease?
The road ahead
The restaurant industry has an uneasy road ahead of it as it continues to suffer the consequences of the pandemic, but businesses have an opportunity to shift their operational priorities to ensure they have the proper infrastructure and tools needed to cater to this new digital reality. While these trends alone won't fix everything, they'll certainly be a welcome addition to any restaurant that wants to rebound and improve profit.