Does anyone remember when 4G was released? Do you remember what you were doing or who you were with?
Maybe some of you do, but most of you probably woke up one morning and noticed a 4G symbol at the top of your phone and didn't think much about it. Would you be surprised if I said 4G was released in early 2010—nine years ago?
4G, the fourth generation of broadband cellular network technology, became the foundational technology smartphones proliferated on, including video streaming, social media, and e-commerce. Prior to 4G, mobile phones only offered voice calling, texting, and some low-quality video capabilities. Uber and Lyft didn't exist; neither did wearable tech or Instagram influencers. Without 4G technology, mobile marketing and mobile advertising campaigns would not be what they are today. The speed of 4G enabled marketers to reach their target audiences on mobile devices in ways they couldn't before.
4G's influence cannot be overstated, but technology is constantly evolving. 4G is now making room for further innovation into the age of 5G. 5G will likely have just as many profound impacts on the world, including its impact on digital marketing. In this article, we'll dive into what 5G actually is, how it's being rolled out, and how it promises to disrupt and be a game changer in the digital marketing arena.
What is 5G?
5G, or fifth-generation, networks are digital cellular networks in which the service area covered by providers is divided into small geographic areas called cells. 5G is much faster than previous generations and will max out at 20 gigabits per second (10 times faster than 4G).
5G rollout strategy
5G will increase speed and move more data. Additionally, it will be more responsive and connect to more devices at once. But when will 5G be rolled out to the public? Well, it's already here.
5G was actually launched at the 2018 Winter Olympics in Pyeongchang, South Korea. Since then, 5G slowly rolled out to select cities in the United States throughout 2019. AT&T launched 5G in 12 cities in December 2018 and Sprint launched 5G in four cities at the end of May. T-Mobile and Verizon have also launched 5G in some cities. However, according to PCMAG's Race to 5G, as of early September 2019, Sprint now leads in 5G coverage in the United States. 5G is expected to go more mainstream by 2020. The United Kingdom rolled out 5G this May, and the country's last network coverage provider, O2, launches 5G this October. Additional global rollouts include South Korea, Switzerland, Australia, and many others.
Video ads and programmatic optimization
Using video as a form of advertising isn't new. In fact, G2 has over 100 video advertising software vendors on our site that enable advertisers to buy, manage, and place video ads online.
However, video ads' potential has been limited for marketers. According to eMarketer, 75% of worldwide video consumption happens on mobile devices. This is where marketers run into a problem; viewing high-quality video ads on mobile devices requires large amounts of data, which leads to lengthy load times. Consequently, marketers have been restricted to low interactivity and engagement rates in their video ads. Latency, or the lag between when a user requests something and views it on the device, will improve with 5G. With greater speeds and lower latency, marketers will be able to implement higher-resolution video ads, including 4k video. Less latency provides users with a better overall experience, leading to increased ad transactions and declined usage of ad blockers. As an example, if a consumer views a video ad and it slows down the website they are viewing, that is going to leave a negative impact with the consumer about that advertiser. Thus, advertisers have to be aware of the user experience and load time of the video ads they deploy.
Verizon Media surveyed advertisers and consumers about how they expect 5G to transform experiences; one question asked what 5G benefits consumers are most excited for. Not surprisingly, of the top three benefits, two call out video streaming in some way. 57% of respondents said they were most excited for higher definition video content and 54% of respondents said they are most excited for a higher consistency of quality video streaming. Of the advertisers that responded, 47% said that the opportunity to use new or additional creative formats is one of the top benefits of 5G.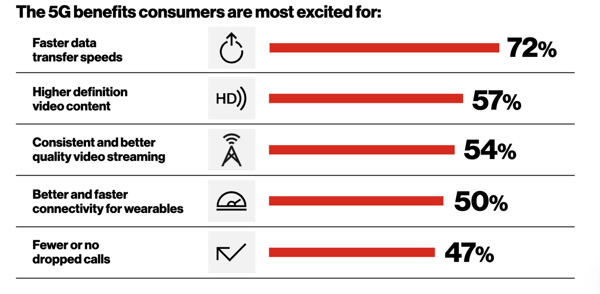 As a result, 5G will impact programmatic advertising. Programmatic advertising, with the use of ad networks, is an automated process that uses big data and machine learning (ML) to run sizable advertising campaigns. According to WARC's Global Ad Trends report, there was strong growth in mobile ad marketing fueled by programmatic trade, with 63% of all digital display ads implemented in 2018 being automated. This type of advertising depends on user segmentation and predictive behavior targeting, which thanks to 5G, will need to be optimized around faster speeds and the amount of data processing that will occur. As it operates today, programmatic advertising can't meet the demands to procure ads at this increased frequency. Supply side platforms (SSPs), demand side platforms (DSPs), and data management platforms (DMPs) will need to operate at faster rates to evolve with this new technology.
Extended reality (XR) and interactivity
One of the most anticipated features of 5G is its impact on extended reality (XR), which includes virtual reality (VR) and augmented reality (AR). According to the same Verizon Media survey mentioned previously, 85% of consumers believe 5G will benefit AR. In the past, success has been limited with VR and AR as a result of mobile connectivity issues. Latency is crucial for marketers because 4G's latency runs up to 60 milliseconds, that can cause delays in ads. However, 5G has cut down that time to around four milliseconds. Due to the low latency and bandwidth that 5G can provide, marketers can create immersive consumer experiences through VR and AR.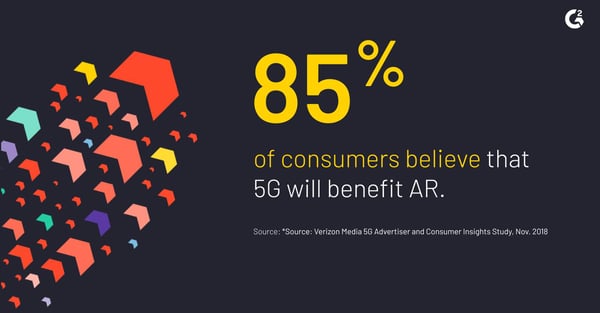 With XR aided by 5G, latency rates can be low enough so a consumer's physical movements can stay in sync with what they are seeing on their screen. The smallest delays can impact the entire consumer interaction. Marketers have previously used VR for marketing, including Progressive Insurance's Lake Dash VR experience, Samsung's A Moon for All Mankind VR, and Oreo's World of a Flavored Cookie 360°. However, now marketers can leverage 5G to increase interactivity with their ads as XR capabilities expand. This creates the opportunity to build connections with an abundance of consumers through storytelling. Even Facebook is looking to expand AR/VR technology with its recent acquisition of CTRL-labs, which will join Facebook's Reality Labs team.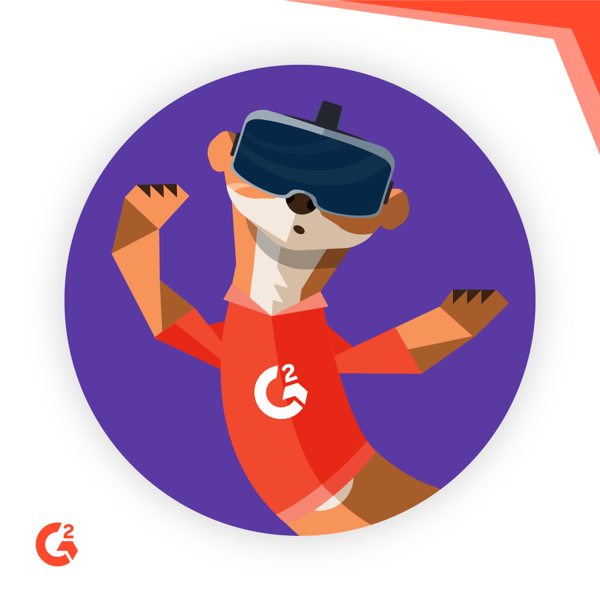 G2 has over 140 software vendors in the mobile advertising market, with around 1,700 reviews. One question we ask users in their review is about rich media capabilities. This considers how well users think a software supports rich media display and video ads that involve user interaction, on a scale of 1–7. The category's average response was 5.9. It will be interesting to see how mobile advertising vendors increase their rich media capabilities as 5G enters the market.
5G & IoT
IoT, or the internet of things, is a network of interrelated computing devices that collect and exchange data without requiring human-to-human or human-to-computer interaction. IoT powered by 5G will allow marketers to scale their campaigns thanks to faster connectivity and lower latency. 5G can provide fixed wireless access, meaning consumers don't need a fixed-line broadband connection (i.e., via cable). With the increased capabilities of 5G, consumers can use the same connection for devices in their home that they use for their mobile devices. This enables marketers to better connect the dots with real-time data.
Marketers will be able to use this data to optimize their location-based marketing strategies. For example, if a consumer has a smart fridge, marketers can send a notification to a mobile device that they are out of something (e.g., eggs) with an ad that shows where on their route home to stop to pick up that item. Consequently, 5G enables brands to better connect with their consumers utilizing hypertargeted, personalized advertising. In fact, according to Verizon Media's survey, 46% of advertisers believe that 5G will provide advancements in real-time, with location-based targeting.
---
While marketers aren't able to fully predict how 5G will impact different applications, they should keep tabs on all the opportunities that 5G can provide and experiment with new ways to interact with their consumers. It's important to note that while 5G is being rolled out, marketers should keep in mind that many consumers could still be using 4G for a while longer. Therefore, marketers need to create content and experiences that cater to both audiences.