The fields of architecture, engineering, and construction (AEC) have always thrived on collaborative design. From building information modeling to architectural rendering, designing the built environment takes a combination of different perspectives and skills.
Historically, most of the collaborative design in AEC has been done face to face and in work offices. However, we are now living in the age of digital transformation. New technologies and software are allowing more companies to collaborate no matter where they are through the use of cloud computing. This allows workers with an internet connection to design online and share their work with coworkers in real time.
As the COVID-19 pandemic continues, more architects and designers are becoming displaced from their work office, and being asked to work remotely. Now more than ever, cloud-based design is vital to the AEC industries.
Remote design solutions for working from home
Although numerous architects are now being asked to work from home, some architecture firms are simply not prepared for a full design team to work remotely. The reliance on certain technologies such as CAD and BIM may make it difficult to work from home; often, these tech solutions are run on work desktops or over the cloud with the help of strong processors that are generally housed in work offices.
Licenses for design software are also extremely expensive and might not be possible for all architects to install on their home computers while working remotely.
However, some architecture firms are built on a remote work strategy. Perhaps they chose to install one of the many cloud BIM solutions that exist to improve cross-team collaboration—especially relevant in times such as these.
Stephen Lenz is a senior workplace strategist at architecture firm Perkins & Will. We asked him to share how his team is adapting while working remotely, and he provided valuable insight into how his team is using technology and software to remain collaborative during these times:
"We've invested in one of our industry's most sophisticated technology platforms, allowing us to maintain uninterrupted service delivery. While we have every intent to be physically present for our scheduled project meetings, we are well prepared to accommodate virtual collaboration. Our design teams have high-performance laptops that have been configured with BIM and a suite of communication and integrative project management tools. In short, we're equipped with everything we need to execute our work for clients in a timely manner, no matter where we are, while continuing to meet our professional standards."
Stephen Lenz
Senior workplace strategist, Perkins & Will
Ways to manage data sharing while teleworking
Not only is cloud technology helping with remote design, it also allows users to manage data exchange between internal teams.
According to European engineering firm Sweco, cloud sharing capabilities lead to 10% time savings per project compared to traditional workflows.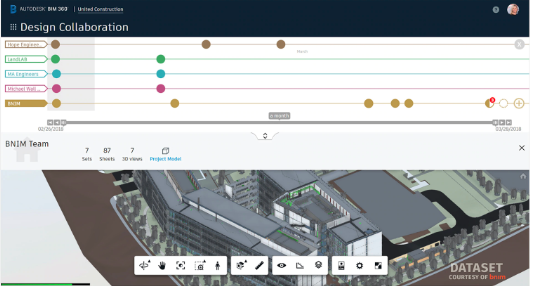 Having a common platform for design data (measurements, bill of materials, parametric components, etc.) allows various design teams and engineers to see which design data is most pertinent to their workflows, and is extremely important for increased visibility while working remotely.
Aside from design, cloud sharing technology also allows architects to share their work with any clients involved with the building project. Firms often travel great distances to pitch their architectural plans to current or potential clients. This can result in major expenses that require many workers to have flights, food, and lodging paid for. However, with a shift to remote work and a dramatic change in travel restrictions, many firms are noticing that they can still pitch these ideas without the unnecessary expense of traveling thousands of miles.
A spokesperson for Liverpool-based Studio MUTT made a statement on how he hopes this situation will make a lasting impact on how often design firms travel to pitch plans to potential stakeholders:
"Meetings are often travelled to at great expense, both in time and environmental impact. Perhaps this difficult period will mark a positive culture shift for the industry and the country as a whole."
Of course this doesn't come without its own set of challenges. Lenz elaborates on how his team at Perkins & Will find ways to adapt to virtual presentations.
"It is much more challenging to 'hold a room' when there is no physical room, therefore it's important to reconsider the way we tell our stories so that the narrative can be more easily understood. Virtual presentations need to be more succinct than in-person presentations for a number of reasons, including holding people's attention who may otherwise be occupied by peripheral distractions. It's also necessary to pause and be overly deferential for others to speak to ensure inclusivity of virtual participants."

"There are a number of resources to aid virtual collaboration, such as integrated polling software, real-time visual collaboration tools, and instant messaging. Along with these resources, sending hard copies, or at the very least digital copies, of material prior to a meeting, pre-testing the communication technology, and simply adding page numbers to your documents so that participants can more easily follow along are easy boxes to check when collaborating virtually."
Stephen Lenz
Senior workplace strategist, Perkins & Will
Remaining in contact while working remotely is important
Aside from remote design tools, it is also vital for architects and designers to communicate with clients over phone or video when talking about larger projects. Video conferencing software are becoming absolutely necessary for these teams to remain in contact and provide clarity on processes during periods of increased remote work—now more than ever.
As remote work continues, we should only expect the reliance on software and technology to increase. Luckily we are living in a time when remote design teams can take advantage of a host of design tools that allow them to remain collaborative.