As I chip away at creating an omnichannel software category for G2, I've been thinking a lot about how to define omnichannel software.
If you're familiar with G2, you know that each of our software categories has a definition to maintain our software taxonomy in a way that makes sense for both buyers and vendors. Each definition contains a list of required features to be included in a particular category.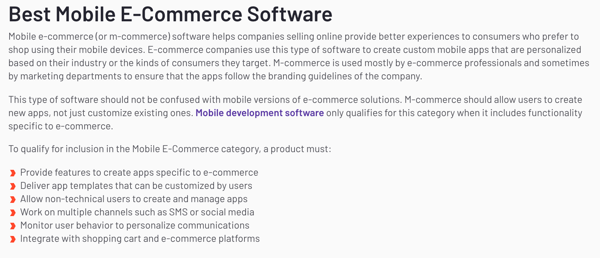 In my first column in The G2 on Omnichannel Commerce series, I mentioned that I'm working on building out an omnichannel space on G2. That means defining omnichannel software in a way that's both comprehensive and scalable. However, I'm confident that omnichannel will change and evolve in the coming years, and I want our space to easily change with it. How do you define something that's guaranteed to change?
You don't! Column finished, thanks for reading! (I'm kidding, please keep reading.)
How to define omnichannel software
"Omni" literally means "all," so we're dealing with a broad definition right from the start. My first step was to draw a line between multichannel retail software and omnichannel software, since there is potential for overlap, if not outright confusion.
While auditing G2's multichannel retail software category, it became clear that multichannel retail mostly focuses on managing a variety of e-commerce channels from a single hub. It also became clear that multichannel retail software is almost entirely focused on the back end, with few customer-facing features. While omnichannel software may contain this functionality, it usually can do more. Sometimes the best way to define something is to define what it isn't.
With a clearer idea of what omnichannel software isn't, let's dig into what it is. In my opinion, one of the main hallmarks of omnichannel is the merging of online and physical retail channels. Services including "click and collect" and BOPIS (Buy Online Pick up In Store) have become common features of omnichannel retail. However, there's more ways e-commerce and in-store retail can interact.
Many customers use their mobile phones to compare prices, look up reviews, and find deals while shopping in stores. Businesses with an app or strong mobile e-commerce presence can leverage this functionality to improve customer experience and deepen brand loyalty. For instance, our 2018 holiday retail survey showed that almost all customers use a combination of channels to do their holiday shopping. Retailers have noticed that customers are not loyal to one single channel, but act opportunistically across various channels. It's in a retailer's best interest to unite as many channels as possible to capture customers at every possible touchpoint.
However, omnichannel is more than just connecting online and physical channels, hence the "omni." Social media, mobile, customer service, and email are all channels that should be incorporated into an omnichannel strategy. It's important to include back-end channels including order fulfillment and inventory management as well; these help streamline customer experience on the front end.
Like all businesses, but especially with omnichannel, there is no one size fits all solution. While I can create a broad definition, there will be solutions with a range of features. Since it's so difficult to create one platform that essentially does everything a business needs, omnichannel is still somewhat uncharted territory.
The omnichannel problem
For most businesses, an omnichannel strategy is carried out using multiple integrated software solutions. For example, ERP and supply chain software can connect to customer-facing tools to streamline order fulfillment, social media management software can link directly to an e-commerce platform to drive online sales, and email marketing software can connect to loyalty management software to deliver personalized discounts directly to customers' inboxes. However, that's many moving parts to purchase, implement, and integrate with all the other tools. There are very few truly omnichannel platforms currently available.
Emerging spaces are often the most interesting. Omnichannel is one of the main 2019 retail trends, and it's a major buzzword in the retail industry. I think it's extremely important to begin working on a category while the space is new since it is not a distinct category and does not have many players in the space. And in a few years, the landscape may change completely with new channels or completely different retail strategies. Nevertheless, I am confident that today's omnichannel will eventually look very different. For that reason, it's important to create an inherently malleable definition and a scalable category.
Software buyers want to build omnichannel solutions for their business, but information on how to do so is relatively scarce. An omnichannel software category will provide a resource for buyers to research omnichannel offerings and what may or may not work for their business.
Omnichannel going forward
All signs point towards retail becoming more connected across various channels in our increasingly connected world. The hope is that omnichannel is here to stay, and that more vendors will create omnichannel solutions to help retailers improve their businesses. By creating an omnichannel space on G2, we hope to guide buyers to solutions that best help them while providing vendors with a competitive space.
However, the space is evolving and I am only human. The space that I create now will likely look very different in just a few months, let alone a year. My goal is to build in room to grow and the ability to create offshoot categories that will accurately reflect the space as it evolves.
After all, the only constant is change.