Sales teams are adapting to the new demands of remote selling. This includes more complex conversations with a remote buying committee, potential shifts to stakeholders, and budget approvals that are receiving more scrutiny than ever before.
Prior to the COVID-19 outbreak, buyers expected a certain level of personalization, timeliness and trust building from their sales reps. Over the last 6 weeks, that expectation has become a requirement for any sales teams looking to remain relevant. It's time to evaluate whether you have the right tech stack in place to support this remote selling environment for your team and your customers.
If you take that step toward evaluation, you'll be in good company. In the first 5 weeks since social isolation mandates went into place in the US we've seen significant increases to G2.com's category pages. These increases run the gamut from tools that aid in collaboration to those that help with remote service delivery, and software that facilitates the configure-price-quote process is no exception.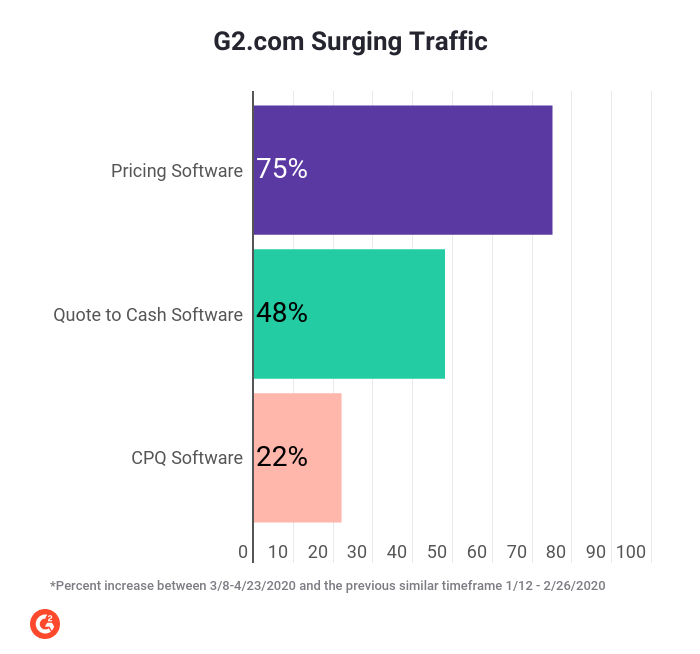 Traffic to pricing software surged 75 percent, with Quote-to-Cash seeing a 48 percent jump and CPQ software traffic increasing 22 percent. This indicates to me that companies haven't built out a full CPQ tech stack and are prioritizing the investment, or that they are reevaluating whether their current tools have the features they need to really get the job done.
It also indicates that companies are looking for a new level of support for intelligently pricing their products in a time that may require more flexibility or creativity than they would during a standard sales cycle.
2 important questions to ask about your CPQ tools during the time of COVID
Whether you're looking for a net new tool or are considering replacing existing technology, it can be a difficult cost to justify in this time of uncertainty. That being said, the potential return on investment you see from having technology that truly empowers your sales team to competitively price your product, while at the same time meeting the needs of your customers when it comes to quoting (personalization, timing, trust), could be enough to sway the conversation.
In addition to weighing the potential time to ROI, there are two questions that are especially relevant to the evaluation of tools to support your configure, price, quote process.
1. Does the configure, price, quote tools support dynamic deals?
In our State of Deals 2020 study, we found that even before the outbreak, the B2B deals process had become extremely dynamic, decision makers changed frequently, and timing and personalization were key to customers.
This is even more relevant to sellers now, given that buyers who are newly remote are working to overcome challenges with collaboration, coming to consensus, and evolving priorities and resources. A shift to remote selling means that now, more than ever, companies need the technology to help them effectively price and sell their products.
2. Can the configure, price, quote tools help bring your business online?
E-commerce is a critical component of any sales strategy in this time (and I'm confident that is not a passing fad that will go away once COVID comes more under control). Pricing and CPQ tools that support or integrate with e-commerce tools
While considering new tools to help streamline processes can be a turning point for your processes and ability to reach broad customer bases, it's important to consider change management as you work to digitize your business. Frank Sohn, CEO of Novus CPQ consulting highlights that companies should, "Note that this also includes a shift to digital selling which is new to many companies and hence will require training in this area."
Every company is going to have their own unique business priorities when it comes to selecting new sales tools, but the goal of digitally transforming your business is to gain a competitive edge via technology. Evaluating whether you have the right software to support your configure, price, quote process, is the first step toward selling smarter in the age of COVID-19.