Global supply chains are being severely affected by the COVID-19 (coronavirus) outbreak.
The new coronavirus first appeared in 2019 in China's Wuhan region, which serves as a vital cog in the global supply chain. According to a report on the virus' business impact, 51,000 companies around the world have one or more direct suppliers in Wuhan and at least 5 million companies have one or more tier-two suppliers in the Wuhan region.
In fact, one of Apple's main suppliers, Foxconn, has a supply plant in Wuhan; 50% of Foxconn's employees are currently not working due to the coronavirus outbreak. The plant is one of two major centers where Apple manufactures and produces the iPhone.
Other major tech suppliers that report major supply chain disruptions due to the coronavirus include Dell Technologies, HP, Qualcomm, Huawei, Samsung, Qorvo, Skyworks Solutions, MagnaChip Semiconductor, and Amkor.
Possible solutions for COVID-19 disruptions
In a time when there is so much uncertainty for supply chains, tech companies must do all they can to stay ahead of disruptions and delays. Companies can proactively address potential disruptions by leveraging supply chain technology solutions that enhance communication with their overseas suppliers. One of those key solutions is supply chain visibility software.
Supply chain visibility software allows users to track raw materials, parts, components, and finished goods from suppliers to manufacturers. If there are delays, users can communicate with suppliers to find a solution and speed up production and distribution.
Susan Pichoff, senior director for community engagement at GS1 U.S., a standards organization, elaborates on the importance of communicating with suppliers during the coronavirus outbreak: "Standards help create end-to-end supply chain visibility, which means product, location, and event-based information can be shared in real time, and trading partners can better pinpoint products that are delayed or unaccounted for."
Other solutions include better supply chain management and planning. Razat Gaurav, the CEO at supply chain planning software company LLamasoft, points out that there might be an overreliance on supply chain planning in China. Gaurav states:
"This is a wake-up call for companies thinking about designing a supply chain. Risk and resiliency need to be part of the design...Companies that have not fully thought through the details could be in trouble. Many companies have business continuity plans for earthquakes and floods (in China) but the alternative facilities were also in China." (via Forbes)
Supply chain issues arising from the coronavirus are only going to get worse
According to Google Trends, the search term "supply chain risk management" spiked during mid-February, when the number of confirmed coronavirus cases doubled.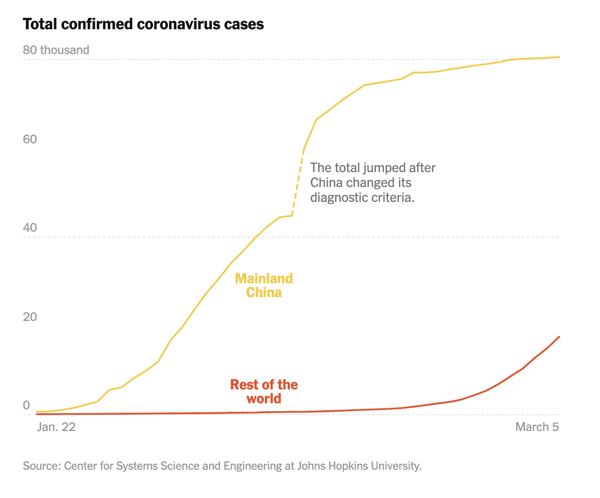 This correlation points to a major problem in supply chain risk management: Vendors supply chain planning reactively when they should be proactively supply chain planning. Supply chain leaders need second- and third-tier suppliers in strategic locations where they can effectively combat supply chain disruptions.
With the coronavirus expected to spread, the issues for global supply chains are only going to get worse. Businesses need to prepare for more effects on worldwide manufacturing and begin proactive planning so they can mitigate adverse effects.