As the COVID-19 pandemic continues around the globe, many nonprofits are left in a precarious financial position due to canceled galas and events—which often constitute a vital portion of yearly fundraising revenue. Furthermore, nonprofits who engage with vulnerable populations through program and service delivery face another challenge: protecting their staff while continuing to help these vulnerable populations access the critical services they need.
Remote work isn't an option for every nonprofit right now, but nonprofits should be assessing their action plan to do their part in flattening the curve.
Who can go remote in nonprofits?
As more businesses continue to shift and adjust to remote work over the next several weeks, it's important to remember that not all nonprofits have that ability. This applies particularly to nonprofits who regularly provide services and programs to vulnerable populations. While certain marketing, admin, and development staff may be able to shift to remote work during this crisis, program and service staff are faced with uncertainty as they continue to engage with communities at risk, such as food insecure people, homeless people, or young people.
If certain nonprofits close on-premises operations, those who rely on their services would have nowhere to turn. Some of these services include health care and housing access, food donations, and behavioral health and substance abuse counseling. While telemedicine options are being implemented for some hospitals and community health care providers, organizations that work with homeless people or those without access to video conferencing technology can't make this shift without depriving these people of those services during this time. Homeless shelters are also particularly high risk for a potential COVID-19 outbreak. Nonprofits need to be taking extra precautions to protect their staff, volunteers, and the people they serve by implementing rigorous sanitary policies and social distancing when possible.
We recently surveyed 641 nonprofit professionals to better understand the current state of nonprofit tech capacity and found that 36% reported not having the option to work remotely, whether via laptop or remote desktop. Additionally, 10% of respondents said that they did not know if they had the option.
Many nonprofits that lack the tech infrastructure to transition to remote work life for the next few weeks will have to furlough or lay off workers, suspend operations, or continue risking exposure. For these organizations, certain roles are easier to perform remotely than others. A grant writer, for example, could feasibly shift to a remote workflow, even if their organization lacked cloud infrastructure or remote desktop; they would have to email documents to themselves, but it could be done.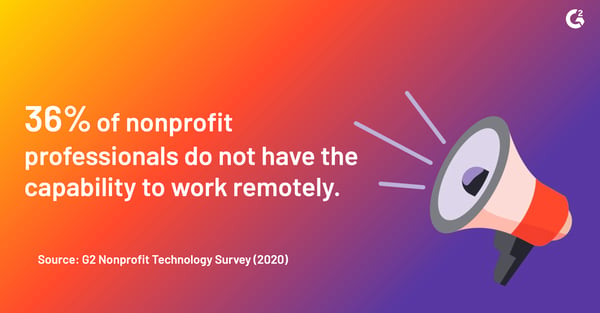 But what about other roles? Many marketers, individual giving fundraisers, and freelancers, for example, rely on software programs that can only be accessed via a work desktop computer. Program and services staff are limited by remote work if they can't connect with their clients.
These are the challenges that many smaller nonprofits are now likely facing. They don't want to expose their employees, and by extension the communities their employees may interact with, but they can't provide the accommodations their staff need to go remote. Cultural institutions and nonprofits that provide school-based programming also face unique challenges, with many schools and museums shutting down temporarily.
For many industries and systems, COVID-19 has highlighted how easily one crisis can dismantle day-to-day operations—and challenges organizations to approach problems from a people-first perspective. Many communities rely on nonprofits to provide programs and services, so how do nonprofits balance that need while considering the health and safety of their own staff? Pressured by funding requirements and driven by a commitment to their vulnerable communities, most nonprofits will continue to operate amid this pandemic. Adopting cloud infrastructure, or at the least collaboration & productivity tools to promote remote work, could go a long way in supporting nonprofits in current and future crises.
How can nonprofits stay afloat during the COVID-19 health crisis?
In a recent monthly column, I discussed the rise of crowdfunding and how it has grown to become a formidable fundraising strategy for nonprofits. As more states and countries move to ban large gatherings and events to slow the spread of COVID-19, nonprofits have had to make the painful decision to cancel important fundraising events or galas. Now more than ever, nonprofits will need to turn to crowdfunding and peer-to-peer campaigns to support their fundraising efforts. Nonprofits without significant revenue streams often depend on these yearly events to maintain a balanced budget, lest they end the fiscal year in a deficit.
As nonprofits continue to be a safety net and social services beacon during this trying time, supporters will need to rally around them and support them with donations. With the CDC recommending that gatherings of 50+ people be banned for the next eight weeks, nonprofits will be scrambling to create alternative opportunities for donations. Crowdfunding campaigns are the easiest option, with many free fundraising platforms available to utilize. Organizations should also encourage their supporters to make their own Facebook Fundraiser to boost peer giving. Organizations that conduct workshops or trainings may also look to record or livestream them for virtual participants.
Smaller nonprofits in particular are going to feel the pressure until governments broadly respond to this pandemic with decisive action that relieves the economic burden being placed on businesses and workers. If nonprofits can't deliver funded programs and services as contracted, they will have to relinquish some or all of their funds. One would hope that grantmaking institutions will make exceptions given the extraordinary circumstances, of course. Many businesses are already making difficult decisions in regards to trimming staff and other expenses due to the uncertainty surrounding COVID-19. Nonprofits will undoubtedly also have to look to hourly and part-time staff layoffs to weather the storm until some financial stimulus is decided.
Nonprofits need our support, now
For many, COVID-19 has introduced an unprecedented amount of chaos into modern society. Businesses from all industries are reeling from the impact. As community beacons, nonprofits must balance the difficult task of limiting exposure while still providing access to critical programs and services that serve those among the most vulnerable right now in the wake of this pandemic. Altruism and swift, decisive action will be the north stars that pull society out of this crisis.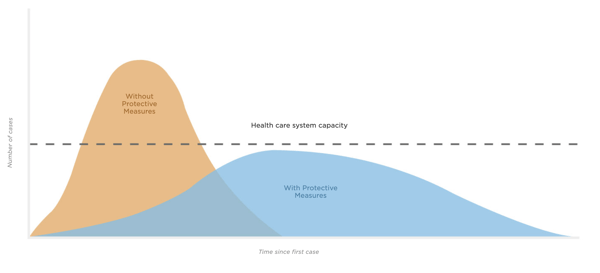 Source: NPR
Nonprofits need their supporters to rally around them now more than ever. They are tasked with being a safety net for vulnerable populations during this scary time, ensuring that everyone in our communities still have access to basic needs and protections. Nonprofit leaders should also be addressing their action plans to support remote work when possible, and how technology can support collaborative efforts during crises like this. Flattening the curve is crucial to slow the spread of COVID-19, but nonprofits still have an oath to their communities that must be fulfilled.