It's the height of college application season, and if there's a prospective member of the class of 2024 in your life, you know that the anxious questions are swirling.
Will my GPA be high enough to get into my dream school? What about my SAT scores? What should my major be? Will the schools I get into meet or exceed my standards for mascot excellence?
But applicants aren't the only ones who are nervous.
A 2019 Inside Higher Ed survey found that 54% of admissions leaders at colleges and universities were very concerned about meeting their enrollment targets for the current academic year; another 32% said they were moderately concerned.
Competition in college admissions has escalated, not only among top applicants but among college admissions officials. Every year, colleges work hard to attract qualified students, have them apply, then convince them to enroll so the institution hits its enrollment targets.
More than half of admissions officials said they missed their enrollment goals for 2019. This year, almost 80% of admissions officials told Inside Higher Ed that they have increased their efforts to recruit full-time undergraduates.
To address this issue, higher education administrators are turning to the latest generation of admissions and enrollment management software to give them an edge in recruiting. However, some of these technologies raise questions about fairness and privacy.
The pressure's on
College admissions offices face increased pressure, as applications are up while enrollments are down.
According to an analysis by the Pew Research Center, the number of applications submitted to colleges and universities more than doubled from 4.9 million in 2002, to 10.7 million applications in 2017. To put this in a more relatable framework, that averages out to 6.8 applications per enrolled student in 2017 for those institutions, compared to about 4 applications per enrolled student in 2002. In other words: Students are applying to more schools than ever before.
At the same time, fewer students are actually enrolling. While, according to government enrollment data, the total number of students enrolled in colleges and universities in the United States increased 37% between 2000 and 2010, enrollment has slowly declined since then. The United States Department of Education estimates there are 19.9 million students enrolled in higher education this year, a decrease of about 5% since enrollment peaked in 2010.
There are several potential factors behind the enrollment decline. Numerous significant for-profit college chains that enrolled thousands have closed. Additionally, college costs have increased, and many students are concerned about drowning in student loan debt. And the trend may continue: birth rates have been declining since the Great Recession, meaning there will be fewer students of college-going age in the coming years.
With more applicants applying to multiple schools, many colleges are working harder to secure enrollment commitments from applicants who may be considering multiple offers of admission or aren't convinced that college is worth the cost.
In this competitive environment, college admissions offices must answer several key questions:
How do we effectively reach a generation that expects personalized, tailored communication, likely through a mobile device?
How do we identify which students are most likely to attend, so we can dedicate more resources to those prospects?
How do we make the process more efficient for both applicants and college staff?
Declining enrollment may have catastrophic consequences for struggling institutions, so the stakes are high. As a result, administrators around the country are hoping new technologies will keep their admissions and recruiting efforts on track.
CRM, from corporate to campus
One of the biggest shifts in higher education recruiting has been in how admissions officials find, reach, and track potential applicants. Many are adopting a tool that's commonplace across industries, customer relationship management (CRM) software.
CRM systems revolutionized the sales process for businesses, allowing businesses to precisely track their sales interactions and automate key parts of the sales process. Colleges and universities are now using CRM-like tools customized for higher education in hopes of more efficiently reaching their potential customers—students. CRMs synthesize many tasks recruiters do: conducting broad email marketing campaigns, tracking how prospects interact with their outreach materials, recording notes on contacts with candidates, and guiding them through the application process.
Armed with a dashboard of data on applicants, recruiters can identify the candidates most likely to apply, boosting their enrollment rates. Automation functions in higher education CRMs allow officials to track metrics—including how many recipients open mass emails or how many click on a link, for example—giving the admissions office intelligence on which campaigns are working.
Despite the benefits, not all universities have implemented CRM tools. According to a March 2019 survey conducted by Formstack, only 54% of admissions officials reported using CRMs. It's clear that CRMs aren't just for business anymore, and the number of schools using the systems is likely to grow.
Digital communication gains prominence
While traditional recruiting efforts like campus visits are still important avenues for reaching candidates, digital communications and social media platforms are more important than ever for reaching today's prospective students. Colleges are still figuring out how to best utilize those communication channels and how much to prioritize them.
According to Inside Higher Ed's 2019 survey, close to 90% of admissions leaders use digital communication tools like social media or chatbots to interact with potential applicants during the recruiting process. There's still room for improvement. According to the same survey, only 8% of admissions directors are very satisfied with how their college interacts with applicants, another 61% are satisfied. However, 31% still said they are dissatisfied with their current digital communications.
Schools must carefully consider how to approach social media interactions with candidates to maximize effectiveness while respecting privacy. What tools are most likely to effectively reach prospects—Facebook? Instagram? Snapchat? TikTok? Are informational posts on the institution's profile enough, or should you send direct messages to individual candidates? What actions by a recruiter might cross privacy lines or make candidates feel uncomfortable?
Another survey from the National Association for College Admission Counseling showed colleges are split on how to prioritize social media in recruiting.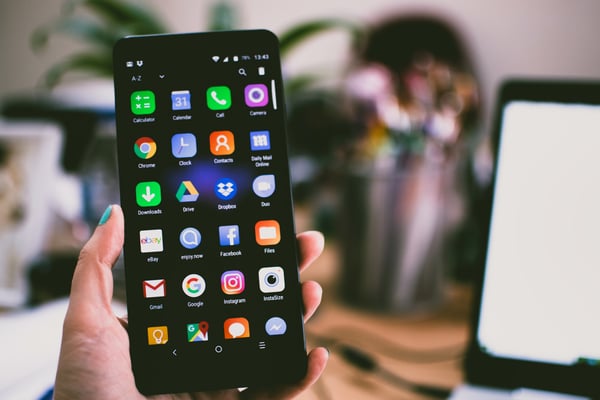 That 2018 report found that 87% of colleges consider email to be recruiting strategy of "considerable importance" for recruiting prospective students and 85% considered websites to be similarly important. However, only 44% said social media like Facebook and Instagram was similarly important to their recruiting efforts.
Properly leveraging the evolving social media landscape is an ongoing challenge for admissions offices. Ignoring social media dismisses one of the key ways today's generation of college students communicate, potentially missing out worthy applicants.
Predicting the future
Data science is playing a growing role in college admissions.
Using advanced algorithms and large data sets, colleges can predict which students are likely to enroll. This allows recruiters to focus their energy on the students most likely to accept an offer of admission.
Predictive models often look at characteristics of previously enrolled students, considering factors like gender, race, age, test scores, and high school grades to generate predictions. Interactions matter, too—a prospective student who has consistently clicked links in marketing emails, for example, could be flagged as highly engaged, and targeted for greater attention from recruiters.
The models should be treated with a healthy dose of skepticism. When they use data about past student enrollment, the models may exclude groups of students who historically haven't been represented in the student body. Administrators looking to increase diversity on campus will need to customize and adjust the models to align with their goals.
Still, most schools seem convinced about the benefits of predictive modeling. Just over half of the schools in the Inside Higher Ed survey said they use predictive tools to forecast which students are most likely to enroll. Of those schools using predictive modeling, 77% are satisfied with the products.
Concerns
The level of competition between universities may get even more fierce.
In September, the National Association for College Admission Counseling (NACAC) approved a plan to remove several key provisions of its code of ethics, which the United States Department of Justice had investigated as potentially stifling competition among colleges for students.
The three deleted sections included "offering exclusive incentives for Early Decision, recruiting first-year undergraduates who have committed elsewhere, and recruiting transfer students," according to the NACAC. Removing the rules has heightened concerns over schools getting more aggressive with their recruiting tactics or trying to poach students who have committed to another school.
Admissions offices' use of tools that aggregate large amounts of prospective student data and track interactions with recruiting materials raise questions about student privacy and whether schools are going too far with tracking and aggregating student data. As the pressure to enroll students shows no signs of letting up, it's clear that technology will play an important role in college admissions offices.
Applicants hope to get something a little more old-fashioned a few months from now—that thick packet from their dream school, arriving via snail mail, with good news tucked inside.