The time has come. Halloween has passed and Thanksgiving is right around the corner, which means the holiday shopping season has officially arrived.
The holiday season can make or break the year's sales for almost all retailers; this is also the time when business systems, particularly omnichannel platforms, are put to the test. High volumes of visitors and an increase in sales in a short amount of time—especially this year, when Thanksgiving is closer to Christmas than usual—stress any business. However, businesses that leverage multiple channels find operations even more complicated.
E-commerce channels can fall prey to a multitude of issues such as site outages, hacking, and transaction overload; all of these can easily bring business to a standstill. When e-commerce channels interact with other sales channels, there are even more opportunities for business to go awry. (I mean, just imagine the damage a rogue drone could wreak on a neighborhood as it attempts to make a delivery…)
An omnichannel platform may or may not help with these aspects of running a retail business, which is why omnichannel is, to be cliche, more a state of mind than a defined software tool.
Omnichannel and the holidays
The holidays are meant to be a relaxing time spent with friends and family, but it's often a busy, stressful mess. As consumers run around trying to finish their holiday shopping, businesses attempt to keep up. Shoppers use a variety of channels to make their purchases, holiday or otherwise; it is therefore more important than ever for businesses to have a strong omnichannel offering. For instance, according to a survey conducted by Citi Retail Services, 42% of shoppers turned to mobile channels to do their holiday shopping last year. While we can't be sure if consumers followed through on that intent, we did ask that question in our holiday retail survey this year.
Last year, we conducted our own surveys (one before the holidays and one after) to determine how consumers planned to do their shopping, how retailers planned to manage the holiday rush, and what consumers actually ended up doing. The 2018 holiday survey results confirmed that consumers predicted they would do more in-store shopping than they actually did. This shows that an omnichannel strategy is important: multiple available channels that work well together provide customers with options when they cannot make a purchase using the channel they initially intended. Rather than lose those customers, they can utilize another channel to achieve the same result.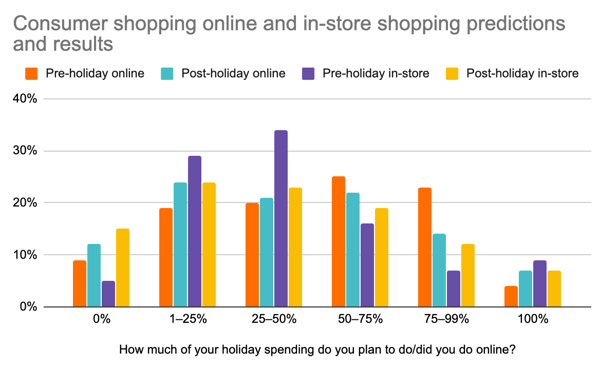 The fact that e-commerce and other online channels are growing in popularity is not news. But, according to a Profitero study, a quarter of consumers have already begun their 2019 holiday shopping, and much is done online. Due to the shortened holiday season this year, many retailers are offering discounts early to entice shoppers to start on their gift lists.
So what does this have to do with omnichannel? Consumers do what is convenient. Sometimes that means ordering a gift on a phone while on the go or checking on a mobile device to see if an item is available in a store nearby, so it's convenient swing by during errands. The more purchasing channels offered, the more likely consumers are to find a method convenient for them.
However, for businesses, this does not just mean beefing up online presence. Online orders are still powered by manual order fulfillment processes, and an increase in online orders necessitates an increase in manpower. Target, for instance, has a very strong omnichannel offering, and this year it plans to hire more than 130,000 seasonal employees to help with order fulfillment.
Holiday strategies
Retailers approach the holidays a variety of ways; there is no tried-and-true recipe for success, and success looks different for each individual business. Our holiday retail survey showed that retailers use a variety of approaches to handle the holiday rush, and that technology is only part of that strategy.
Seasonal hiring is one method. According to G2's 2018 holiday survey, 33% of respondents who used seasonal hiring said it was very important to their holiday strategy. Another 25% said it was important and 20% said it was somewhat important. Other preferred methods of dealing with the rush included longer store hours (32% of respondents noted this as very important) and increased inventory (49% of respondents considered this very important). Longer employee shifts and increasing the number of available store managers were both considered very important by 24% of respondents who leveraged those strategies.
To put it bluntly, a good omnichannel strategy will not just focus on the online aspect. Of course all of these offline strategies are powered by software in some way. Seasonal hiring may be organized using an applicant tracking system; increased inventory may be facilitated by inventory control software or warehouse management software.
Although I created an omnichannel platforms category that is designed to evolve, it is highly unlikely that an omnichannel platform can manage every aspect of a retail business. While it can help unify channels and create a consistent experience for customers, there are many considerations and software products that go into running a large-scale retail business.
Around the holidays, when everything is busier and rushed, efficient software and processes become extremely important. Now is absolutely not the time to hammer out an omnichannel strategy, but it can be a good time for a business to troubleshoot its current one. Finding a business' stress points is much easier when the whole system is pushed to its limit. However, knowing where those stress points are can help create a more effective omnichannel strategy, because knowing where friction occurs is the first step toward alleviating it.