For marketers, one of the greatest benefits of social media is the opportunity to interact with customers. A successful social media strategy includes both telling customers about a brand and leveraging social listening to truly connect with customers.
Social listening technology helps marketers collect, track, and study social data. This data can be used for in-depth analyses, such as sentiment analysis, affinity analysis, and competitive insights. Social listening tools leverage artificial intelligence (AI) to provide valuable information about the people engaging with a brand on social media, including their age, gender, geographic location, and interests. In other words, social listening tells a company who its audience is and how they feel about a brand.
How to measure and improve brand perception with social listening
There are a number of ways a brand might leverage social listening, but the most efficient method is through social media monitoring software. These tools help businesses listen for specific brand mentions across social media, identify trending topics and thought leaders, and measure customer sentiment. Though these solutions primarily source data from social media sites like Twitter, Facebook, and Instagram, many scrape information from the entire web, including relevant blogs and news sites.
Social media monitoring tools are valuable because they allow brands to see when they're mentioned on social media, even if they aren't directly tagged in a post. While 30% of consumers share negative customer experiences on social media, 49% share positive experiences, according to research from the Sitel Group. It's important for brands to keep track of these mentions because one customer's positive (or negative) experience on social media can have far-reaching effects.
RELATED:
Learn the best strategies for dealing with negative marketing,

here
→
The most natural use case for social media monitoring software is scanning social media channels for negative customer experiences and staving off potential public relations disasters. Customer service teams can leverage social listening tools to quickly respond to customer complaints and inquiries, improving brand perception. Negative sentiment data helps brands discover the reason behind customer churn. According to a survey from Sprout Social, 55% of consumers feel more connected to brands that "like" customers' content or respond to customers online. The same survey found that customers who feel connected to a brand are 76% more likely to buy from that brand over a competitor, and 68% more likely to recommend the brand to a friend.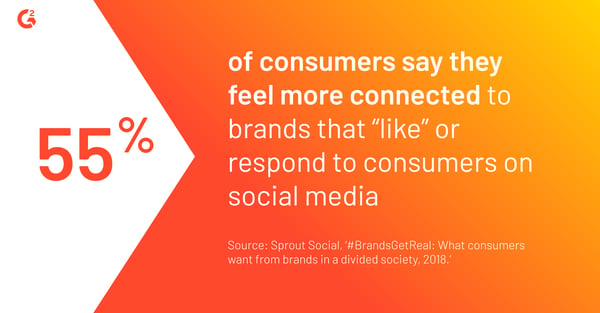 Similar to word-of-mouth marketing, social media can influence consumers' purchasing behavior. A study on social media referrals conducted by HubSpot found that consumers are 71% more likely to make a purchase based on a referral from social media. In my column last month, we examined the effects of influencer marketing on brand awareness and sales. Finding influencers is one of the biggest challenges marketers face; by engaging in social listening, marketers can identify micro-influencers and nano-influencers who are already promoting their brand's products or services.
How tech improves social listening
Before the age of digital marketing, brands relied on static demographic data like gender, age, and geographic location to tailor their marketing campaigns. This resulted in a lot of "spray and pray" marketing—companies promoting their products or services to the masses, with little regard for personalization, and hoping something would stick. But finding out what "stuck" wasn't an easy task either. Third-party data firms like Nielsen were key to helping marketers track key performance indicators (KPIs) and understand channel performance.
Today, brands can access rich, contextual consumer data and analyze marketing performance immediately and effectively through social listening. Thanks to advances in artificial intelligence (AI) and deep learning, social listening and analytics are more powerful than ever. While AI is improving its ability to understand context for sentiment analysis, it's also providing brands with image and video analytics. With all this data on the table, expect to see more and more businesses leveraging social listening technology in 2020 and beyond.
Social media monitoring and listening solutions rely on natural language processing (NLP) software to perform sentiment analysis. In the context of social listening, sentiment analysis is the process of studying social media messages and applying a positive, negative, or neutral emotion to them using language cues.
As a basic example, an NLP algorithm would assign negative sentiment to messages that contain words like "worst," "hate," and "disappointed," while it would assign positive sentiment to messages that contain words such as "best," "love," and "amazing." Sentiment analysis enables businesses to measure their brand health, respond quickly to negative mentions, and uplift brand advocates who share positive experiences.
However, human communication—especially on the internet—isn't always cut and dry. Someone who tweets, "American Airlines lost my luggage! Great!" probably isn't feeling very positive about the airline. Similarly, if a user posts the message, "That new Star Wars game is sick," will the AI interpret it as positive or negative?
Sentiment analysis isn't foolproof…yet. Algorithms can be thrown off by nuances like sarcasm, irony, and slang. Then again, the lack of clear tone on the internet can make it difficult even for humans to detect sarcasm. As NLP continues to evolve and improve, algorithms are beginning to understand and analyze sentiment based on contextual clues. Since sentiment analysis won't get it right 100% of the time, marketers that use this tool in their social media strategies should monitor the results and make sure AI is categorizing messages correctly.
The future of social listening
One recent development in the realm of social listening is image analytics. After all, social networks aren't exclusively text-based: Platforms like Instagram and YouTube built entire communities around sharing photos and videos. Some social media monitoring solutions, such as NetBase, Radarly, and Brandwatch, have added image recognition to their platforms, giving businesses the ability to track and analyze appearances of their brand in visual content.
This year, Talkwalker became the first social listening software to introduce video recognition to its platform. With the growth of TikTok, Instagram Stories, and Facebook Live, video is everywhere on social media today. Video recognition is a powerful addition to social listening that will allow brands to combine text, image, and video analytics, painting a full picture of a brand's presence across the social landscape. With image and video recognition, brands can better leverage user-generated content as social proof for their products or services.
As social listening platforms improve their ability to offer in-depth, contextual, and multimedia data, it will be increasingly important for them to integrate with other tools in a company's stack. Social media analytics can help inform more than marketing strategies, after all. Product development teams can use social data to troubleshoot and fine-tune existing products, as well as source ideas for new offerings. Customer service departments use social data to keep a pulse on customer sentiment and manage brand reputation. Sales teams can use social data as a powerful source for new, qualified leads. To ensure that large amounts of social data are leveraged across relevant areas of business, the most successful social listening tools will integrate with sales tools, business intelligence platforms, and customer service software.