When you think of an "influencer," what comes to mind? Kim Kardashian promoting "detox tea" on social media? A beauty guru on YouTube showing off the latest MAC eyeshadow palette? A festive image of Santa Claus enjoying a bottle of Coca-Cola?
It might be hard to believe, but these are all examples of influencer marketing. After all, an influencer is an individual that impacts the purchasing decisions of others based on their knowledge, authority, or relationship with their audience. Like word-of-mouth marketing and online reviews, influencer marketing works because consumers are more likely to trust people they know—especially people they admire—more than they trust companies trying to sell products or services to them. Studies reveal Gen Z is more ad-resistant than previous generations, so marketers must use other tactics to reach younger audiences.
When we talk about influencers today, we're usually referring to the social media influencers that proliferate platforms like Instagram and YouTube. However, the concept of influencer marketing has been around for nearly a century. In the 1930s, Coca-Cola commissioned an illustrator named Haddon Sundblom to create an image of Santa Claus to use in holiday advertisements. The ads from this campaign had a lasting influence on the way Santa Claus is depicted today, and led to the myth that Coca-Cola invented the modern-day image of Santa Claus.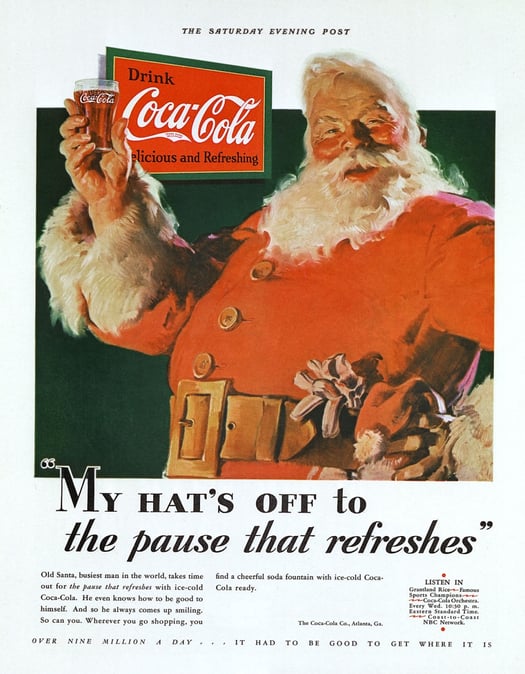 Source: Coca-Cola
Thanks to innovations in technology and social media, influencers in 2019 are vastly different from influencer marketing of the early twentieth century. In many ways, however, the reliable strategies of modern influencer marketing aren't so different from Coca-Cola's vintage Santa ads.
The rise of influencer marketing
A quick study of Google Trends reveals that heightened interest in influencer marketing began in 2017. According to a report from Influencer Marketing Hub, from 2017–2018, over 300 new influencer marketing platforms and agencies entered the market. Marketing agencies and developers perceived an overwhelming demand for software and services to help brands work with influencers, so it's no surprise there are so many new agencies and programs.
Despite recent hurdles of negative public perception, concerns about influencer fraud, and journalists and bloggers postulating the death of influencer marketing, this powerful marketing strategy is still on the rise. On G2, we've seen traffic to influencer marketing software rise nearly 40% over last year.
Influencer marketing today
Today, most consumers see influencer-sponsored content every time they open their Instagram feed. Instagram is one of the fastest growing social networks and has proven invaluable for influencer marketing. A 2017 study revealed 72% of consumers on Instagram said they made fashion, beauty, or style-related purchases after seeing something on Instagram.
There's a strong emphasis on consumers in most studies about influencer marketing for good reason; influencers are usually leveraged by B2C companies. According to the same study from Influencer Marketing Hub, about 69% of marketers use influencer campaigns to target the B2C sector, versus 31% that use it to target the B2B sector. There are many reasons a B2C company might work with influencers, although they usually want to drive awareness of a brand, product, or service. Other popular objectives include increasing sales and encouraging user-generated content.
Why has influencer marketing remained so popular over the years? When executed properly, influencer campaigns can drive huge results. In a Mediakix survey of marketers from agencies, consumer-facing brands, and B2B companies, 89% of respondents said influencer marketing ROI is as good or better than other marketing channels. Media company Nielsen Catalina Solutions, in partnership with influencer marketing technology company TapInfluence, found that influencer marketing delivers ROI 11 times higher than all other forms of digital media. B2C companies can't ignore the power of influencer marketing.
With B2C brands experiencing so much success with influencers, it's likely that more B2B companies will adopt the practice and increase their spending on influencer marketing in 2020. Word-of-mouth marketing is powerful in the B2B industry, and influencers let these companies reach audiences they normally wouldn't. Influencers in the B2B sector include industry experts, top corporate executives, and even small business owners. Although social media can be used in B2B influencer marketing as it is in B2C, other popular strategies include content marketing, guest blogging, events, and video testimonials.
Trouble with trust
Despite its successful track record, influencer marketing has been subjected to its fair share of scrutiny. In the United Kingdom, influencer marketing is regulated by the Advertising Standards Authority (ASA). However, a survey of citizens across the UK found that 71% of people think there are no rules or regulations, and 44% of respondents thought influencer marketing was damaging to society. This outcome is likely tied to numerous scandals and negative publicity that surrounds influencer marketing.
Some major tech companies have attempted to regulate influencer marketing within their platforms, but many consumers continue to distrust the practice. In a 2017 Twitter chat, the Federal Trade Commission (FTC) announced that even it didn't believe built-in social media disclosures for paid promotions were sufficient.
The FTC has periodically issued guidelines about endorsements, including influencer marketing. Its general rule states that "if there's a connection between an endorser and the marketer that consumers would not expect and it would affect how consumers evaluate the endorsement, that connection should be disclosed."
So, guidelines exist, but how are guidelines enforced? In the past, the FTC has reached settlements with brands including Warner Bros and Lord & Taylor after they failed to disclose that influencers had been paid for their promotions. However, when cracking down on individual influencers who don't disclose ads, the FTC prefers to send warning letters.
Consumers aren't the only ones wary of influencer deception—brands are at risk as well. According to a report from cybersecurity firm Cheq, influencer marketing fraud cost advertisers $1.3 billion in 2019. Influencer marketing fraud occurs when "influencers" purchase fake followers and pay for bots to like or comment on their posts; using fake engagement numbers entices brands to partner with them. As partnerships between brands and influencers have become increasingly popular, experts have shined a light on fraud. In 2018, a Points North Group study found that midlevel influencers—influencers with 50,000-100,000 followers—often have about 20% fake followers. Shortly after, consumer goods giant Unilever announced it would refuse to work with influencers who bought followers. "At best it's misleading, at worst it's corrupt," Unilever marketing chief Keith Weed said in an interview. "For the sake of a few bad apples in the barrel, I believe there is risk in the area of influencers."
Transparency is key
Considering the legitimate value brands experience from influencer-sponsored content, influencer marketing isn't going anywhere. That said, irresponsible and insincere campaigns can be detrimental to a brand. The key to success is building relationships with relevant influencers based on trust, shared values, and a commitment to transparency.
What makes an influencer recommendation on social media trustworthy? Nearly a third of respondents said an influencer who had actually used the product or service they're promoting made the claim more credible, according to a report from CPC Strategy (now Tinuiti). More than a quarter of respondents said influencer's knowledge in the field made their promotions more trustworthy.
Building trust with tech
Brands considering leveraging influencer marketing should be careful to select influencers that align with their brand's values and target audience. This can be a challenging task; 61% of marketers say it's difficult to find the right influencers for a campaign, according to a survey from Mediakix, and spotting fake followers and inauthentic engagement is a top priority.
Fortunately, more tools are emerging to help brands tackle these challenges. There are more than 160 influencer marketing software products currently listed on G2. These solutions help companies manage all aspects of their influencer marketing campaigns. Discovery and outreach tools enable businesses to evaluate and build relationships with millions of influencers. Most platforms provide campaign management tools to enable marketers to run campaigns, manage workflows, collaborate with their team, and track the results of their influencer campaigns. Many platforms have realized the phenomenon of influencer fraud and use artificial intelligence to help brands identify influencers with real followers and genuine engagement.
Social media monitoring software is another tool marketers leverage to pinpoint influencers who are already engaged with their brand. Social listening tools can be especially useful for discovering micro-influencers. Micro-influencers are influencers with follower counts ranging from 2,000–50,000 who curate niche content. Micro-influencers don't have the same reach as big celebrities, but they often form closer relationships with their followers and boast higher engagement numbers. In a study of two million social media influencers, Markerly found that Instagram users with fewer than 1,000 followers have a like rate of 8%, while users with 1–10 million followers only generated likes 1.7% of the time. Brands are embracing micro-influencers for their perception as authentic brand advocates.
What's next for influencer marketing?
Influencer marketing has come a long way since the days of Santa Claus cracking open a bottle of Coca-Cola in The Saturday Evening Post. Influencer marketing is here to stay, although the influencers, campaigns, and strategies may change. One interesting development to keep an eye on is the emergence of virtual influencers like Lil Miquela, a computer-generated "model" on Instagram with more than 1.6 million followers.
With big tech facing increased scrutiny, it's likely that influencer marketing's watershed moment is around the corner. In the meantime, expect to see more posts on your feeds with the familiar hashtags #sponsored and #ad—and at the same time, a slew of thinkpieces decrying the dubious future of the influencer.