Voice technology: The voice heard 'round the world. We've all heard of Amazon's Alexa and Google Assistant (maybe even Samsung's Bixby and Alibaba's Tmall Genie).
As I mentioned in my last monthly column, one of the exciting new frontiers of technology is the shifting ways we interact with it. Voice technology in particular has played a huge role in these changes. Welcome to the multimodal age, where voice technology and natural language processing (NLP) rule supreme.
The rise and rise of voice tech
Voice technology, and by extension, the internet and internet of things (IoT) is so ubiquitous that we tend to forget that it hasn't always been part of our lives.
RELATED: Learn more about the inner workings of voice assistants, here →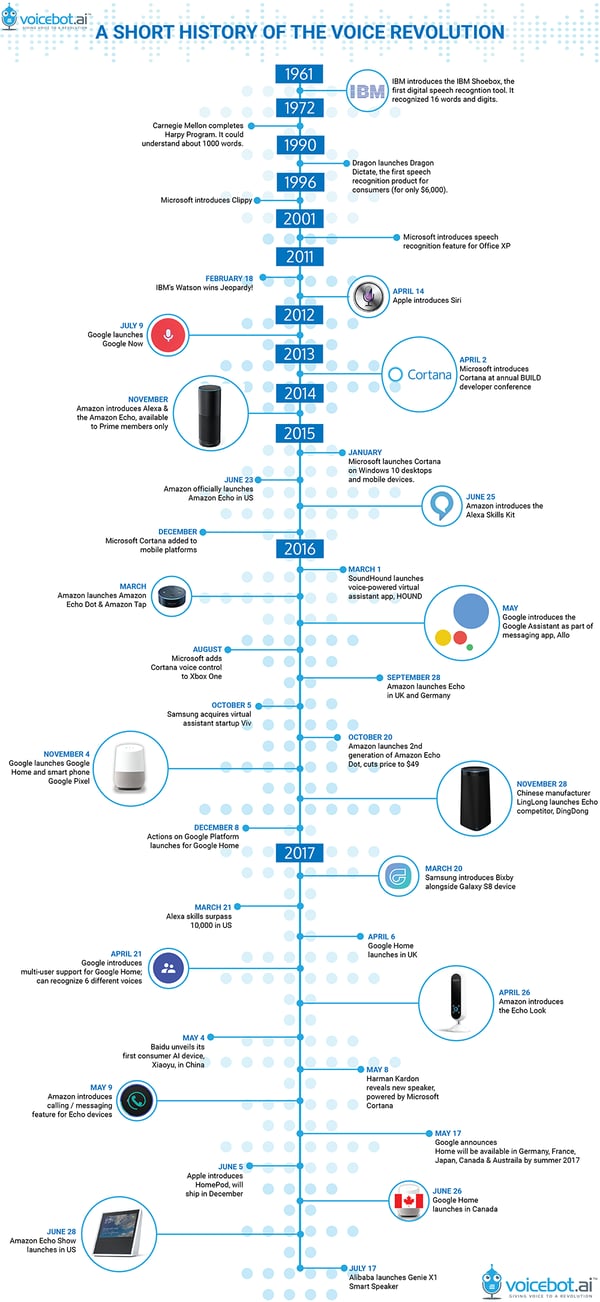 Soure: voicebot.ai
Voice assistants aren't going anywhere. If anything, they seem to have more use cases every day. What does adoption of these voice assistants look like on the ground? How is the technology used, and how are companies leveraging it to reach users or potential customers?
One thing is for sure: Voice is on the rise. As of Q1 2019, over 31% of households in the United States owned a smart speaker with an intelligent personal assistant. (Compare that to the 8% who owned one in 2016.) The United Kingdom is not too far behind. New data from Strategy Analytics showed that through June 2019, about 20% of households in the United Kingdom have a smart speaker.
Smart speaker ownership is only a partial predictor for the prevalence of voice technology. Including mobile phone usage, Location World discovered that about 40% of adults use voice search at least once a day.
According to eMarketer, 31 million Americans will shop using a smart speaker this year. Since customers have the ability to order groceries via Google Assistant, and just about anything from Amazon via Alexa, it's likely that more customers will utilize voice tech in the near future. From a business perspective, the opportunity for increased revenue from voice tech is exciting.
The bottom line: Voice is spreading, so brands must leverage and include it as part of their broader digital strategy. Below, we will focus on the e-commerce side of things, but will explore other far-reaching industry applications in later columns.
Why is this happening?
To understand why voice tech was embraced so quickly, it's worth looking back on the evolution of the human-computer relationship that's developed in technology itself, as well as the user experience (UX).
Many complex technologies such as AR, VR, IoT, and gesture control are tapping into the need for natural user interfaces. We've been on a journey toward this naturalization of the human-computer relationship for a long time.
We are moving toward more user-friendly, intuitive interfaces. Whether it be with switches, keyboards, or touchscreens, we are communicating with our technology in more natural ways. Voice, facilitated by speech recognition tech (like Google's that has 95% accuracy), is the next frontier.
At the same time, user experience criteria has evolved. When developing technologies, developers used to focus on criteria such as reliability, accuracy, and speed. Fast forward to today, where we're focusing on and talking about technology that we can trust, build relationships with, and find comfort in. This evolution in the personification of technology is key to the new form of user experience. It's important to note that previous expectations haven't gone away. We still expect our tech to be fast and reliable; we now want it to do that in a way that feels both organic and bespoke—it is called natural language processing (NLP), after all.
Voice makes technology feel more human and allows people to trust it more. Voice will prove to be an important natural interface that mediates our communication and relationships with our devices, and ultimately, our communication and relationships within an AI-powered world.
Speaking naturally with voice technology
What are the characteristics of voice that make it such a natural interface?
Speed: Homo sapiens speak an average of 150 words a minute and type an average of 40 words a minute. When we speak, there is no process translating the voice in our head to referential buttons on a keyboard or phone.
Liberating: In a world where technology is supposed to free us, the development of visual screens on phones and tablets have constrained us, forcing our heads down. Voice brings our heads back up, liberating us from fixation on a screen and allowing the ability to multitask and interact with our technologies at the same time. With voice, we can seamlessly multitask since it's already a natural part of our environment.
Primal: We have been able to speak for as long as we can remember. Voice is registered in the most primitive parts of our brain; therefore, voice is not as heavy on our brain compared with other forms of communication.
Individuals' interactions with computers, television, and new media are fundamentally social and natural, just like interactions in real life, according to "The Media Equation" by Reeves and Nass.
What value does voice offer brands?
How can brands use this new interface to their benefit? There are several aspects of voice that companies should consider as they start their voice journey.
RELATED: Learn four ways to listen to the voice of the customer and improve customer experience, here →
Now what?
As far as we have seen, end users expect brands to be available via voice technology. With this reality in mind, SaaS companies must bridge the gap, and provide users with tools to succeed.
Several trends we've recently seen in this direction include:
Voice search as a service: Algolia, which raised $110 million last month, wants to make a big push in the direction of voice. Both the CEO and cofounder said the company wants to "enrich [its] conversational and voice search capabilities across web, mobile and voice-first channels to meet increasing consumer demand to search any way, any where, any time."
Drag-and-drop tools to build voice apps: In April, Voiceflow, which allows anyone to make voice apps without coding, raised $3.5 million.

Voice-enabled websites: At the end of July, Airbud raised $4 million. This technology will allow users to easily add a voice interface to their website.
Talkin' 'bout those limitations
Although the picture we've painted is accurate, the brush strokes are broad and the color is limited.
In the second part of this series, we will have a look at the limitations of voice technology across industries, including privacy concerns, the future of voice commerce, and more.
Stay tuned.