Every day, countless people search for local businesses and services nearby. Is your business ranking in SERPs for local searches in your area?
Whether your business is a restaurant, a retailer, or an agency, local SEO can have a major influence on your bottom line. But many companies aren't implementing local search marketing opportunities to their full potential. This is understandable—local SEO is still a growing field within digital marketing. It can be difficult to figure out which strategies will have the greatest ROI. As local search marketing continues to gain popularity, many businesses are turning to local SEO software to help optimize their efforts.
Advances in technology are constantly changing the way digital marketers work. It's essential to keep up with new developments and top strategies. Read on as we examine the trends impacting local search marketing in 2019 and beyond.
4 trends in local SEO tech in 2019
Click on a trend below to skip ahead:
Voice search
The impact of voice search on local businesses has been on our radar for over a year now, but voice assistant adoption is still on the rise with no signs of slowing. There were 2.5 billion voice assistants in use at the end of 2018, and analysts estimate that number will rise to 8 billion by 2023. Currently, the majority of these assistants live in our smartphones and homes in the form of smart speakers such as the Amazon Echo and Google Home. But smart wearables and smart TVs are quickly catching up.
In short, voice assistants follow us wherever we go—and consumers are increasingly using this technology to search for local businesses. In 2018, 46% of voice assistant users reported searching for a local business on a daily basis, while 76% of smart speaker users reported performing local searches at least once a week.
How can local businesses harness the power of voice search in their digital marketing strategy? Unlike traditional SERPs, voice assistants provide local search users with a short list of the top results—usually the top three. (These are known as the Local 3-Pack on Google.) There are a number of factors that influence whether a business will show up in local search results, including proximity to the searcher, reviews, links, and directory listings.
If your business isn't ranking in Google's Local 3-Pack for your keyword, consider investing in local SEO software.
Augmented reality
Augmented reality (AR) uses technology to superimpose computer-generated images, sounds, and text on real-world environments. Most people are familiar with augmented reality in the context of apps like Pokémon Go and Snapchat, but the e-commerce industry has already made significant strides in embracing the AR revolution. Retailers like Sephora, Wayfair, Lowe's, and IKEA leverage AR to let customers see how products look in their home—or in the case of Sephora, on their face—before they make a purchase. However, augmented reality isn't just for e-commerce businesses. This emerging technology has exciting implications for the local SEO landscape as well.
In May 2019, Google announced new features in Google Search that support AR. These allow users to view and interact with 3D objects directly within search results. Developers also introduced updates to Google Lens that let searchers point their phone camera at a restaurant's menu and see actual photos and reviews for specific dishes, all pulled straight from Google Maps.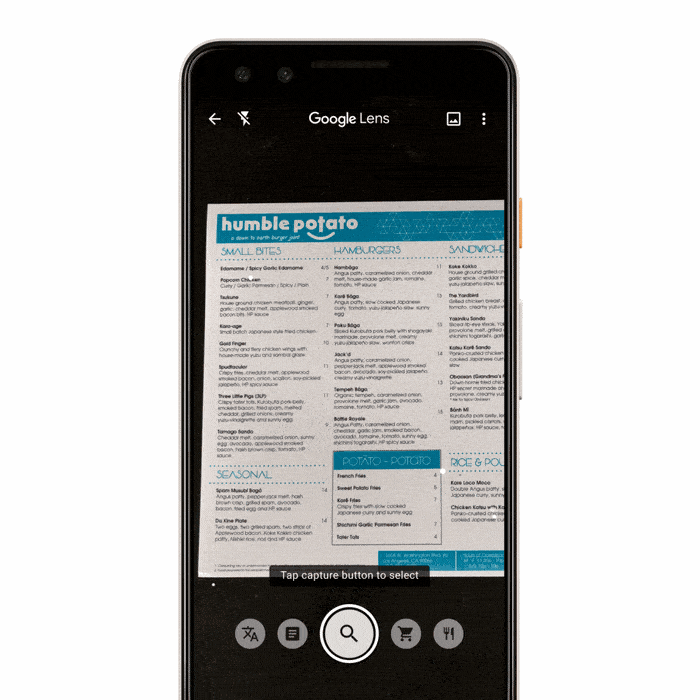 Image courtesy of Google
As AR gains ground, it may lead to widespread use of features like Yelp Monocle and Blippar's AR City, which allow users to see areas of interest simply by holding up their phone and pointing it at their surroundings.
When developing a strategy for local SEO, businesses should be aware of the growing impact augmented reality will have on online search. Luckily, many local SEO practices will also ensure you're making the most of AR. One of the best things you can do to improve your business' local search ranking is claiming your Google My Business listing and optimizing your Knowledge Panel. It's also important to manage your online reviews—although search engines currently prioritize a business' proximity over quality, some searchers will go out of their way to visit and purchase goods from a company with better reviews.
TIP: Want to generate more reviews and keep tabs on what your customers are saying about you online? Check out the best online reputation management software.
Local search ads
Brick-and-mortar businesses can expect to see more competition in paid search as Google monetizes SERPs, maps, and the Local 3-Pack. Research from Moz last year indicated that 35% of competitive local keywords had local pack ads. Moz looked at keywords in 11 categories for the study. Those with the most local pack ads included the legal, automotive, and medical categories.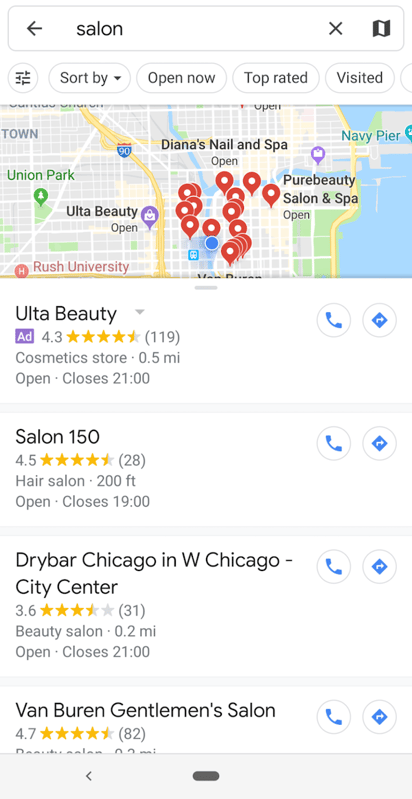 What does this mean for businesses and their local marketing strategies? For starters, if you're already advertising on Google, you can set up local search ads through your Adwords account. When searchers click on an ad in the local pack, they are taken to that business' Knowledge Panel rather than the company's website. The business is then charged cost-per-click (CPC) if searchers perform any of the following types of clicks on the Knowledge Panel:
Get location detail clicks
Get direction clicks
Mobile clicks-to-call clicks
Website clicks
Considering the increasingly competitive nature of local SEO, the number of local pack ads is sure to rise. If PPC advertising isn't in your budget, it's more important than ever to make sure your business listing is optimized for local search.
In-store technology
It can be challenging for businesses to measure the ROI on their local SEO strategies. In-store technology like beacons and QR codes can help companies analyze their efforts by tracking customers' movements in-store and improving conversion rates.
Beacons have generated a lot of buzz over the past couple years. They use Bluetooth technology to send out a signal that's picked up by devices within range. The beacon can then transmit messages to those devices. Currently, Google uses beacon technology to enhance its Knowledge Panels by gathering information from people who have visited a specific business location. But businesses themselves can use beacons to track customers through the in-store experience, sending promotional offers and encouraging brand loyalty by rewarding customers for in-store purchases.
According to Moz's 2019 report on the State of Local SEO, only 10% of businesses reported using in-store tech. However, with Google poised to further monetize local search, in-store tech may see higher levels of adoption in the next few years.
The future of local SEO
The world of local SEO can seem intimidating for many businesses, especially small ones. Technology is continuously evolving and changing the way local businesses reach consumers. In many cases, local SEO efforts are difficult to measure. Not every search will result in a click to your website—but as long as searchers can find your business online, those efforts will result in phone calls, foot traffic, and satisfied customers. And that's the real power of local SEO.
Ready to jumpstart your local marketing strategy? Check out 10 localized growth strategies in our guide to hyperlocal marketing.