I was sitting in my high school math class. It was my junior year, near the end of the semester, and the teacher called me up for a one-on-one conference about my grade.
He opened up a spiral-bound grade book, with dozens of neatly handwritten assignment scores, and pointed to my current grade at the end of the row. I nodded, and went back to my seat, knowing what I had to do.
A couple weeks later, a printed report card arrived in my family's mailbox, thankfully, with that same math grade (confirming that I didn't totally bomb the final exam).
Those days of paper-based academic records have faded for most educational institutions. Cloud-based digital grade books and online learning platforms enable teachers, students, and parents to access data on student academics within seconds of educators making those records available.
In the same way, educational institutions have digitized their operations data using integrated education software suites known as enterprise resource planning systems, or ERP systems, which allow educational institutions to manage business-related departments like finance, facilities, and human resources (HR) in a single system.
Education-specific ERPs have been used in some form for decades, particularly at colleges and universities, where administrators have to manage complex institutions comprising dozens of departments and thousands of students and faculty. But in recent years, a new generation of education ERP products have entered the market, featuring new advances in cloud computing and advanced analytics.
G2 is proud to announce the launch of a number of new software categories for education ERP software, offering our most comprehensive breakdown to date of the top tools for school management operations.
G2's categories cover software to help institutions manage human resources, finances, scheduling, and transportation, along with a category for integrated education ERP suites that do it all.
With schools at all levels facing unprecedented disruptions during the COVID-19 pandemic, administrators will need data more than ever as they chart a path forward for their institutions.
What is ERP, and why are schools using it?
ERP systems were initially developed to help manufacturing companies run their businesses. They manage datasets that span all aspects of the company, including finances, raw material procurement, production, distribution, and sales. When complex global supply chains are involved, ERP systems can improve a business's performance.
These systems for improving efficiency and productivity found their way into higher education, as colleges and universities adopted education-specific versions of ERPs. Rather than focusing on the processes around manufacturing and delivering a physical product, these education-specific ERPs aimed to improve the most essential business functions of a school.
Such essential functions include:
Student records

Human resources

Finance and accounting
Many also offer modules, functionality, or products to manage many other aspects of the institution:
Facilities

Financial aid

Fee payments

Class and event scheduling

Admissions and recruiting

Transportation
Some systems come with many of these functions built into a single product. Other companies sell the different components of an ERP system as separate modules or products. The latter approach enables institutions to select specific systems, such as an HR product from one vendor and an accounting system from another, that best fit the needs of their organization.
What about Student Information Systems (SIS)?
ERP systems are closely related to another kind of software called student information systems (SIS), also referred to as school management information systems (MIS). The main role of an SIS is to manage a wide range of student data, including management of admission applications and enrollment, student rosters, demographic data, contact information, attendance records, grade books, and more.
In other words, an SIS tends to manage the academic and student-centered aspects of an institution while ERP systems manage the operations and business processes. Schools use the two types of products in combination, often using products from the same vendor to ensure they integrate smoothly.
Why schools are using ERPs
Many of the benefits of an ERP software originate from the idea that these systems create a so-called single source of truth for the organization.
In other words, ERP systems integrate all of the data from different departments into a database that can be accessed and updated by users in those disparate departments. That means when a student uses scholarship funds for paying tuition, that transaction can be reflected in the institution's financial aid management software—but also in student records and accounting—without the data needing to be entered multiple times.
Besides improving the accuracy of data, ERPs help organizations automate time-consuming or complex tasks that happen routinely, such as pulling quarterly financial reports. Rather than requiring a financial analyst to collect numbers from each department and manually compile them together into a large report, the analyst could pull the necessary data from an ERP system using an automated report.
Consolidating data also allows institutions to analyze their processes and locate areas for improvement, using advanced analytics to gain insights from data compiled from across the institution. The net effect, if ERPs are effective and work as intended, is that schools, colleges, and universities run more efficiently so they can focus on the research and education work that is at the heart of their missions.
Where the education ERP market is headed
Even before the COVID-19 pandemic upended the education world, along with the rest of society, the education ERP market saw some significant shifts in recent years.
Some major players in the corporate ERP space—including Oracle and Workday—have made investments in education-specific products over the last decade, attracting customers away from other companies in the education ERP space, according to data from LISTedTECH. These movements should only intensify competition in the market as the shift to cloud-based software continues.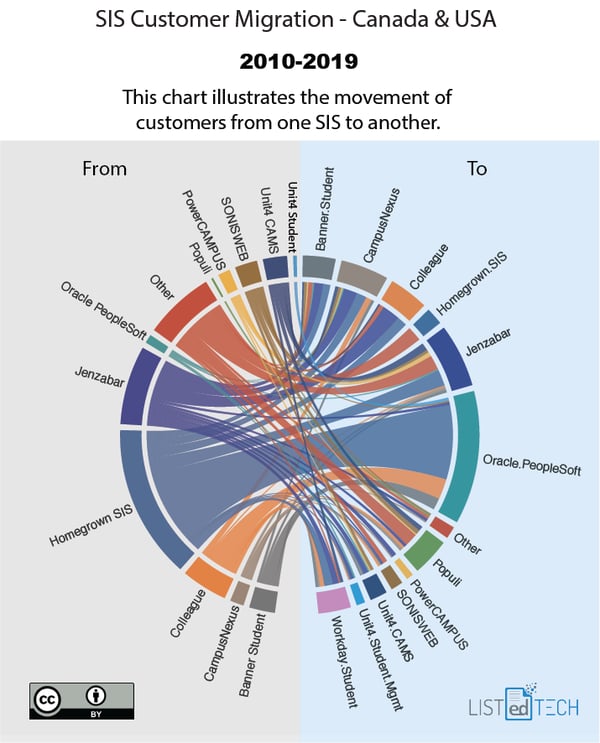 Image source: LISTedTECH
There may also be changes in the works for one of the largest education ERP vendors. The private equity owners of Ellucian, which makes multiple ERP systems for higher education, were reportedly preparing to sell the company in what could be a $5 billion-plus deal. As of publication, the current status of those talks is not clear.
Education ERP software developers are also trying to differentiate themselves by building more advanced analytics into their products, aiming to help college and university leaders gain actionable insights from their vast stores of data.
For example, analyzing data from fundraising and finance systems can help institutions better understand the success of their giving campaigns. Trends in student admissions and enrollment management can feed predictive models that help an institution plan for class scheduling or transportation.
As education leaders work to manage scarce resources in a changed world (and during the COVID-19 health crisis), the newest generation of ERP software is likely to be an even more important tool for their organizations for years to come.