When society experiences major pressures and must shift toward the unfamiliar--as we are right now to accommodate the risks of COVID-19--processing the big picture can prove to be difficult.
Our first thoughts are typically "What will this mean for me and my loved ones?" Then come other concerns varying from substantial to more personally focused, such as the impact on the economy or whether the release of the next-gen consoles will be delayed. Once we feel secure in our own immediate safety, if we are mindful and compassionate, we turn our focus to how others will be affected.
We look for ways we can help.

For business owners and managers, that means focusing on the well-being and health of employees, and the communities the company serves. At times, difficult choices need to be made, and one such choice presents itself in the current climate: whether remote work is viable for one's company.
It can be scary wondering how a transition to remote work will impact a company's employees and the quality of the services it provides to its community, whether that community is local or global. But if a company's business model can feasibly make the shift when necessary, its employees and customers are counting on it to do so. Employees want to keep working without sacrificing their health and the health of their loved ones. And many community members—the very ones served by these companies—are not fortunate to have jobs that translate to remote work, relying on support during a time of instability.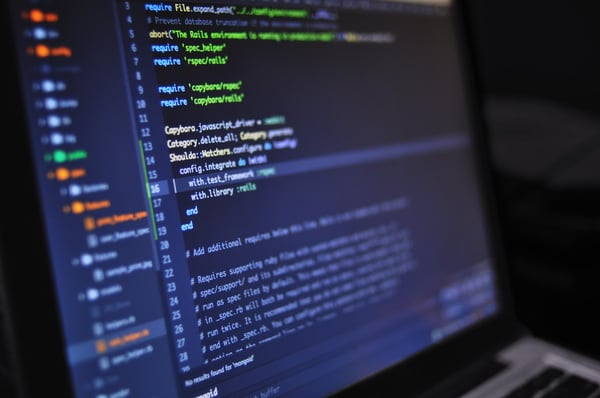 That means keeping business running for everyone's benefit—and in the age of digital transformation, there are certainly plenty of available remote work solutions on the market. But what are the options when those software products don't quite fit a company's needs?
What to do when remote work software doesn't fit business needs
Despite the importance of adapting, remote work sometimes seems unachievable for a company's business model simply because there isn't a 1:1 software solution to handle every aspect of the day to day. Video conferencing and cloud content collaboration, for example, are popular software solutions among companies making the shift. There has been a lot of content around these tools lately—but for companies whose needs aren't fully covered by such products, the hype can be exhausting and discouraging.
Every company is different, so it stands to reason that more customizable software can provide better solutions to more businesses. In fact, companies can achieve a remote work software solution that is completely catered to their specific model. How? Surprise, the answer is in the title: building custom software to achieve remote work.
Rapid application development can solve telework problems easier than one might think
The words "application development" often seem intimidating and complicated to non-programmers. That's why rapid application development (RAD), which includes no-code development platforms, low-code development platforms, and workplace innovation platforms, might not be the first place businesses look when hoping to implement a new software solution. After all, if a company is in need of product management software—even when the goal isn't to shift to a remote workforce—"workplace innovation platforms" probably doesn't wind up on the list of search terms.
What many people don't know is that rapid application development tools have become more powerful and more user-friendly since the early days of 4GL—the "fourth-generation programming languages," from which RAD traces its roots.
These days, users can go as far as to build their own process automation software solutions—catered to their companies' specific setup and processes—via easy-to-use visual interfaces. Companies can create internal apps and administer access to their employees to facilitate every aspect of their day-to-day operations remotely and under one dashboard. Drag-and-drop tools make such projects feasible and intuitive for non-developers, meaning a custom remote work solution could be well within reach.
Drawbacks with RAD
While RAD tools may provide a way for companies to continue providing services to their communities—while ensuring the well-being of their employees through remote work—there are potential issues to consider.
Although rapid application development is relatively, well, rapid, it's not necessarily realistic to expect a custom-built solution up and running in one day. Many RAD products provide prebuilt business applications for general use cases which can be further customized; others require users to start from scratch. Similarly, some solutions allow for powerful and complex no-code software development, while others are unable to handle niche mission-critical tasks.
For business leaders, it's important to research the options and find the tool that works best for their organizations' specific business problems. If the need to shift to remote work is urgent, companies can use prebuilt software tools as a temporary solution while building their own applications.
Maintaining the status quo while working remotely
As companies weigh their options regarding remote work while prioritizing the well-being of their customers and employees, it's important that they fully understand every solution available. Rapid application development is one such solution that might be overlooked in the search for remote work software amid global uncertainty.

The reality is that if a business is mostly run by people sitting at computers, there may be no reason for that business not to shift remote for the sake of its employees' safety and for the sake of the communities that business supports.
Related:
Learn more about how to communicate with a remote workforce,
here.
→
The timeliness of this piece must be noted—as I write this, the global community struggles with the ramifications and changes brought on by the coronavirus health crisis. Many industries, such as food service, are unable to make the transition to remote work in this critical time. That puts a lot of people in a difficult position, to say the least. Companies can put themselves in a position to provide support by adapting appropriately to a rapidly shifting climate. In the long term, achieving a remote work environment may prove beneficial as more professionals look to work from home. In the short term, it will prove crucial to employee health and safety, and hopefully beneficial to communities at large.