Most teachers I've met are master improvisers. They have to be ready to adapt to situations in the moment, and the COVID-19 health crisis is a perfect example of when adaptation is a must.
Maybe none of the students completed last night's reading; perhaps the internet went down 10 minutes before an online test was scheduled to start. Skilled educators make on-the-fly adjustments constantly.
In the face of a growing global pandemic that has closed public spaces like restaurants, malls, libraries, and schools, educators and students are having to adapt in ways that few could have predicted.
Schools across the United States have closed in an effort to contain the spread of the coronavirus—and teachers are grappling with how to maintain student learning remotely.
This is a unique and scary time for everyone, and learning at home won't replace the classroom experience. But one key measure of success for remote learning efforts will be whether students and teachers have access to the right technology.
Searching for the right remote learning tools
At G2, we have already seen evidence of educators seeking out additional tools, based on what software buyers have searched for over the course of the last week.
Traffic to our virtual classroom software category page, which includes products designed to allow teachers to host classes remotely, is up over 450% compared to the same time last week.
That was the second largest jump in traffic for any of G2's 1,900 categories, behind only webinar software.
Other software categories that could help educators have also seen large traffic increases. Online Learning Platforms, which enable instructors to create and publish online courses, is up over 300% compared to last week. Video Conferencing software, used by education institutions as well as businesses, is up 380%.
The challenges of learning and teaching from home
There are significant barriers to getting remote learning up and running, especially for K-12 schools.
About 15% of school-age children in the U.S. don't have broadband internet at home, according to the Pew Research Center.
Researchers call this the "homework gap," and it's even more pronounced for low-income households. About 35% of households with at least one child age 6–17 and an income of $30,000 per year or less lack high-speed internet, according to Pew.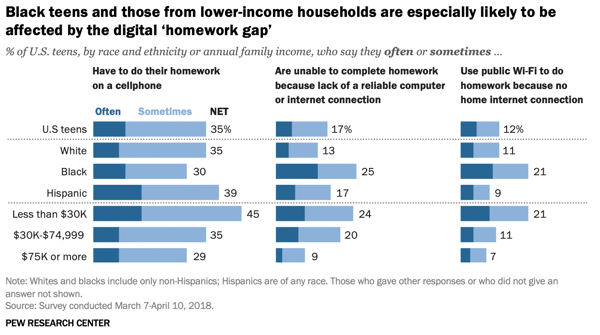 Source: Pew Research Center
In addition, a quarter of teens in low-income households don't have access to a computer at home, according to Pew's statistics.
Those are significant inequities that must be addressed in the long term, though some of the country's largest telecom companies have admirably stepped up in recent days. Comcast is offering 60 days of free high-speed internet service to eligible low-income families. Spectrum is similarly offering free access for 60 days to households with K-12 or college students. Dozens of other companies have agreed to avoid disconnecting service or charging late fees during the pandemic.
The education software gap
Beyond the significant hardware hurdles for some students, many institutions, particularly K-12 schools, aren't properly set up with software for remote learning.
Colleges and universities that offer online classes may already have virtual classroom software or learning management systems that allow them to transition more easily to online classes, but many K-12 schools aren't accustomed to delivering online learning and won't have such tools readily available.
Adding to schools' remote learning capabilities is a common-sense move, and not just in a crisis. Remote learning software can give students more flexibility for completing their work or allow students who are absent to avoid missing assignments and falling behind.
With that in mind, there are free tools available now for educators that may help address some of their remote learning needs.
What free tools are available for remote learning?

The human element of shifting to remote learning
While technology can help the transition to remote learning, there will inevitably be issues it can't address.
Jess Fauscette, a senior at the Savannah College of Art and Design, is still wondering what the end of her college career will look like after her school announced it would move classes online for the entire Spring quarter. (Full disclosure: Fauscette is the daughter of Michael Fauscette, G2's Chief Research Officer.)
She is finishing her Bachelor of Fine Arts in fibers, specializing in prints and patterns, and worries about students lacking access to college facilities as seniors are finishing their portfolios.
"One of my biggest concerns of moving online is there are still resources that a lot of students rely on through SCAD, which not everyone has access to," like digital scanners and tablets, she said.
"We're all seniors and we're trying to make these beautiful projects to put into our portfolio … How do we finish and make a good portfolio when we don't have access to the things we need?"
Navigating the abrupt shift to remote learning will require patience, understanding, and kindness on the part of everyone involved—instructors, students, parents, administrators. Hopefully, the education system will emerge better-positioned to provide learning no matter where students are.