The class erupted in cheers and groans.
Team Zebras won. Again. "Ugh. They must have been cheating," one kid complained.
"Let's play again!" another shouted. "We got 'em this time. One more round! Please…"
My students had just finished a round of Quizlet Live, the team-based digital flashcard game, as they reviewed for an upcoming test in my history class.
It was one of those teaching moments that you sit back and marvel at: A routine classroom activity (reviewing for an exam, in this case) made more effective and fun, engaging nearly 100% of the class. Quizlet addressed a real need for my students—learning how to study—so I utilized it in many classes.
How many more of these moments could teachers have with the right technology at their disposal?
The transformative potential of edtech
At its best, educational technology, or edtech, can have a transformative impact on teachers' work.
Edtech can increase student engagement, automate grading, detect prominent trends in assessment data, and add new dimensions to classroom discussions. It can enable better communication between school leaders, teachers, students, and parents. The possibilities continue to grow as venture capital money pours into edtech startups.
While school districts spend more than $13 billion a year on edtech products, according to a report by the Jefferson Education Exchange, schools often fail to realize these products' full potential.
As much as 85% of spending on edtech goes to tools that are not a good fit or are poorly implemented, according to the report—a staggering amount of waste. A separate study by Glimpse K12 found 67% of software licenses were going unused by schools.
Why is edtech gathering digital dust? Jefferson Education Exchange points to a lack of available information for decision-makers about edtech tools and how well they work in different contexts. Administrators often rely on Googling and talking to peers when making technology decisions. As a result, despite their best intentions, decision-makers choose products that are a poor fit, and teachers and students don't use them.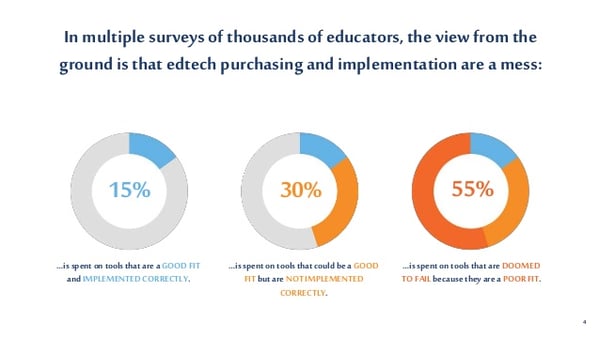 Source: The EdTech Genome Project
Buying flashy edtech tools is relatively easy, but maximizing their effectiveness in the classroom is a challenging and often overlooked process, and clearly one that many institutions must get better at if they want to see the technology meaningfully move the needle on student achievement.
With that in mind, here are six steps education leaders can take to improve how their school buys and implements edtech products.
Start by identifying the problem
Picture a room full of teachers receiving this message: "Our school just bought this cool new software. It has all kinds of great features! We want you to start using it right away."
Let's back up. Like any good lesson, the search for an edtech product must begin with a clear idea of what the school or department wants to accomplish.
Are you trying to improve classroom messaging and communication with parents? Give students more effective math instruction? Inject life into class discussions? Help teachers quickly grade large stacks of papers? Identifying the scope of the need is a crucial first step to ensure the tool will actually be used.
Although purchasing decisions are often left to high-level administrators, the process for selecting new technology should be collaborative. One of the best ways to determine tech needs is to ask the people who will use it most: teachers and their students. Opening up the decision-making process could reveal needs that administrators hadn't considered.
When high-level administrators neglect to seek input from faculty and students on decisions about buying technology, they risk spending precious resources on tools that won't be used effectively, or used at all, by their staff and students.
Determine if your current edtech products are working (or not)
Just like classrooms get a good scrubbing before the first day of school, a school's digital inventory should get a regular cleaning to determine which solutions work and which ones need to go.
For underutilized products, administrators should either figure out how to use them more effectively or retire them completely. Many schools already do this—about two thirds of administrators say they stopped using a digital learning tool, usually because it did not improve learning outcomes, according to a report by Gallup and the NewSchools Venture Fund.
How do you find and eliminate these freeloaders? Surveying frequent users of the software—likely staff and students—to discover what products are most and least effective is a good start. Another option is using the software's internal reporting tools or contacting the vendor directly to figure out how many product licenses have been claimed, or how often the product has been used.
About 95% of teachers reported using digital tools with students in their classrooms, with teachers using 4.6 different tools on average, according to a report by Common Sense Media.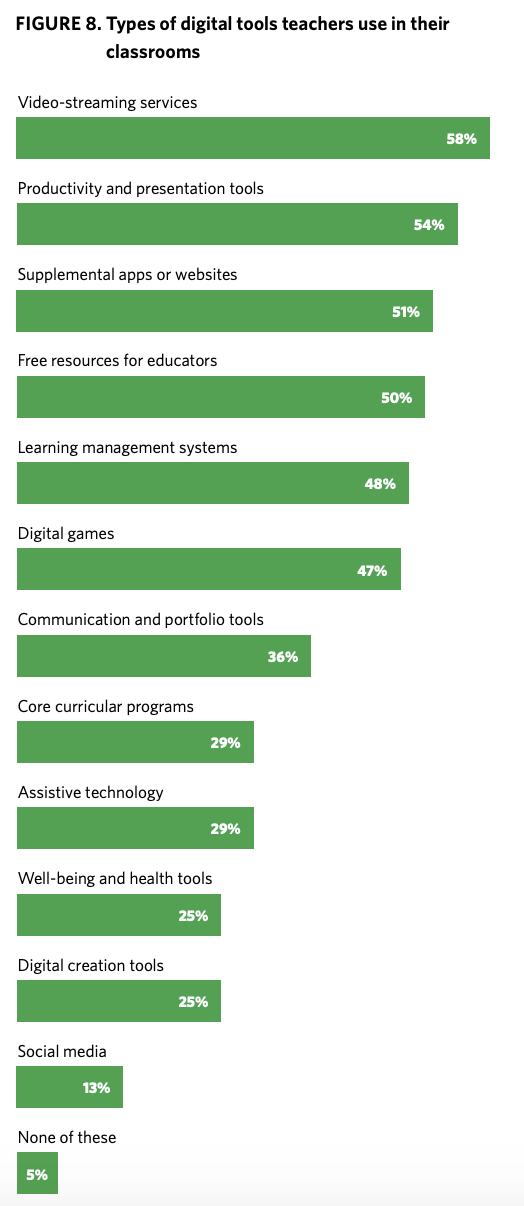 Source: Common Sense Census
But implementation is spotty. A third of teachers report they "did not, or practically never" use a tech product their school or district gave them.
If it isn't working, cancel the subscription and try something else.
Take your time researching potential solutions
Educators looking for new edtech software need to heed the advice they often dish out: Do your homework.
With an estimated 7,000 edtech products on the market and edtech startups adding more every year, it's important for decision-makers to explore their options before they commit to a purchase.
One way to learn about products is via crowdsourcing—create structures that encourage members of your school community to submit ideas for effective and beneficial products, based on their specific needs.
For gathering ideas, there are plenty of excellent online publications out there that report on the latest edtech tools. Social networking platforms like Reddit or Twitter can be a good source of edtech inspiration. Another option is reaching out to school leaders in similar situations to find out what products work well for them.
In an effort to make that process more efficient, the Jefferson Education Exchange recently launched the EdTech Genome Project—an initiative to systematically collect and share data about how schools implement and use edtech tools. Organizers hope this database will help school leaders make informed choices about edtech tools for their school or district.
Of course, G2 strives to be an excellent source of knowledge for educators looking to buy a new software product. We have thousands of unbiased reviews on education software for a range of needs, including foreign language learning, exam study tools, and taking online courses.
At the end of this research stage, it's crucial for administrators to again go back to the school community and gather feedback on their potential purchases to ensure those tech products will actually address a pressing need. If not, it's time to go back to the drawing board and restart the search for relevant tools.
Be creative about funding mechanisms
For cash-strapped public school systems, finding the money for edtech software will continue to be a challenge. But there are some steps leaders can take to fund new products.
Educators should start with where they currently spend money. With so many underutilized edtech products, ending some contracts will free up money for more useful tools. Federal and state grants can be another source of funds.
Small-scale pilots could be a good way to test out solutions with less financial commitment. Give each teacher a small budget to spend on edtech tools that address their needs, like developing curriculum management, or creating quizzes and assessments. Encourage them to gather evidence on the products' effectiveness improving student outcomes. Then, conduct a review of the findings and determine which products make the most sense for widespread adoption.
For teachers who can't get any funding from their administration, try running a fundraising drive. If the tool leads to positive results for students, make a case for wider adoption across the school.
Invest time for teacher training and collaboration
Training for an edtech tool shouldn't consist of a PDF instructions sheet attached to an email or a link to a YouTube video with screenshot instructions. Schools must invest in meaningful professional development opportunities that allow teachers to ask questions about new edtech tools and generate ideas about how to use the software to best meet students' needs.
Around 90% of teachers say they have participated in professional development about classroom technology, according to a Common Sense Media report. However, only 40% said those tech-focused trainings were "very" or "extremely" effective. In my own teaching career, tech trainings were infrequent, leaving teachers to figure out how to use software tools on their own.
Administrators must make time for meaningful training on tech tools if they want to maximize the impact on students' learning. Trainings must include time for teachers to collaborate, since many of the best ideas teachers have are frequently "borrowed" from their colleagues.
Teach students how to maximize the tool's value
Just as teachers need time for training, students must learn how to maximize tech tools without the same amount of preparation on how to use them effectively.
Over the years, many of my students used Google Docs. Yet I can't tell you how many high schoolers didn't know how to execute simple tasks like indenting the first line of a paragraph or copying and pasting a sentence. Most simply never had a lesson on how to do those things.
With some quick demonstrations and a guide to refer back to, most were able to quickly master those functions and get more out of that document creation tool.
Time for experimentation is just as important. When it comes to learning a new piece of software, students can read instruction manuals and listen to lectures, but there's no substitute for hands-on experience with the software. This allows students to discover its ins and outs to make it work best for them.
This is especially important with creative tools like Soundtrap (making podcasts), Book Creator (publishing online books), or Buncee (creating multimedia presentations). Giving students practice assignments and plenty of class time to explore a tool's capabilities helps them understand how they can use it to execute their creative vision.
Giving it a shot
There are no silver bullets in education, and edtech is no exception. But by thinking more strategically about how they invest in and implement edtech, school leaders can help ensure that students have the right tools for reaching their full potential.