Technology can improve the functionality of an office space. The trick is to find a unified technology system that works together to make everyone's life easier.
Businesses have much to gain from implementing tools that allow employees to focus on the most important tasks. We at G2 have recently moved into a bigger and better office space. While the extra space is helpful, the transition comes with minor consequences. It is not uncommon to see a fellow employee wandering around the office trying to find the room they're supposed to be in for a meeting. Unneeded stress causes inefficiency; there are solutions to help businesses fix that. Thankfully, G2 has jumped on this idea too, which has led to a lot less lonely wanderers around the office.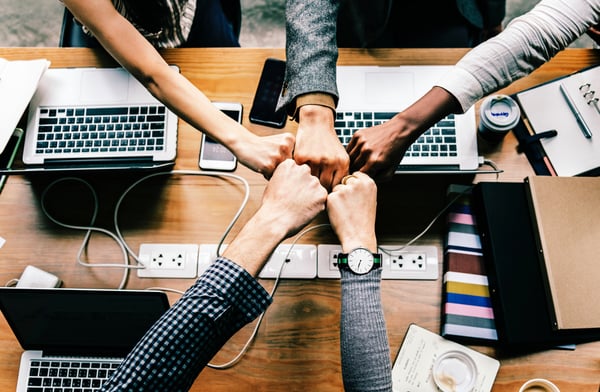 How to Improve Office Efficiency
Depending on the type of office you work in, some tools might be more beneficial than others. A business with many outside visitors might implement visitor management software to keep tabs on who is coming and going. For a business where employees set a lot of meetings, a meeting room booking system makes sense. These tools are some of the many useful solutions that an office can consider to create an efficient, comfortable environment. Next, we'll go over the four main tools recommended for businesses that are looking to improve their work environment.
Meeting room booking
These tools are programmed to reflect each available space within an office, which accurately portrays whether a room is available to use or if it's booked by someone else. Having 10 rooms designated for meetings doesn't help anyone if no one knows which room their meeting is in. Meeting room booking systems (MRBS) help with this and offer many other perks. This software is especially helpful for companies that frequently hold back-to-back meetings. Meeting room booking systems not only help employees book rooms for meetings, the tool also helps book conference rooms or other meeting spaces. Additionally, MRBS encourages office transparency by allowing employees visibility into who is meeting with whom, while also preventing double booking.
Calendars
Calendars are a basic necessity in every office environment. Calendar software works together with MRBS to ensure meetings are transparent to relevant employees. Users can see what time a room is reserved for a meeting and the list of attendees all within the same view of their personal calendar, making it easy to schedule your own meetings by comparing colleagues' availability with available rooms. Calendars add a simple and visual element to meeting room booking systems.
Visitor management
Any office that has visitors, whether customers or employees, has a reason to use visitor management software. Tracking the people that come in and out of the building is a major security asset and ensures that visitors are accounted for. Overall, visitor management software makes everyone accountable for their visit, aiding in company transparency.
Digital signage
We discussed transparency with the previous three solutions, and digital signage software closes up this integrated technology system. To create a unified office space, transparency is key. Digital signage software presents information provided by MRBS in a digital format, such as a television screen or iPad. By installing hardware outside of a meeting room and implementing digital signage software, the hardware shows whether the designated room is free. Digital signage is public, which means it is a perfect way for employees to easily check if a room is free.
Hooray for efficiency!
Technology unification is a wonderful achievement that shows instant ROI once implemented. As technology continues to advance, businesses may forget to reflect it in their physical office space. Employees with high-end computers, but inefficient booking methods, are losing out on increased efficiency. By elevating the technology in the office space, everyone has the advantage of improved transparency and work productivity.
Want to take office technology to the next level? Check out this article about what office automation is, and how it can change your workplace.