The beauty of collaboration and content management software is that they're universally helpful.
Regardless of industry, department, or country—any team can leverage tools such as internal communications software and cloud content collaboration software to work together efficiently. Global companies partly owe their success to collaboration and communication software that connects and empowers their workforce on a global scale.
What happens when that software is banned?
This is often the case in China, where intense regulation of internet content means the Chinese workforce cannot use the same collaboration tools as companies elsewhere. The list of banned collaboration software in China includes:
These brands are huge outside of China. Foreign companies that want to do business in China or with Chinese companies won't have access to these tools.
So what do businesses use instead? Why are all these tools banned to begin with?
The Chinese SaaS market and the Great Firewall of China
It's no secret that the internet is heavily monitored and regulated in China, dictated by the Golden Shield Project, colloquially known as the Great Firewall. Some websites and services are completely unavailable, including Facebook, Google, Twitter, and the collaboration tools listed above.
Chinese legislation dictates the following about selling SaaS products in the country:
The SaaS provider must be a fully owned Chinese entity
Servers for a given SaaS product must be located in China
Foreign entities cannot receive an internet content provider (ICP) license required to host a website in China
This legislation can make it more complex for foreign companies to enter the Chinese SaaS market, but it isn't impossible. Local companies have an advantage because they have fewer regulations to consider and are more equipped to build products tailored to Chinese audiences.
Virtual private network (VPN) usage in China
The most infamous method an individual might use for getting around the Great Firewall is through an illegal virtual private network (VPN). In short, VPNs encrypt a user's data while browsing the internet; the extra layer of security and privacy allows users to evade governmental bans on certain websites.
The Chinese government outlawed the sale of VPNs, but in September 2018, it was revealed that 30% of citizens had still been using VPNs. China has attempted to crack down on illegal VPN usage by instating a $145 fine for individuals caught using one.
Despite their illegal status, it's impossible to discuss the Chinese SaaS market without talking about VPNs. Products that don't require VPN use in China highlight that in their marketing efforts.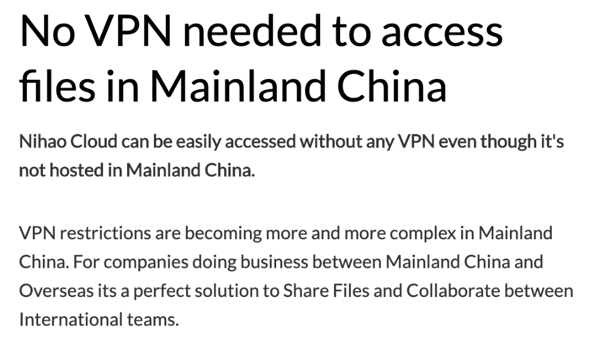 Courtesy of the Nihao Cloud website
While it is theoretically possible to use banned SaaS software via an illegal VPN in China, doing so comes with severe penalties. Legal VPN are available in China; however, they must be approved by the government.
Merry Marwig, G2's market research analyst specializing in privacy and data security software, asserts there is some complexity to legal VPN usage:
"The use of VPNs in China presents a legal grey area. To legally use a VPN in China, users must select a VPN provider that has explicit authorization from the Chinese government to operate, via licensure. These authorized VPN providers must provide logging data and back doors into their services for the government to have access, thus invalidating the reason why many people choose to use VPNs. The use of licensed VPNs must be for sanctioned purposes, such as a corporation securing their data, and not for accessing legally prohibited content such as political, or pornographic information."
As a result, it's the most convenient for many businesses (both local and foreign) to use Chinese-based (or at least Chinese-approved) SaaS products when working in China themselves or with Chinese business partners.
Chinese collaboration SaaS
The nature of collaboration software makes them a prime target within China's current regulation. Their servers aren't hosted in China, content is user-driven and can't be regulated (real-time collaboration, communication, etc.), and there is an inherent need for privacy (document and content storage). However, modern companies still need these tools regardless of where it is.
"I did not find something that I really do not like, but I had problems with my previous boss when he traveled to China and could not see his emails in that country."
"Sometimes we have to do video meetings with international clients, who are based in China. We once tried to set up a meeting with them using Zoom, but for some reason, our client was not able to access the meeting. That caused us some inconvenience."
*Reviews may be corrected for grammar or misspellings*
The SaaS market in China is still growing, with a market size of about $2.5 billion USD in 2017. There are a few market areas that developed quickly, specifically office collaboration which accounted for 14% of the Chinese SaaS market as of 2017.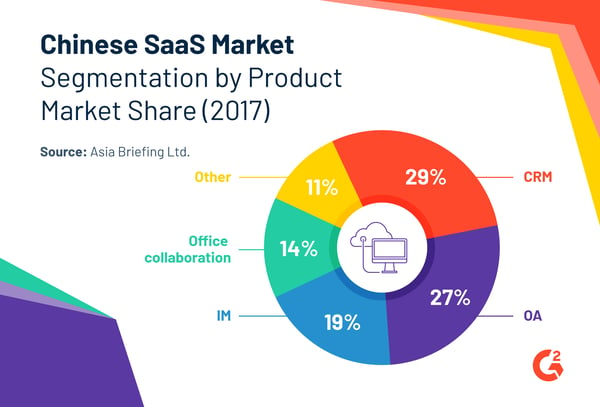 Collaboration tools are critical for office productivity, and were among the first SaaS products to be built out in China.
The last few years have been rife with stories of Chinese companies building or buying China-ready counterparts to popular collaboration software solutions available elsewhere. In 2012, Chinese Google-equivalent Baidu launched Baidu Wangpan, a cloud storage solution akin to Google Drive. In 2016, consumer chat software WeChat launched a business-centric version of its product dubbed WeChat Enterprise (rebranded as WeChat Work later) to compete with Slack in Asia. In March 2019, Chinese multinational conglomerate Alibaba acquired Teambition, a Chinese-based Trello and Asana competitor.
Now we're seeing even more local competition within the Chinese collaboration SaaS market as older products mature and upstarts arise. Chinese SaaS providers have been quick to expand into the rest of Asia as well, cementing their solutions as potential market favorites outside of China.
As the Chinese SaaS market matures, we'll have to see if and how far it expands into markets outside Asia.