The word sustainability is often thrown around when we talk about architecture and construction. Is this building sustainable? Is your business practicing sustainability?
But what does sustainability in construction and architecture really mean?
Sustainable construction is the process of designing a manmade environment that reduces current environmental impact while meeting the needs of future generations.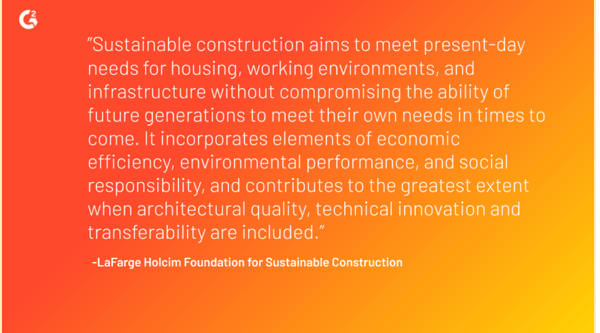 Sustainability used to be an optional part of design for architects. Historically, it was perceived as something nice to have in a design concept, but not necessary. Nowadays, architects forge their designs around sustainability, and for good reason. Not only is it socially responsible to reduce carbon footprints and negative environmental impact, sustainable design also has a multitude of other benefits:
Building occupants in high-performing, green-certified office environments scored 26% higher on cognitive function tests, experienced 30% fewer sickness symptoms, and experienced 6% higher sleep quality scores than those in high-performing but non-certified buildings, according to a study by ScienceDirect.
Corporations that actively manage and plan their businesses for climate change secure an 18% higher return on investment (ROI) than companies that aren't—and 67% higher than companies who refuse to disclose their emissions, according to The Guardian.
The bottom line is that building sustainable structures will reduce energy and water consumption while protecting natural resources; this simultaneously benefits the health and well-being of both the general public and a business' employees.
But how do architects go about designing sustainable buildings? It all starts in the planning phase building information modeling (BIM) software, a type of computer-aided design software that allows building design professionals to design, construct, test, and manage new infrastructure.
In this monthly column series, I'll examine industry trends and research data to reveal how BIM and technology is dramatically improving urban sustainability.
BIM's impact on sustainability
Architects and designers have used BIM software to speed up the design process for many years. While these tools have existed for decades, there was no indicator of how this software would impact the future of sustainable design.
McGraw Hill Construction's 2009 SmartMarket Report on the business value of BIM reports that about 33% of BIM users find the software highly beneficial in delivering buildings that perform better once completed, and that 15% of users "are currently getting a high level of value from using BIM for energy analysis—a key process in gauging building performance."
Furthermore, there is a strong correlation between BIM adoption and the number of new green projects: As BIM adoption goes up, so has the number of green projects.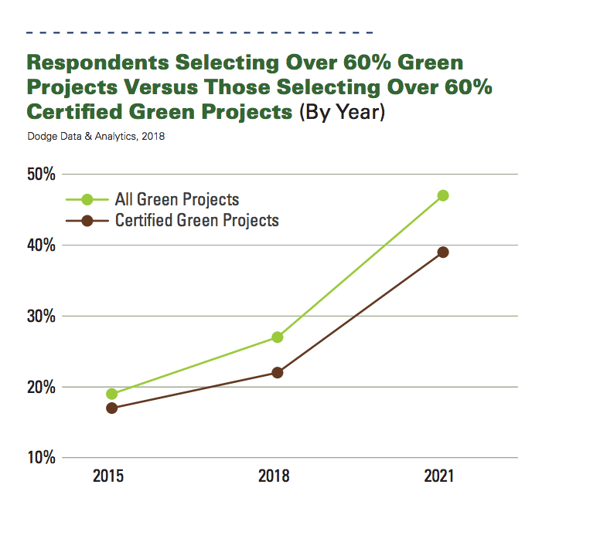 Source: World Green Building Trends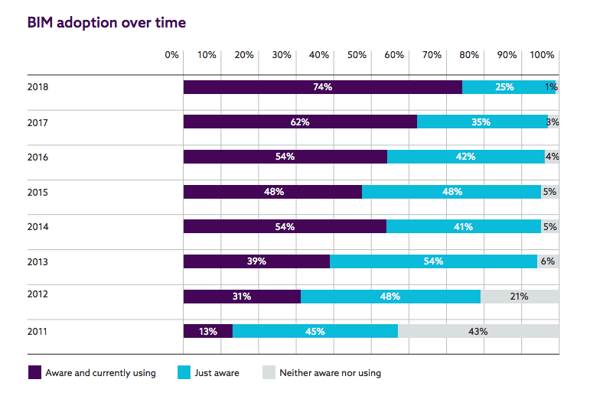 Source: NBS National BIM Report 2018
To fully understand how BIM is influencing the number of sustainable buildings, look to the technology section in the World Green Building Trends Report of 2018. Under analysis tools, the report states, "By far, the most widely discussed technologies improving green building performance are the early analysis tools available for use with building information models (BIM)."
BIM sustainability in practice
Skanska AB is a multinational construction and development company based in Sweden that has used BIM software in many recent green projects. One example is an ongoing project called the Powerhouse One development, an energy-positive building in Trondheim, Norway. 3D geometry within BIM software is used to orientate the direction and inclination of the roof to the sun to optimize energy generated from solar power systems. The roof orientation and building footprint were used to design the envelope and the building interior.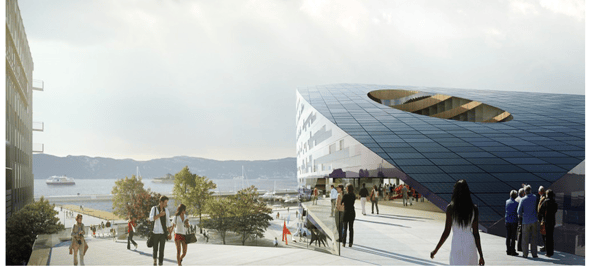 Source: Powerhouse One
The importance of BIM in design planning
Residential and commercial buildings consume roughly 40% of all energy in the United States. This accounts for more energy use than any other sector, even transportation. This number only increases when factoring in population growth.
While this statistic is alarming, the good news is that architects are designing buildings that are using less and less energy. This is thanks to an increased focus during the planning phase of a building's design, where sustainability can be ensured.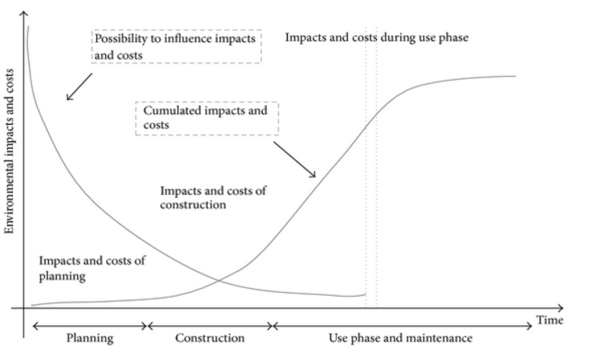 Source: Hindawi
During the planning phase, sustainability must be a high priority. Optimization of a building's performance reduces the time an architect waits in the design phase. In this sense, the entire framework and integrity of the building's design must be rooted in sustainability. With all this in mind, the architect needs a way to bring their conceptual ideas to life; this is where BIM software comes into play.
According to data from Science for Environmental Policy, 91% of users said that BIM software is best used in a project's planning and design stages to optimize sustainable design and construction practices.
This is because BIM software allows architects to simulate various aspects of sustainability. This includes solar analysis, carbon emissions calculations, thermal and ventilation analysis, daylighting assessments, and other various sustainability simulations. All of these simulations influence actual design and result in a more sustainable building.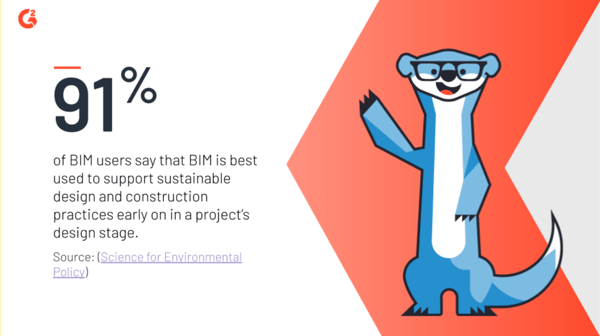 Technology is forging the future of sustainability
While BIM undoubtedly has an impact on sustainability, there are emerging trends that also impact sustainability in architecture. One of the more exciting technological developments in sustainability is the integration of BIM and building energy model (BEM) tools. BEM is a type of software that typically integrates with BIM tools to further improve energy analysis. BEM programs offer entire building energy simulation that engineers, architects, and researchers use to model both energy consumption—for heating, cooling, ventilation, lighting, and plug and process loads—as well as water use in buildings.
Energy modeling is absolutely critical when it comes to designing a sustainable building. Utilizing building energy more efficiently reduces the amount of necessary rework done down the line.
While it might be costly to conduct energy modeling at the beginning of a design process, the ROI is quick. A study by Anica Landreneau, director of sustainability consulting at global architecture and engineering firm HOK, revealed that the ROI from energy modeling is generally only 1–2 months.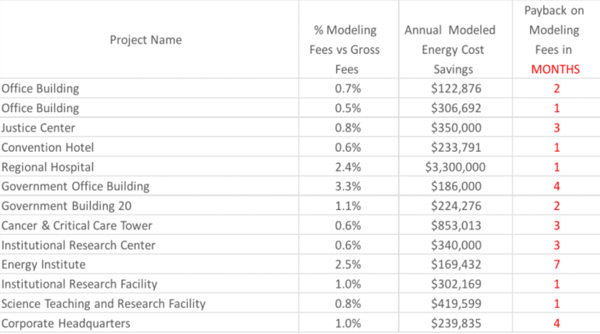 Source: Energy.gov
Looking toward a more sustainable future
Technology is dramatically impacting our ability to construct a more sustainable environment. This has a positive impact on the environment, and can also have a major impact on the economy.
According to a 2018 report from the Global Commission on the Economy and Climate, "Transitioning to a low-carbon, sustainable growth path could deliver a direct economic gain of U.S. $26 trillion through to 2030 compared to business-as-usual."
Ultimately, the ability to construct with more accuracy dramatically reduces the amount of rework required during construction. This directly results in saved resources, time, and money throughout the construction process.
With this major correlation between technology and sustainable architecture, we should undoubtedly see more innovations in building energy modeling in the near future. At G2 we'll make sure to keep you in the loop with the newest software and developments that are impacting the world of technology.
Are you a BIM user? Make sure to leave a review any software that you've used here.