On March 6th, I published a research article highlighting the impact of COVID-19 on tech supply chains.
Top technology companies such as Apple, HP, Qualcomm, Dell, and others were suffering heavy losses as a majority of their supply plants are located in China—the epicenter of the COVID-19 pandemic.
Since then, many businesses have taken active steps to repair their current supply chains as well as prepare them in case another major disruption occurs. They have efficiently reevaluated the situation and altered their global supply chains to more proactively approach risk management in the future.
COVID-19 exposes supply chain issues in China
Over the last decade, China has increasingly become the source of most businesses' supply chains. In fact, according to a report on the virus's business impact, 51,000 companies around the world have one or more direct suppliers in Wuhan, a city in China and at least 5 million companies have one or more tier 2 suppliers in the same region.
However, over the last couple of years, some additional developments have been instrumental in leading businesses to diversify their supply chains with manufacturing sources outside of China.
Back in July 2018, United States President Donald Trump began to impose a series of tariffs on goods that are imported from China with the goal to encourage consumers to purchase products that are manufactured in the United States. In total, President Trump has imposed tariffs on over $360 billion worth of Chinese goods.
Many businesses have found cheaper regional markets in Southeast Asia where they can source their supply chains.
One of the biggest issues during the COVID-19 pandemic has been communication from supply chain sources. When supply chain disruptions occur, businesses must be alerted so they can quickly reassess their plans. However, according to the nonprofit called Institute for Supply Management, "53 percent of businesses report having a difficult time even getting information regarding what is happening inside China."
On May 18th, 2020 United States President Donald Trump signed an executive order that gave the U.S. overseas investment agency new powers to help manufacturers in the United States. This law may include giving businesses major tax breaks to move production back to the United States.
In addition to the reasons above, the impact of COVID-19 may have been the most effective and immediate force that is leading companies to rethink their supply chain strategies and seriously reconsider additional supply chain sourcing outside of China. In fact, according to a PwC survey of U.S. Fortune 1000 companies, 42% told the auditing firm their supply chains would likely broaden as a result of the coronavirus crisis.
Businesses are diversifying their supply chains outside of China
Perhaps the biggest takeaway from supply chain disruptions during the COVID-19 pandemic is that diversification does not mean businesses are willing to abandon China entirely. While it was expected that the coronavirus pandemic would push supply chains outside of China, it seems that many companies are more likely to diversify rather than focus all their supply chain sourcing in one country.

As stated above, 42% of companies would likely broaden their supply chains, but another 52% stated that it was too soon to tell if the pandemic would shift their long-term China strategy. This may include companies that have already begun to expand their supply chain networks and diversify outside of China. The more likely scenario would be supplementing supply chain sourcing from China with a few other countries that can provide businesses with a safety net of sorts. This way if disruptions occur in China, businesses can rely on getting production out of other countries as well.
As much as President Donald Trump would like to have businesses shift production back to the United States, companies are more likely to move to countries that have the potential to provide a wider range of unskilled labor—such as countries in Asia or Central America. On April 21st, tech giant Facebook invested $5.7 billion on India's largest telecom company, Reliance Jio. This investment immediately catapulted Reliance Jio to become the fifth most valued company in India.
Additionally, global tech company Apple has begun to move some production activities to Vietnam and India in hopes of quelling many of the supply chain disruptions currently happening in China. Even more interesting perhaps is that of the $31 billion in U.S imports that shifted away from China, around 46% was absorbed by Vietnam.
It is now more evident than ever that businesses are truly starting to diversify where they source their supply chains.
Supply chain visibility is helping companies during COVID-19
While many businesses have been reassessing their supply chain plans to more actively manage the risks, some other companies have just the opposite problem.
Companies such as Do it Best Corp., a hardware supplier, are seeing massive upticks in orders due to the demand for home improvement and cleaning products. The company has seen a 32% increase in warehouse sales since last year alone. Although this massive uptick in sales is a result of the pandemic, the company still needed to alter its supply chain to meet the growing customer demand. They set up a supply chain visibility software that connects freight shippers, carriers, and receivers. The software uses sensors to track the locations of trucks used for shipping and give updated delivery times to member stores. This allows businesses to have more visibility over essential shipments such as medical supplies. They can then communicate to hospitals exactly where their shipments are.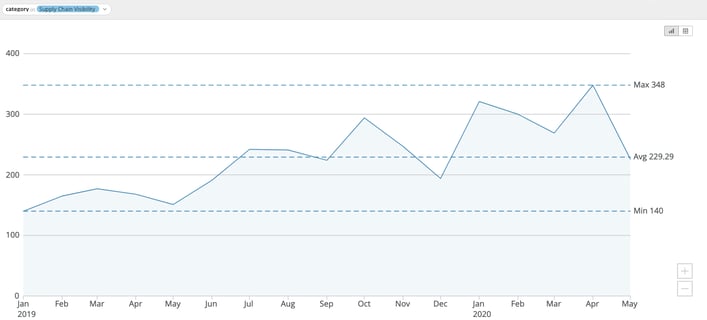 G2 data shows traffic to the supply chain visibility category has increased over 24% over the last 90 days
Not only does this allow for more effective communication but it also makes space for effective analytics. With supply chain visibility efficiently providing constant updates on the whereabouts of shipments, businesses can now track when, where, and how shipments are being held up. This allows them to make better decisions on how they can possibly alter their shipment strategies to make their supply chains and logistics more efficient.
Businesses will continue to use software to manage their supply chains during this pandemic
Whether businesses are adapting to deal with supply chain disruptions abroad or are suddenly seeing a spike in orders, the one thing that remains constant is all the ways technology and software can help aid businesses in managing their supply chains. Some useful supply chain management software has been instrumental in helping businesses shift and alter their supply chains during the COVID-19 pandemic.