With the world economy feeling the pressure and stress caused by the COVID-19 crisis, one of the industries seeing the biggest impact is the travel industry—including most business-related travel and the travel management software used to manage these trips.
According to Reuters, the global business travel sector is poised to take an estimated hit of $820 billion due to the postponement or cancelation of travel associated with business, with China accounting for nearly half of the losses.
How travel platforms are responding to COVID-19
With a major decline in travel bookings, and a drastic increase in customer phone calls, emails, and online instant messaging, many travel management companies are being forced to reroute their internal resources to handle the unprecedented number of service tickets. Many of these companies distinguish themselves from the competition through customer service, so they are focusing a lot of their efforts and resources into providing excellent day-to-day service through a variety of channels. According to the top rated Travel Management platforms on G2 (as of publication date), three out of the four scored higher than average (8.6) in Quality of Support and Ease of Doing Business With. These scores further highlight the importance of support and customer service to these companies, as well as the satisfaction obtained by users who have benefited from friendly, easily accessible, and knowledgeable customer service staff.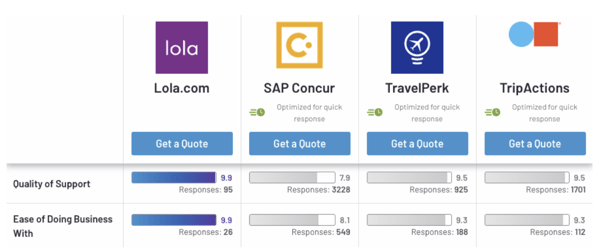 Source: G2
For example, corporate travel management software company, TravelPerk, is training and moving some of its sales personnel to customer support in an effort to maintain customer satisfaction service levels. Omio, a multi-modal travel aggregator and booking platform based in Berlin, is getting the whole company involved in customer service due to a spike in cancelations. On the B2C side of the business, Spirit Airlines is using Facebook-owned WhatsApp to communicate with customers to help ease the burden put on customer service with phone calls and emails.
Travel management platforms are also facing the challenge of managing unpredictable airplane schedules and prices within their platforms, which requires constant updates and reconfigurations. Airlines are being forced to slash their prices in an attempt to fill seats, while also canceling many routes due to the lack of travel demand. The corresponding software companies also need to track and report each airline's updated cancelation and refund policies to accurately communicate this information to the end user. In other cases, software such as SAP Concur have implemented alerts on their website and apps that notify users of any travel bans or restrictions set forth by their company. In these uncertain and unprecedented times, and now more than ever, travel management companies need to look past their bottom line and make even greater efforts to meet their customers' needs.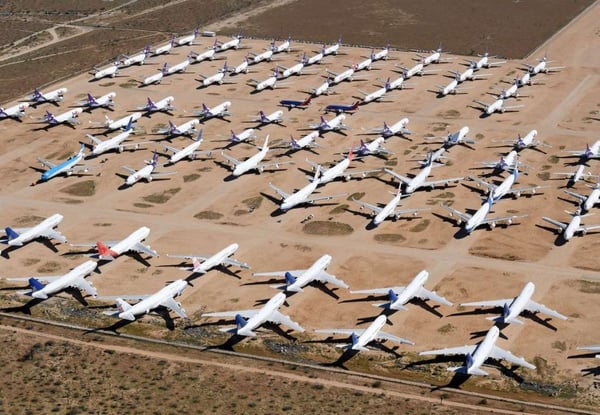 Source: msn.com
Impact of the coronavirus health crisis on travel management
Because the novel coronavirus pandemic has overwhelmed corporate travel management platforms' systems, most are allowing customers to cancel, reschedule, or postpone travel plans with no extra fees. Although this is a sign of "good-faith" and "customer loyalty" in these unpredictable and uncertain times, how long can these companies sustain the dramatic drop in revenue and business? If an organization is still in the startup phase and is fortunate enough to have received one or more rounds of funding, it should be able to weather the storm. On the other hand, companies that are cash flow negative—or are burning through the limited cash keeping the company afloat—unfortunately might need to make drastic moves to sustain day-to-day operations.
On the upside, companies across all industries, not just travel management software, can use this moment of declining sales to direct their attention to their product(s) or other services; whether that means hiring more engineers to accelerate product development or learning from this hardship by building and incorporating crisis response features for future use. By shifting priorities and resources that would normally be reserved for sales, these companies have the opportunity to adjust their business model if needed, or tackle other value-added projects that have otherwise been on the back burner.
How travel management software can add value during the health crisis
There are numerous ways that an individual, as a manager or traveling employee, can take advantage of travel management software during this challenging time. Currently, the most important functionality is the ability to make cancelations and changes to current travel itineraries through a software app or cloud interface. This can be achieved through phone, email, or instant messaging, or completed manually by employees through the software.
Travel management solutions also offer reporting functions, which can assist with tracking travel arrangements that have been altered or canceled. Managers will also need financial data that is tied to these travel plans, because refunds from rate changes or cancelations affect a team's travel budget.
It's also the responsibility for managers to keep their employees safe and informed if they have no choice but to travel. A lot of software allows users to push important messages to an individual or a specific group of travelers through the app or website. Throughout circumstances where state and federal travel regulations seem to change daily, this is an important feature offered by travel management software that can offer employees strategic guidance when traveling.
Lessons learned from the COVID-19 pandemic
While the near future of corporate travel is uncertain due to the impact of the novel coronavirus, it's imperative that the corporate travel management industry, and the related software, analyze the lasting impact on the travel market. As this pandemic rattles global supply chains and routines, and people continue to avoid traveling, these companies need to continue to find ways to add value to their customers, while continuing to operate safely and responsibly.