If you sell online, you surely use an
e-commerce platform
or
shopping cart software
to create and manage your online store, track inventory and payments, and maybe personalize your buyers' shopping experience. But your competitors also use similar tools—so what is your competitive advantage?
Your options to beat the competition are quite limited, the most important being:
Monopolize the market and don't care about competitors
Sell a unique product or service that no one else offers
Have an e-commerce strategy that makes you more competitive
How an e-commerce strategy can help you
The most important benefit of an e-commerce strategy is that it helps you, as the seller, understand your market. You need to know who your buyers are and how they buy.
Additionally, you must be aware of the impact of national and global crises on your e-commerce business. Let's take a look at the COVID-19 pandemic, which is not expected to go away anytime soon—research by McKinsey & Company shows that online sales increased by 15-30% due to the impact of COVID-19 on businesses.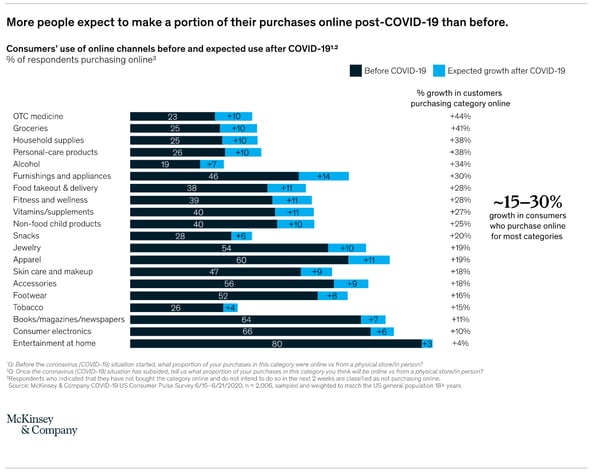 Source: McKinsey & Company
Benefits and challenges of e-commerce
The benefits are obvious: sales, sales, and more sales. There are also other advantages of using e-commerce software:
E-commerce makes it easier for you to sell and for your customers to buy because you are leveraging a touchpoint that is familiar to customers. Also, when people can efficiently use your online store, they are more likely to buy more—and to buy again.
An online store saves you money. Even when you need to learn how to create a website or invest in supplementary technology and consultants, the costs are still lower than maintaining physical stores with employees, or warehouses and a fleet of trucks, or distribution networks.
Selling online can help you quickly adapt to changes in your market. It may not always be easy to pivot quickly, but you can generate and capture data that is extremely valuable when determining what products sell best, who is your typical customer, and more.
The challenges of engaging in e-commerce are less obvious but no less important.
E-commerce isn't necessarily global. In theory, since anyone with an internet connection can buy your products online, e-commerce seems global. However, some barriers make such transactions much more complicated:

-- Legislation can vary differently between one country or region to another and attempting to figure out the differences may be a daunting task. Also, it is a possibility that some rules and laws may seem entirely illogical. For instance, Kinder Surprise eggs had been banned in the USA for 40 years until 2017 due to potential choking hazards, despite the eggs being sold all across Europe.

-- Local culture matters more than we may think. It is true that globalization made specific products like cola or fast food available across the world—but that doesn't mean that any product will be successful anywhere, and it's not only about quality or price. Something as apparently insignificant as the name of the product or a slogan can make or break your brand abroad. For example, Electrolux used the tagline "Nothing sucks like an Electrolux" to promote its vacuum cleaners in the US.

-- Cost is probably the most significant deterrent to selling internationally. It can be almost impossible to compete with similar local products offered at a much lower price.

-- Local competition isn't only about costs. People can be proud to "buy local", and they may even be willing to pay a bit more for local products.
It is not possible to use just any e-commerce platform to sell anything to anyone. There are specialized solutions for B2B (business to business) and B2C (business to consumer), for products and services, for all kinds of channels, and even marketplaces that you can use to allow your partners to sell on your online store.
A small number of companies already control huge segments of the e-commerce market. The top 10 online retailers, which include Amazon along with Walmart, Apple, Target, and Costco, accounted for 60.1% of all online sales in the United States in 2020. Amazon has the biggest market share, with 43%.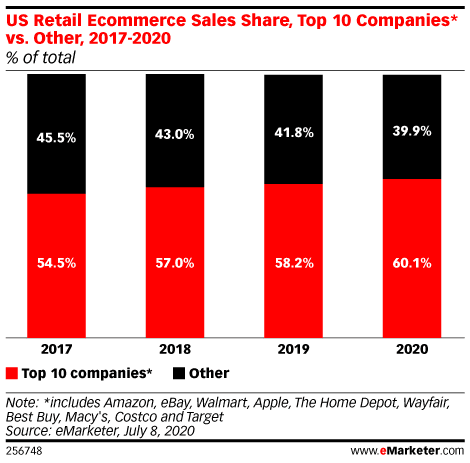 Source: eMarketer
There are probably hundreds of thousands of companies competing to get their share of the remaining 40% of online sales. Some sources estimate this number to be 300,000, which together make sales of $149.6 billion (the total e-commerce sales being $374 billion).
How to create an e-commerce strategy
E-commerce is here to stay, which is why you should have a long-term strategy for online marketplace sales. To implement a strategy, you have to understand your market.
The market you are in is made up of customers and prospects, as well as competitors. It is critical that you start by understanding who they all are and how they behave in different circumstances.
Understand your e-commerce objectives
Your e-commerce objectives are closely related to your business objectives. If you want to increase revenue, you need to sell more—but it's not the only way to make your business more profitable. You can also sell the same number of products at a higher price or keep the price and reduce costs.
Your e-commerce objectives depend on the stage of development of your e-commerce business, but it is important to note that this isn't necessarily related to the size of your company. Some small companies can have a successful track record at selling online, while some large companies may be just starting their e-commerce efforts.
Let's take a look at a few e-commerce objectives for each stage of your online business:
If your business is new to e-commerce: You may want to focus on building an excellent reputation in your market. It is more important to set up your online business in the most efficient manner than to try to sell as much as you can without having everything sorted out first. Your reputation depends on it. Customers who are disappointed that it took minutes to find a product on your website or because you shipped the wrong product, won't come back. They will also tell their friends, probably share their experience on social media, and give you a negative review.
If you've been in the e-commerce business for a while: Your most important objective is to improve your market presence. This is one of the trickiest stages because you have to grow if you want your company to survive.
If your e-commerce business is established: The most challenging stage for online companies is when you have an established presence in your market but there isn't much room left to grow. The only options you have are to diversify your offering or to enter new markets.
If your e-commerce business is at the decline stage: While no one wants to think about it, there's also the decline stage, which happens to all businesses sooner or later. At this point, you have two options—try to save the company or try to limit your losses.
Find your e-commerce audience
Remember when I told you that in theory, you could sell to anyone online, but the reality is a bit different? (Just checking to see if you've been paying attention.) Well, even when there are no legislative or cost constraints, the success of your online business hinges on your effective leveraging of the right market segment. Not only do you need to find a market segment made up of people who are interested in your products, you need to find ways to reach them effectively and persuade them to buy from you. The secret to any e-commerce business is to find the right types of customers and keep them.
Where people buy
Except when your content goes viral or you're featured on a TV show watched by millions of people, buyers won't come to you. You have to find them and convince them to buy your products. It is therefore essential to know where they spend their time online and where they are more likely to buy.
Your website: The traffic on your e-commerce website can be beneficial to generating online sales. There are just a few things you need to consider to turn website visitors into buyers:
Find a mix of organic traffic through e-commerce SEO and paid search. You'll probably end up using both, but finding the right combination between them can be challenging. The best way to identify what works is to track the costs of each type of traffic and compare them with the results. Remember that organic traffic isn't free—you still need to pay people and buy tools to manage your website.
Make sure that your online store is easy to find and use on your website. It helps to encourage your website visitors to visit your store when it is made available from any page on the website.
Keep visitors engaged with valuable content, videos, and visualizations. The more they stay on your website, the more likely they are to discover your store. Try to avoid using an excess of popups or anything on your website that may annoy visitors and risk visitor drop off.
Make it easy for users to complete their transaction and have strong shopping cart abandonment strategies.
There are lots of tools that you can use to create (website builder software), improve (web content management software), or promote (search engine marketing software) your website.
Email: No, email isn't dead; it's doing quite well, actually. The number of email users worldwide is expected to reach 2.9 billion in 2019, and 254 million by 2020, in the United States. All these people are sending 105 billion emails each day.
When you try to reach new prospects by email, you can benefit from using different types of solutions such as email tracking software and email marketing software.
Social media: Social media may seem easy when you use it just for fun, but it can be quite complicated for sales. As you know, several major social media platforms are used globally but some are especially popular outside of the United States. For instance, Xing is an alternative to LinkedIn that is used by almost 13 million people in German-speaking countries. Comparatively, LinkedIn only has 11 million users in the same region.
If you want to target B2B customers through social selling in a certain region or country, make sure your business leverages the correct social media tools and e-commerce features such as selling on Facebook Shop.
Besides the geographical location of social media users, you need to know other demographic details such as age, level of education, and so on to leverage the benefits of social commerce. Some data sources can provide valuable information on who uses social media. Statista is a good example, as well as the Pew Research Center for U.S. data. The chart below shows the percentage of U.S. adults using social media, by age (click on the graph for details on education, race, gender, income, and community).
Source: Pew Research Center
The next step is to figure out the best times to post on social media. There is much research to help with you, some of it very detailed. This report by Sprout Social shows the best times to post on each platform, per industry sector. (Did you know that the best time to post on Instagram for tech companies is Wednesday mornings at 10 am?)
To better understand your social media audience, you can use solutions such as social media analytics software or social media monitoring software. There also are tools that can help you promote your business on social media, including social media marketing software and social media advertising software.
Mobile: You probably know that there are more mobile devices than people on the planet, so the importance of mobile e-commerce (m-commerce) is pretty evident.
What's less obvious is how to approach m-commerce. Here are a few things that you should consider:
Is your website mobile friendly? To figure that out, all you need to do is try to buy from your online store from multiple devices (phones and tablets).
Is your target audience using mobile devices to buy online? Are they using phones or tablets?
Are people using mobile devices to buy online or just to search and compare products?
How people buy
There are major differences between how different people buy online. One of the most important variations in buyer behavior exists between generations of individuals. Boomers, millennials, Gen X, Gen Z—in case you're unsure about the differences between those demographics, here's a quick overview:
| | |
| --- | --- |
| Generation | Born between |
| Boomers | 1945-1968 |
| Gen X | 1969-1983 |
| Millennials | 1984-1993 |
| Gen Z | 1994-2002 |
In 2020, all of these generations are active online and on social media channels, which makes them potential e-commerce users. Besides the use of technology, there are also different approaches when it comes to how people buy.
A recent report by Criteo on Gen Z shows how its members approach shopping in general. What is noteworthy about these statistics is that there isn't a clear preference for online versus in-store shopping anymore. It's all a mix: where consumers find products, where they try them, and where they buy.
Criteo identified five combinations that they describe as follows:
Webrooming: research online, buy in store
Click and collect: buy online, pick up at a store or kiosk
Scan and scram: see in store, purchase in store from another retailer online

Click and ship: see in store, purchase in store on retailer's mobile site or app

Showrooming: see it in store, buy it online
Why people don't buy online
It's important to know what makes people avoid buying online so you can avoid targeting them or try to somehow convince them that their fears are unfounded. For instance, if someone is concerned about securely paying online, you can show them that the payment gateway software you use is certified by reputable cybersecurity organizations and complies with laws and regulations related to online security.
Other reasons why consumers may not buy online are more difficult to dispute. When it comes to clothing, many people prefer to try before buying. Even though there is technology to create virtual fitting rooms, it's still in its early stages and may not make customers change their minds about their buying preferences. An alternative would be for buyers to order multiple sizes of the same product, try them, and return those that don't fit. While this is great for buyers, it can be costly for sellers since they usually pay for returns.
Research your e-commerce competitors
Almost every time I attend a conference or webinar on e-commerce, I hear how eBay and Amazon became some of the largest companies in the world or how Walmart spends millions to catch up. While these are great stories, they aren't very relevant for most companies.
Let's face it, the times when you were able to start a business in a garage and turn it into a multinational company are gone. Not to mention that there are thousands, maybe tens of thousands of companies just like yours. Statistically speaking, the probability of your company becoming the next Walmart or Amazon is very low.
So what matters most for you is the direct competition. A direct competitor is "a company that produces a virtually identical good or service that is offered for sale within the same market as those produced by one or more other companies."
This definition is a bit vague, so let's take a look at other factors that turn a company into your direct competitor:
Pricing: While your competitors may sell the same products as you, are the prices also similar? It's tough to compete with companies that can offer much lower prices than yours.
Quality: When two companies offer identical products, it doesn't necessarily mean that the quality of the products is the same.
When you have a single or many direct competitors, you can differentiate yourself by using a better strategy. That can include the use of better e-commerce software and outperforming other companies when it comes to promoting and marketing your e-commerce business.
How to create an e-commerce plan
Before you even start thinking about a plan, try to understand how important online commerce is to your company. What is your motivation for embracing e-commerce? Here are a few possibilities:
Everyone does it; therefore, you have to do it
It's a multibillion dollar market, and you want a piece of it
You heard analysts saying that you're dead without e-commerce
Your customers are asking for it
It's free to start, so why not try it?
Your sales aren't great and you hope e-commerce will help
In this decision-making process, instead of being influenced by people and by circumstances, it's best to stay objective as possible to clearly identify why you need e-commerce, what you need to succeed, and how to best put the strategy into practice.
Let's take a look at how to answer these questions and how to use the answers to create a plan.
1. E-commerce assessment
Start by looking at where you are right now, without thinking about the future of your e-commerce business to avoid creating unrealistic plans.
Here's what you need to assess:
What you sell online or plan to sell in the future
What technology you have and what's missing
The level of expertise of your employees associated with e-commerce
This will provide a good overview of your present situation and also give you an idea of what to plan for the future.
2. E-commerce goals
I already mentioned objectives above, but now you have to think about more specific and actionable goals. Here are a few examples:
Double online sales in 6 months
Increase traffic on web store by 50% in 3 months
Introduce a new product and aim to sell 1,000 pieces by the end of the year
Improve consumer loyalty by 20% in 12 months
It goes without saying that these goals are directly related to the assessment above. For instance, you'll have a hard time doubling your sales without investing in technology and qualified personnel. You'll also have to take into account that the investment required to increase sales will be (and should be) deducted from your revenues to calculate the profit. In other words, doubling your sales doesn't necessarily mean that you'll double profits as well.
3. Strategy
Now that you know what to do and why, you'll need to think about how to implement all of your great ideas. You'll realize that you may not be able to do everything you'd like, so you'll have to prioritize.
A critical step is to estimate a budget for both short-term and long-term e-commerce initiatives. This should include everything that will be used to sell online—from software and hardware to employee training or hiring new personnel, working with contractors and consultants, digital advertising, website revamping and maintenance, and so on.
Once you set specific goals for your online business, you can then compare estimated revenues with the cost of the investment required to achieve your objectives. As you implement your strategy, make sure to regularly monitor actual costs and revenues and compare them with initial estimates.
Branding your online store
Merely creating an online store and waiting for people to find it won't work. Here is what helps with your online branding:
A right mix of channels for communications, promotions, and marketing is critical for any online business. As mentioned above, finding the right combination of channels should take into account the different types of users of each social media platform.
Content that makes a difference is critical because there is so much content out there; most of it covers more or less the same topics. While you may not be able to always come up with original content ideas, it helps to avoid being impersonal and use media such as videos, graphs, or animations to make content more attractive.
Engaging with customers and prospects is becoming more important because new generations of consumers prefer direct communications rather than traditional content such as blogs and articles. Customer service is an increasingly important form of engagement that can also help you promote your business.
Choosing a platform for e-commerce
Now that you have a pretty good idea of what you need to do to be successful in e-commerce, you'll need the right e-commerce tools to help you. The good news is that there are lots of options available, which is also the bad news because it's not easy to choose between so many alternatives. To help with this, here is another article on how to choose the best e-commerce software for your business.