Major CAD vendor PTC recently announced a partnership with augmented reality hardware creator Magic Leap.
The partnership will allow users to combine Vuforia Engine, PTC's flagship industrial AR platform, with Magic Leap's wearable headset.
Michael Campbell, EVP and GM of augmented reality products at PTC, had this to say on the acquisition:
"Industry leaders today need to have the flexibility to select the best hardware and software to fit their needs…This collaboration enables our many industrial customers to pair our powerful AR software with equally powerful hardware."
Earlier this year, it was reported that Magic Leap only sold 6,000 headsets in the six months since the device's release—way under CEO Rony Abovitz's goal of selling 100,000 units during that period.
Magic Leap hopes to have a major industry name like PTC bolster its reputation and sales in the near future.
The rise of augmented reality

This partnership announcement from PTC should come as no surprise. The augmented reality market was valued at $882 million in 2019, and we should only expect this market to grow as more use cases for the technology are unveiled.
For example, 2019 saw a major increase in AR and virtual reality (VR) being leveraged in training and teaching with augmented reality training simulator software. In fact, Walmart used 17,000 Oculus Go Headsets in its stores for training just last year.
Other use cases include augmented reality in health care: Accuevein is a handheld device that scans the vein network of a patient. Surgeons then plan procedures before making the first cut with the device's AR diagnostic tools, leading to a 45% reduction in escalations.
Moreover, it's clear that businesses are looking to implement more AR technology into their processes. According to research from CCS Insight's IT Decision-Maker Workplace Technology Survey, 38% of organizations are using extended reality in some way within their businesses, and the same number are exploring its potential.
So what about the software that's used to develop this technology? It's also booming. In fact, in the last year G2 saw a 245% increase in visits to the augmented reality software development kit category.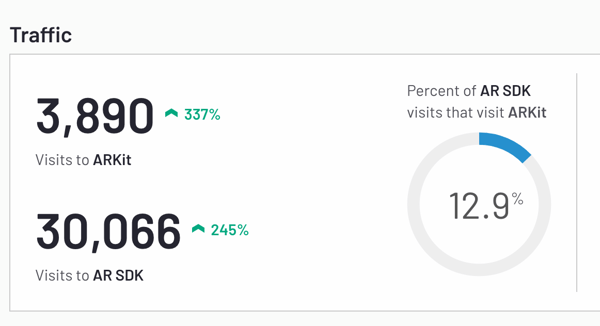 Competition brewing in the augmented reality software market
The increase in interest over AR technology has ignited a competitive fire in the AR software market.
As of publication, PTC's Vuforia Engine is the most widely deployed augmented reality solution with over half a million developers utilizing the software. This recent partnership with Magic Leap is a strategic move that the company hopes will propel the solution even further and cement PTC as a market leader.
Elsewhere in the AR market, earlier this year Apple announced its latest augmented reality innovations with the ARkit3, RealityKit, and Reality Composer, a collection of tools to make AR development easier. It's even been rumored that Apple has plans to develop its own AR headset that would compete with other products such as the Magic Leap.
Additionally, Google recently announced updates to its augmented reality platform ARCore. The updates allow developers to improve depth detection: Users can now place artificial objects in relation to other real-world objects.
The example below shows this in detail. In the previous version, the only way to place the artificial cat in the real world was to have it mixed in with the couch; with the new updates, users can actually place the cat behind the couch. The new feature allows these artificial objects to sense the environment, which is a big stride in AR development.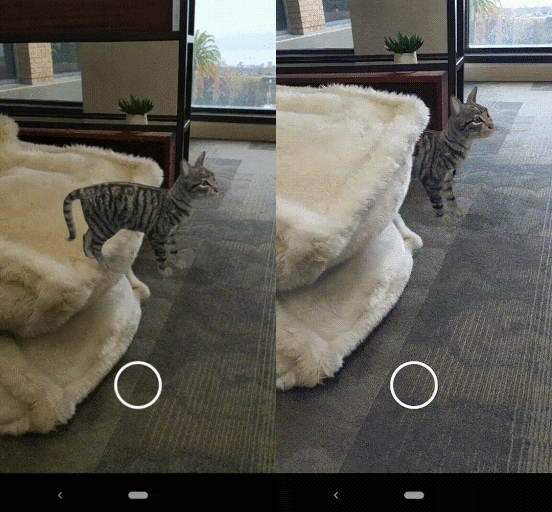 Image courtesy of Google
With the global AR market expected to generate $61.39 billion in revenue by 2023, we should expect vendors to continue making more developments in AR technology and software.