Major SaaS vendor Trimble just announced it will be acquiring transportation management vendor Kuebix. The deal is set to close in Q1 of 2020, pending customary closing conditions, but financial terms were not disclosed.
This is a major acquisition that has the potential to drastically alter the supply chain space for years to come. The acquisition will merge Trimble's 1.3 million commercial trucks in North America with Kuebix's community of more than 21,000 shipping companies.
On top of this, 85% of the top 200 carriers are Trimble customers.
According to the press release from Kuebix:

"This move will essentially create the largest connected network of shippers and carriers in the North American transportation supply chain."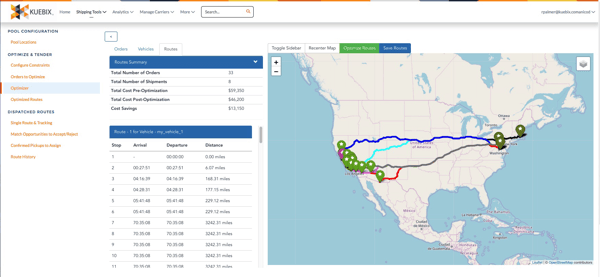 Image courtesy of Kuebix
Trimble's acquisition will not only create an incredibly extensive network of shippers and carriers, but it will also create a single streamlined transportation management software (TMS) that will make it easier for users to strategize their supply chain.
Once released, users will have increased visibility into this new TMS as well as access to every asset and shipment across their supply chain.
Trimble's steady growth
Mergers and acquisitions have been a big part of Trimble's strategy over the past two years. In 2019 alone, Trimble acquired five different companies.
Some of the acquisitions have been focused on establishing the company as a leader in the construction space, while others have been more focused on solidifying itself as a leading provider of enterprise asset management software.
Steven W. Berglund, president and CEO of Trimble, had this to say on the acquisitions in the construction space:

"The acquisitions are strategically significant and position us to play a unique and central market role in providing comprehensive enterprise and project solutions. They also provide significant financial opportunity and contribute strong growth trajectories."
CFRA research analyst David Holt stated that Trimble had an 18% jump in revenue in 2018; and 6 of those 18 percentage points can be attributed to the company's acquisitions.
In addition to this recent acquisition of Kuebix, Trimble also rolled out two other transportation management systems: TMW.Suite and TruckMate.
Trimble is heavily focusing on supply chain and logistics software because the transportation sector is showing great promise for the vendor.
In fact, in the last quarter alone, the transportation management sector reported $198.3 million in sales. The figure was up 4.2% year over year and accounted for 25.3% of total revenues. A good chunk of profit that Trimble is hoping for will only increase with the acquisition of Kuebix.
Can Trimble help Kuebix become the market leader in TMS software?
Currently the only major competitors standing in the way of Kuebix on G2 are Verizon Connect Fleet Tracking & Management and Oracle Transportation Management Cloud.
While Kuebix has always been a High Performer on the Grid®, its smaller market presence has prevented the company from competing with big names like Oracle or Verizon.
However, with Trimble's acquisition, we can see the partnership catapulting Kuebix up into a more visible position on G2's TMS Grid®.