Computer-aided design (CAD) is one of the most significant pieces of technology influencing design in the industrial, architectural, and manufacturing industries today.
From building information modeling software (BIM), to civil engineering design software, users are designing buildings, roads, machines, and industrial products used by millions of people every day.
While CAD has dramatically decreased design time and improved the quality of designs, it's also been quite fixed. Aside from CAD's introduction to the cloud in 2012, new CAD technology has been stagnant since PCs became powerful enough to support CAD software in the 1990s.
Bill McClure, vice president of product development at Siemens PLM, notes that "CAD really hasn't changed much beyond adding more features and updating the user interface. We need a new way of working to keep up with demands."
Thanks to some exciting developments in the tech world, CAD is in a prime position to meet the growing demand for smart design and digital transformation. With major trends such as machine learning, AR (augmented reality), VR (virtual reality), and the adoption of IOT (internet of things) platforms, CAD drastically speeds up design time and improves collaboration for users. Below we highlight the most exciting trends influencing the CAD market today.
Trend 1: Automation in CAD
Design automation is a growing trend in the CAD world that reduces the amount of time it takes to complete a design and speeds up time to market. In practice, a design method known as generative design is one of the main ways CAD automation is used.
Generative design is a tool that generates countless designs by reading text. Designers or engineers input design goals into the generative design software, along with parameters such as performance or spatial requirements, materials, manufacturing methods, and cost constraints. The software explores all possible variations of a solution and quickly generates design alternatives. It tests and learns what works (and what doesn't) from each iteration.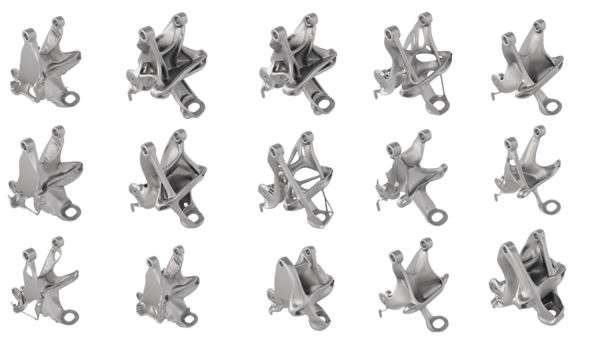 Image courtesy of Autodesk
Above is an example of generative design used to create variations of a seat belt bracket in Autodesk's Fusion 360. After producing over 150 design variations, the final iteration was 40% lighter and 20% stronger than its predecessor. Generative design consolidated an eight-part component into one unified part.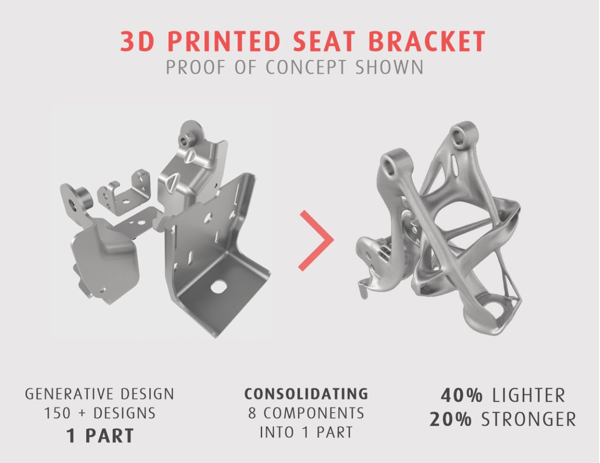 Image courtesy of GM Media
Design variations are so abstract that many would never be considered in the manual design process. However, since generative design automatically produces variations based on automated computing, unique variations are produced, and no design iteration is left out of consideration.

With generative design, engineers can find the perfect balance between performance and cost. Engineers cut costs by using less material, reduce labor time by automating design decisions, and reduce emissions by cutting manufacturing time.

Prediction: Generative design and machine learning in CAD will grow 50% over the next two to three years.
As engineers and manufacturers realize the countless benefits of generative design, user adoption will grow.

Although generative design will increase in adoption, it will not replace the decision-making process of the engineer. Automating one aspect of the design process will not eliminate the expertise an engineer has about effective design for manufacturing purposes. Engineers should consider generative design a tool for finding fascinating and creative ways of designing a product, and not as a tool that eliminates their creative input.
Generative design will have uses across many industries in the design world. Generative design will be widely used in the aerospace and automotive industries; it will also be utilized in the architectural, fashion, and retail industries. As more general-purpose CAD tools are developed, expect generative design to become common.
Trend 2: Heavier adoption of the cloud
Since Onshape announced, in 2015, the first CAD software to live exclusively in the cloud, CAD industry leaders expected more businesses to ditch their on-premises solutions in favor of the cloud.
However, the reality has been different, as many CAD users are resistant to buy into the cloud. Their reasons include annual subscription fees, needing internet access, lack of storage, and network security concerns.
While these concerns are valid, as more and more engineers adopt cloud CAD solutions, more engineers will have to assimilate since CAD streamlines design collaboration across various teams.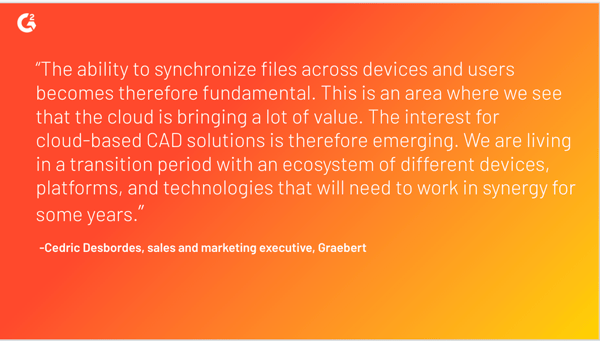 When all designers work on one cloud platform, all users have access to changes as they happen. Users can jump in, make comments, and make their own modifications when necessary. On-premises solutions cannot provide this functionality. If you couple this with other benefits of cloud CAD software, such as quick implementation time, saving hard drive space, and working from anywhere, the number of cloud CAD solutions users will grow.
Prediction: Cloud CAD solutions users will grow 100% over the next three to five years.
An important factor to keep in mind is that more and more vendors will start offering subscription-based cloud CAD solutions in addition to their on-premises solutions. While some CAD vendors are hesitant to switch for fear of their cloud CAD solutions cannibalizing their on-premises solutions, it's preferable to other vendors stealing their customers.
SOLIDWORKS is proof of this trend. A major CAD vendor, SOLIDWORKS released its own cloud CAD called SOLIDWORKS xDesign this year. As more major vendors introduce their own, this will force more CAD users to buy into the cloud.
Trend 3: VR CAD
One of the hottest trends in the tech space is VR integration, with more businesses than ever realizing the practical applications of this technology. VR creates immersive experiences that communicate the value of a product; as a result, VR can add significant value to the CAD industry.
Imagine the ability to manipulate your designs with your own hands, or walk through a building design that you created. Visualizing your designs as if they were right in front of you can offer immediate benefits such as identifying flaws and areas of improvement.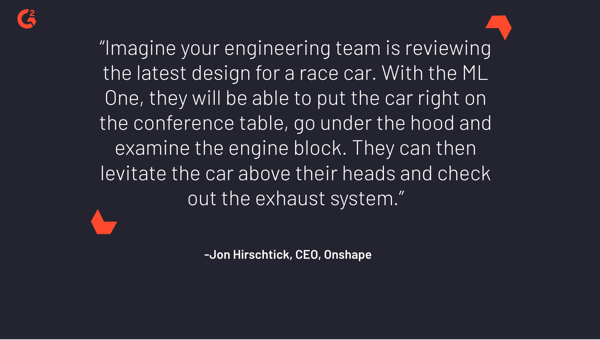 CAD vendors are starting to find ways to integrate VR technology into their own offerings. While some offerings allow users to visualize their designs through a VR headset, some allow users to edit their designs in real time.
Prediction: VR CAD solutions users will grow by 100% over the next three to five years.

Cloud CAD vendor Onshape has introduced a partnership with MagicLeap, a spatial computer system where users interact with the digital content around them.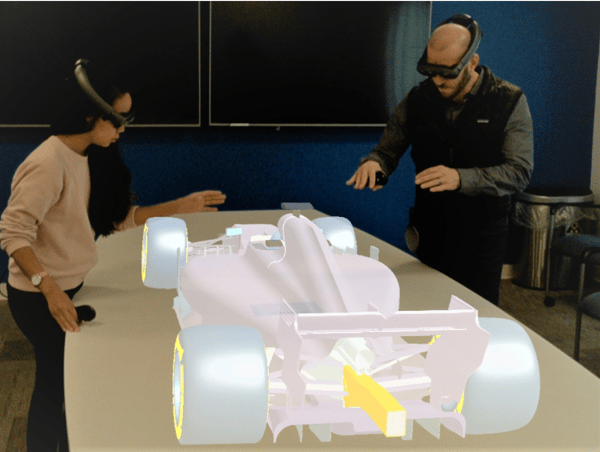 Image courtesy of Onshape

The integration of VR with CAD systems allows users to view and edit in real time, bringing a whole extra level of control to your design.
Major CAD vendor Autodesk currently has an AR/VR exporter for Autodesk Fusion 360 called ENTiTi. This AR/VR exporter allows users to edit and create designs in a virtual reality space.
With two major CAD vendors already on board with VR integrations, we should expect more CAD vendors to adapt and increase the market size for this dynamic technology.
The future of CAD
The computer-aided design (CAD) industry is currently valued between $7 and $8 billion. It has a promising future, with the market projected to reach $14.5 billion by 2026.
This massive increase in the market is influenced by new developments and adoptions of technology in the CAD space that did not exist before. This increase is also a direct reflection of more vertical industries adopting specific use cases for CAD. This introduction of new niche spaces adopting CAD solutions is exciting to follow as the CAD space continues to evolve and impact the design world.