We are in the full swing of technology and cloud software vendor IPO season with Lyft, PagerDuty, Pinterest, and the highly anticipated Uber public offerings all taking place within a matter of weeks. Among the flurry of companies eager to list themselves on the public markets is the video conferencing software Zoom, which IPO'd on Thursday, April 18th.
But Zoom boasts a key differentiator from most cloud software businesses that test the public waters: The company is (already) profitable.
Investors in traditional markets view profitability as a clear sign of a healthy company, but those looking to invest in technology companies are willing to take a chance on companies that lose money every year. Just look at Lyft, which opened at $72 per share and reached highs of $88.60, despite losing nearly $1 billion in 2018. This is not uncommon ground for technology companies, who thanks to their rapid growth offer a much higher upside even when considered risky investments.
Zoom, however, is the perfect combination for investors because it is a hyper-growth business that also happens to be turning a profit. According to Zoom's S-1, the company's revenue has grown 118% over the past two fiscal years, recording a net income of $7.6 million. With these and other factors in mind, Zoom priced company shares at $36 but surged 80% on its first day of trading to $66 at daily highs. While many technology stocks spike on the day of their initial offering, Zoom will aim to steady the ship and continue its increase as it expands revenue and profits.
---
Zoom is already a leader in the video conferencing market
Video conferencing software is not a new space by any means, and despite its importance has seen its share of difficulties. Almost every company that has used a video conferencing tool to hold internal chats or client-facing external meetings has assuredly been disappointed with the quality of the calls. Zoom, which was founded in 2011, built a cloud-based video conferencing software that simply does what it is supposed to do: allow users to conduct effective meetings without experiencing technical interruptions.
The tool's technical performance is one of the more consistent reasons why G2 reviewers say they enjoy Zoom.


Additionally, in a direct comparison with Skype for Business and Skype, Zoom performs very well in most metrics and features, including Ease of Use, Audio Calls, and Video Conferencing.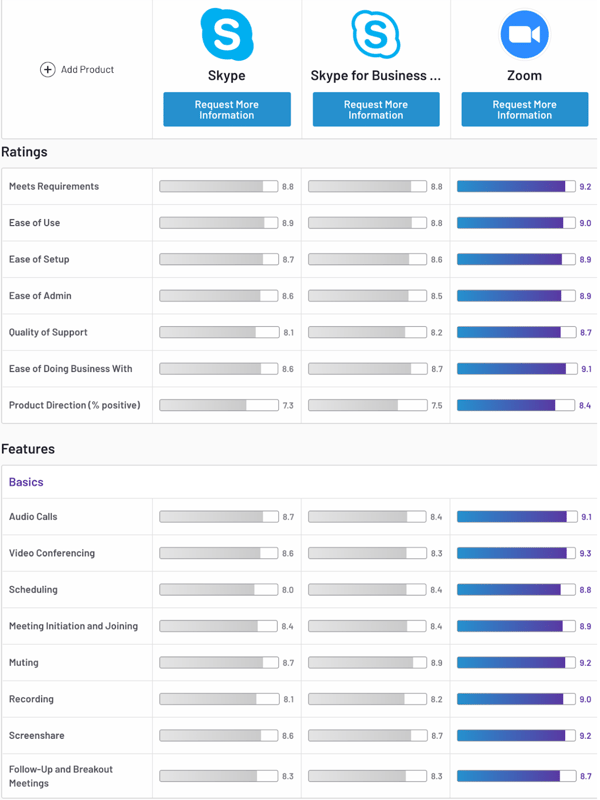 Data as of April 18th, 2019
Thanks to these achievements, Zoom has cultivated a large customer base that is highly satisfied with the product. Zoom currently has over 7,000 reviews (over 5,000 of those reviewers rated the product 5 stars!) on G2 and has solidified itself in the Leader quadrant on G2's quarterly Grid® reports.

G2's Spring 2019 Grid® Report for Video Conferencing
Zoom received a Satisfaction score of 98 in G2's most recent Grid® Report for Video Conferencing, the highest of all competitors in the space. However, the product ranks below both Skype and Skype for Business in Market Presence. Skype benefits from the backing of a massive company like Microsoft, which purchased Skype back in 2011, the same year Zoom was founded. Skype has long been the most commonly used video conferencing tool, building out such brand recognition that it benefits from the Kleenex effect—many people simply request a "Skype" instead of a "video call."
---
Momentum in an established space is a key differentiator
Even without Skype's ubiquity in terms of market presence, Zoom has recently created more momentum around its product than any other player in the space, as demonstrated by G2's most recent Momentum Grid for Video Conferencing.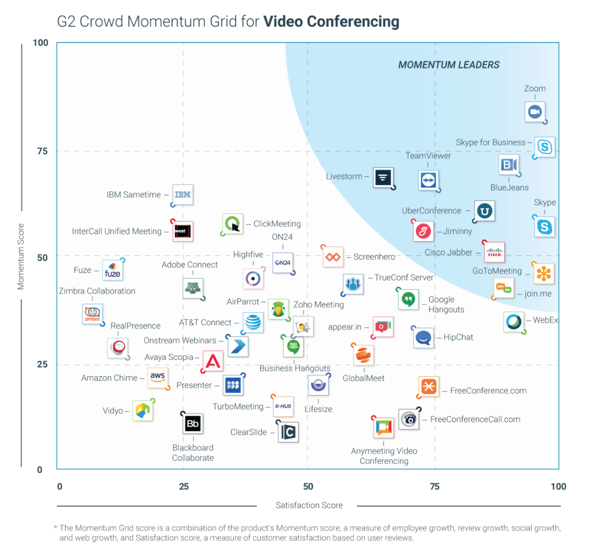 G2's Winter 2019 Momentum Grid for Video Conferencing
G2's Momentum score is designed to help buyers understand where the market is moving, not just which vendors are dominating the market in this exact moment. Zoom received a Momentum score of 81, the highest of any competitors in G2's most recent Momentum Grid for Video Conferencing. The product beat out rival Skype for Business (73 Momentum score), BlueJeans (69 Momentum score), and Skype (59 Momentum score), as well as other longstanding video conferencing players.
Zoom's momentum has in part been fueled by raising capital. In a span of roughly five and a half years, Zoom raised just over $160 million across five different rounds of funding, including a $115 million Series D round in January 2017. The last round escalated Zoom's valuation to over $1 billion, solidifying its status as a unicorn. This increase in accessible capital directly contributed to a major increase in hiring, and with that the ability for Zoom to grow its social and web presence.
Additionally, its increase in users was blatantly evident by its review growth on G2, increasing 174% in the year leading up to G2's release of the G2's Winter 2019 Momentum Grid Report for Video Conferencing, where Zoom was able to separate itself from some of its key competitors.
---
Zoom has gained major momentum from its IPO
The momentum of Zoom has never been as prominent as it is on the day it turns into a publicly traded company, and founder and CEO Eric Yuan hopes to keep the runaway train rolling. On the day of its IPO, Zoom reached an estimated diluted market cap of $16 billion, significantly higher than the valuation it received after its Series D round.
It will be interesting to watch how much momentum Zoom can gain with that type of capital at its disposal. Regardless, by positioning itself as not just a video conferencing leader of the present, but also the solution of the future, Zoom will aim to continue its momentum in the public market.
Read more Zoom reviews from G2 reviewers and learn why customers love using Zoom.