This post is one part of G2's 2020 digital trends series. Read more about G2's approach to digital transformation trends in an introduction from Michael Fauscette, G2's chief research officer.
Health care has taken deliberate strides to adapt to the digital age. However, it must reconcile the (rising) cost of health care spending. Right now, health care needs a human touch to make all these new devices and players work.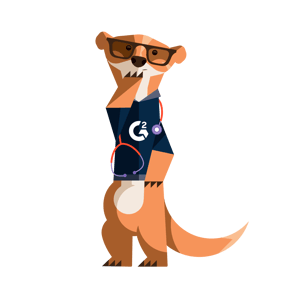 Four primary medtech trends emerged during our research of future health care trends in 2020:
Specialized hiring platforms and staffing systems help combat rising nursing shortage
PREDICTION:
By 2025, 50% of hospitals, medical institutions, and health care organizations will leverage or build specialized hiring platforms and automated staffing systems to combat the rising nursing shortage.
Nursing shortages—combined with increased demand for health care—place more stress on hiring managers, existing nurses, and the entire health care industry.
This September, 8,200 nurses went on strike, speaking out against unsustainable patient-to-nurse ratios, low wages, and antiquated health systems that put patients and medical professionals at risk. At this time, California is the only state that mandates a five-to-one patient-to-nurse ratio (and a two-to-one patient-to-nurse ratio in the intensive care unit).
The American Association of Colleges of Nursing projects that by 2026, 203,700 new RNs will be needed each year—a statistic harder to meet each year. Enrollment in nursing programs is down, and nursing turnover is high. Nurses are feeling the pressure, especially with the advent of MIPS scores that can ding medical practice reimbursement fees and funding opportunities if they receive poor patient satisfaction scores. This starts a vicious cycle: Lowered patient care quality penalizes medical professionals, further lowering the quality of patient care as a result of slashed budgets.
Related:

Learn more about MIPS scores and how they impact health care. Read, here

→
One proactive way to combat the nursing shortage is to streamline hiring solutions. By easing daily responsibilities of administrators and managers, qualified applicants can be considered and less time is spent considering irrelevant candidates.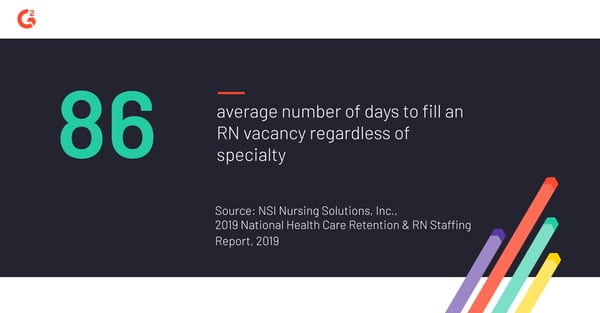 Companies like Incredible Health claim their hiring platform provides a better way to hire nurses and post job opportunities. Incredible Health makes it possible for hospitals and facilities to hire nurses in less than 30 days; now, the average length of time it takes to hire a nurse is 86 days. Algorithms are leveraged by Incredible Health's talent acquisition platform to tailor the opportunities nurses see when using the site. The site also empowers administrators to focus their time on qualified nursing talent.
Let's take a beat here: Technology alone cannot solve the hiring problem, especially since the hiring problem doesn't impact the daily lives of nurses.



Technology alone cannot solve the nursing shortage issue. Automation can fix elements of the hiring system, but it cannot and should not fix issues regarding poor management or tech illiteracy.



Automation can fix some parts of the hiring process but it doesn't fix issues regarding poor management or lack of tech literacy. Time and undue stress is always at the forefront of every medical professional's mind; in the same way that self-scheduling solutions and clinical documentation software tools see low adoption rates, so does any piece of technology requiring manual data input. Proper training and a seamless, comprehensively supported deployment period are absolutely necessary for users to voluntarily use these solutions.
We know what the state of the health care industry looks like: Piled-on stress, no time to professionally develop skills or relationships, lack of transparency between C-level executives, managers, and practitioners, and bulky tools that promise to shed manual and outdated processes but add to burnout. For lasting change, the health care industry needs a change in mind-set and culture.
Rather than investing in individual point solutions—shift scheduling, charting, documentation, or communication solutions—that don't integrate with each other, managers and executives must consult their staff and upgrade existing systems that are responsible for daily difficulties. A staff survey has the potential to uncover the hurdles faced by medical professionals and find the factors that are contributing to staff turnover and apathy. Once these factors are determined, administrators and managers can get a better idea of the financial resources invested in their employees, and reallocate funds accordingly.
More health care providers will leverage updated technology to optimize care delivery and effectively engage patients
PREDICTION:
By 2025, 80% of health care providers will leverage digital technology to optimize care delivery while making it easier for patients to actively participate in their health and well-being.
The biggest buzz word in health care is "patient engagement." The mandated move to digital, electronic health records (EHR) spurred the deployment of patient portals and improved clinical communication. In turn, vendors created patient engagement solutions to help patients actively participate in their own health while optimizing provider-patient communication to improve health outcomes. Although more providers are realizing the need for digital transformation and consumer-based practices, resource and capital constraints faced by smaller medical organizations means that 100% adoption won't happen for some time.
RELATED:
Read more about trends in patient engagement, here
→
People-centric measures and perspectives in the medical industry are the result of value-based care initiatives. Value-based care has shifted the way hospitals view and engage with payment, reimbursement, and approval for expensive procedures. Since value-based care depends on data sharing and collaboration between primary and ancillary care providers, these lines of communication are ripe for data breaches and cybersecurity attacks. As a result, institutions must take caution against cybersecurity attacks and data breaches.


Technology improves treatment precision to avoid misspending on unnecessary treatments and procedures.

As the population ages and the number of people with chronic conditions grows, errors will become more unacceptable.

Patients want to be more informed about their health; as consumers, they expect to be informed. Easy-to-use web portals or mobile applications, the choice of telemedicine over in-person visits, and an all-hands-on-deck mentality that allows equal dissemination of information can contribute to better patient experiences.
Fierce Healthcare reports, "technology will drive the most opportunity in population health and precision medicine," over revamping health care operations and infrastructure, deployment of telehealth methods, integration of biosensors and trackers, and adoption of devices that improve diagnostics.
It's not enough that health care systems deploy and wield digital technology to make the lives of their patients better. That digital technology must be interoperable and be able to communicate with existing systems, otherwise, they will fail, regardless of top-of-the-line innovation.
There's no end in sight for potential M&As or investment rounds in the medical space
PREDICTION:
While investment and M&A activity will not likely reach historic 2017 levels, seed/Series A funding rounds for upstart/"risky" medtechs and healthtechs in 2020 will see 25% more activity than in 2019.
The health care space will continue to consolidate via mergers and acquisitions (M&As) in 2020; we haven't reached a digital health investment bubble yet. While 2017 was a milestone year for M&As in hospitals and other health care systems, Fierce Healthcare reports that, despite the current political climate, 50% of M&A professionals believe the market is headed in a positive direction going into 2020. Look at the numbers: In the first half of 2019, $4.2 billion was invested in digital health, and according to Prudential Health, in 2017, almost 50% of hospital executives believed that they would engage in M&As or informal partnerships to financially benefit from consolidated systems.
2019 was marked by investments into so-called "risky" medtechs and healthtechs; gargantuan companies were throwing their weight behind mobile apps and innovative technology that provided patients with better ways to pay their bills, track their procedures, manage their chronic illnesses, and life sciences researchers to revolutionize their processes and output. Strides in data analysis in 2019 allowed medical systems and organizations to wield amassed data. Fortunately, 2019 was also the year of the patient, with health systems understanding that by putting patients first—in terms of utilization, satisfaction, or convenience—they will ultimately benefit, financially and organizationally.
Since 2017, hospitals, health care systems, and third-party business associates have experienced challenges that historically arise post M&A: Issues of data connectivity and interoperability, unfortunate lapses of user experience, unforeseen costs of infrastructure support, and gaps in technology talent and literacy.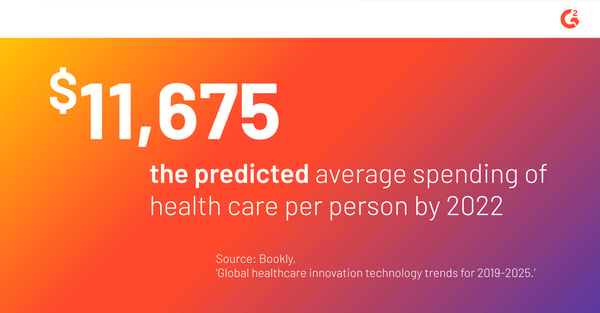 Budget constraints and the expensive costs of maintaining and providing health care services will impact medical tourism. While future investment in health care IT will most likely resolve some of the financial burdens on health care systems, they require a heavy overhaul of the existing systems and financial reallocation of equipment and resources. By 2022, online appointment scheduler Bookly predicts average spending on health care will increase to $11,675 per person. That's quite an increase; the United States' Centers for Medicare and Medicaid Services reported that in 2017, the average spend per person was $10,739. Compare that to the average spending reported in 2000—$4,559 per person.
The United States' health care system is one of the most expensive among developed countries. By 2025, medical tourism will rise by 25% as the cost of health care continues to increase. Budget constraints and expensive health care costs will result in higher rates of medical tourism.
Medical tourism fills the gap between "must have" and "too expensive to have" when considering medical procedures. Medical tourism, as defined by the Foundation for Economic Education (FEE), "is when someone chooses to travel outside their country of origin, usually to less-developed countries, in search of affordable, quality medical care." When health care consumers in the United States are desperate for medical services, they travel to other countries for more affordable options. The American Journal of Medicine's list of conditions that are frequently treated abroad include: dentistry, in vitro fertility, and cardiac treatments.
At the beginning of 2019, John Hopkins reported that the United States spends 25% more than Switzerland (with an average of $7,919), 108% more than Canada ($4,753), and 145% higher than the median reported by the Organization for Economic Cooperation and Development ($4,033). According to the American Journal of Medicine, sweeping cosmopolitan cities like Dubai, Singapore, and Malaysia "actively solicit medical tourism." The high costs of health care in the United States coupled with the tantalizing "offer [of] various procedures at 30%-65% of the cost of care in the United States," make it easy to see why people in the United States would turn elsewhere.
More medical tourism will spur more educational and financial opportunities globally. The more consumers flooding the global market, the more impetus there is to bolster schools, equipment, resources, and expertise.
Hospitals will incorporate more medical devices and IoMT (internet of medical things) to optimize their processes
PREDICTION:
---
By 2030, 40% of hospitals, practices, and health care organizations will have implemented IoMT into their processes.
Medtech development will directly impact and facilitate the human element of medicine, treatments, and procedures. Consumerism and consumer behavior has already affected B2C medical offerings and products (e.g. Apple Health, FitBit, and Kaia Health), now it's time for these systems to talk to each other and positively impact the B2B medical industry.
Connected health is technology enabled delivery of care, facilitating patient-centric care through efficient sharing of health data.
We've already seen how health care has taken cues from retail and telecommunication trends in their provider-to-patient offerings. So, it makes sense that a connected health model and the internet of things (IoT) (e.g., biometric sensors and robotics) has a positive impact on consumers as well. Connected health is technology enabled delivery of health care, specifically designed to facilitate patient-centric care through the efficient and proactive sharing of health data between relevant parties.
GrandView Research reports that the global IoT in health care market size was valued at $147.1 billion in 2018 and forecasts that the market will increase 19.9% over the 2019-2025 forecast period. Additionally, Thrive Global estimates that the market for IoMT will increase to $409.9 billion by the end of 2022. IoMT specifically encompasses medical devices; IoMT devices equip health care systems with barcodes and encoded products and treatments that help optimize and streamline clinical communication and operational workflows.
Vendors understand their quality management solutions can be leveraged by medical device manufacturers, so they bundle medical legislation and regulations into their offerings. Similarly, medical professionals understand the positives of integrating tracking capabilities in IoMT devices for their patients, and the impact of furthering patient engagement and clinical communication.
The standard statistic, heralded by the medical industry globally, is that by 2020, more than 30 million IoMT devices will have been deployed worldwide. It's the successful implementation and enthusiastic adoption of these devices that remains to be seen. Vendors and institutions must prove to health care professionals that, unlike other point solutions that refuse to easily integrate with existing systems, IoMT devices, from the start, are built to enhance their professional lives.
The focus of conversation when it comes to medtech and healthtech is no longer "what are the pros and cons of going digital?" The focus now is figuring out how to deliver stellar care to patients, lessen strain and stress on medical professionals, and slowly fixing the antiquated and throttled health care systems that make further change far more difficult than it should be.