Software as a service (SaaS), also known as software in the cloud, is increasingly penetrating the tech market. From education to finance, countless industries are implementing SaaS based solutions, and most of those industries are better because of it.
It isn't a mistake that the SaaS market has more than doubled its market growth over the past three years. The method of providing software with a subscription-based model over the internet is what users want. Cloud-hosted products provide low starting costs, internet-based accessibility, and give users consistent system upgrades.
In fact, 80% of end users in the United States prefer cloud-hosted and SaaS applications for communication and organization purposes. On top of this, Ironpaper predicts the SaaS market will reach a value of $164.29 billion by 2022.
While so many industries have adopted the cloud-based model recently, there are still a few industries that favor on-premise solutions—such as manufacturing.
This article will highlight why SaaS-based CAD is slow to be adopted, and why we think that will change soon.
What's holding SaaS CAD back?
Over the years, numerous surveys have investigated why there is a lack of cloud-based CAD adoption. While there are a few reasons for the lack of adoption, data security remains the highest level of concern with the use of cloud-based CAD solutions.
While this continues to be a top concern for users, there are a growing number of counterpoints that prove users have nothing to worry about.
Most providers of cloud services take great measures to protect their servers against data breaches. These cloud providers use SSL encryption, separation of networks, and conduct regular penetration-testing to uncover security vulnerabilities.
In fact, according to SC Media, "Through 2020, public cloud infrastructure as a service (IaaS) workloads will suffer at least 60% fewer security incidents than those in traditional data centers."
As CAD users begin to trust cloud security, we should expect adoption numbers to grow.
Aside from security issues, the lack of cloud adoption has lots to do with the fact that certain vendors don't offer their solutions through a SaaS-based model. This is another trend that has changed in the past year, and something we believe will continue to develop in the coming years.
In the past year, we saw major CAD vendor PTC acquire cloud-based CAD software solution Onshape for $470 million. The investment was heavily dictated by PTC's belief that SaaS CAD will have heavier adoption rates in the coming years.
To back up their claim, PTC commissioned a market study from McKinsey that projected the SaaS-based CAD market would grow 35% annually, and represent nearly 20% of the total CAD market in five years.
"As you know, we at PTC have been talking about the renaissance of CAD for some time. We realize that along with generative design, real-time simulation, augmented reality, IoT and Azure manufacturing, SaaS will surely play a role in this industry renaissance."
James Heppelman
CEO, PTC
It's not just PTC and Onshape acknowledging the inevitable move to SaaS. Other major vendors are investing more into their cloud solutions as well.
Dassault Systemes continues to promote its flagship cloud solution SOLIDWORKS xDesign, while Autodesk's cloud solution Fusion360 is the fourth most popular 3D CAD system. Additionally, Siemens continues to push its staple cloud CAD product Solid Edge.
Those are four cloud products from the four largest vendors in the CAD space. While some of them have been on the market a while, most received incremental upgrades over the years; these vendors will continue to pour money, time, and attention into these SaaS CAD products.
SaaS CAD has more benefits
The fact that so many users in other industries are adopting SaaS solutions at a high rate points to SaaS products' wide array of benefits.
Choosing cloud solutions is a no brainer for users that work with content management systems, HR tools, and general office software. While users may have to give up more robust features and rely on internet connectivity, the cloud does offer users more mobility, better price flexibility, and ultimately a more collaborative work environment.
For an industry that relies on collaboration, it should be no surprise that CAD users can greatly benefit from adopting more cloud solutions.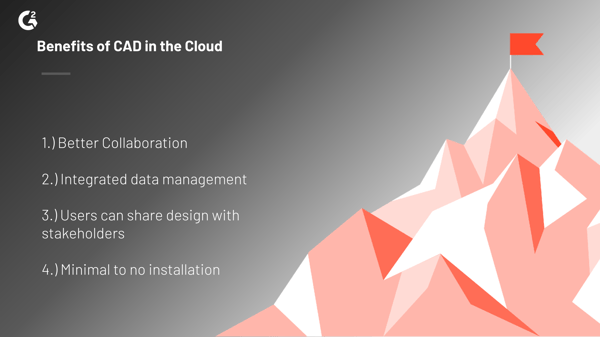 From a product development perspective, engineers need to explore many different options for their designs. In general, the more they explore various designs, the more confident and complete the designs they produce.
Traditional CAD can hinder this process since it does not offer the same collaboration capabilities cloud CAD offers. On-premise solutions are installed on each desktop, and some employees might not have access to all the designs.
Cloud CAD allows multiple users to access and edit a design at the same time. With these capabilities, multiple teams can all provide feedback on a design.
"On the cloud - It's refreshing to design in an environment where documents integrate seamlessly without concern of missing files or broken links, where we have the freedom to reorganize our folder structure as needs change without worry. The ability to connect from anywhere on almost any device allows us to work more collaboratively at every step in the design and manufacturing process."
This can also be extremely helpful when it comes time to share designs with stakeholders. With cloud CAD solutions, users can share their CAD files and receive immediate access to the CAD file. Recipients can make comments and suggestions regarding the design. This is an invaluable function that helps designers close deals with customers and keep them updated throughout the design process.
In a 2019 survey from Cadalyst, reviewers ranked collaborative design as the fourth most important trend in computer-aided design (CAD).
Aside from collaboration, one of the biggest benefits of CAD in the cloud is unified data management. Industrial design such as structural engineering or civil engineering can require lots of data from many different teams. From manufacturing to design, all teams have different data points stored on their software. On-premise software silos all this data into separate on-premise solutions, whereas cloud CAD allows multiple teams to access the data they need. Cloud CAD makes it easier for users to integrate software with product lifecycle management (PLM) solutions, further helping manage data throughout the design lifecycle.
Users prefer cloud
Using data from validated user reviews on G2, we were able to capture some general sentiment regarding on-premise versus cloud-based CAD solutions
| | | |
| --- | --- | --- |
| Ease of Use (minimum 7) | Meets Requirements (minimum 7) | Return on Investment (6 months after) |
| 56% Cloud | 70% Cloud | 45% On-premise |
| 39% On-premise | 43% On-premise | 41% Cloud |
Source: G2 general purpose CAD reviews
Other than the ROI (45% on-premise versus 41% cloud-based), it seems that most reviewers preferred cloud-based CAD. Cloud-based CAD software beats out on-premise software by a large margin in both its ease of use and its ability to meet requirements.
Prediction: SaaS-based CAD will grow 20% in the next three-five years
Users believe that collaborative design and cloud-based CAD will both increase 10% and 17% respectively.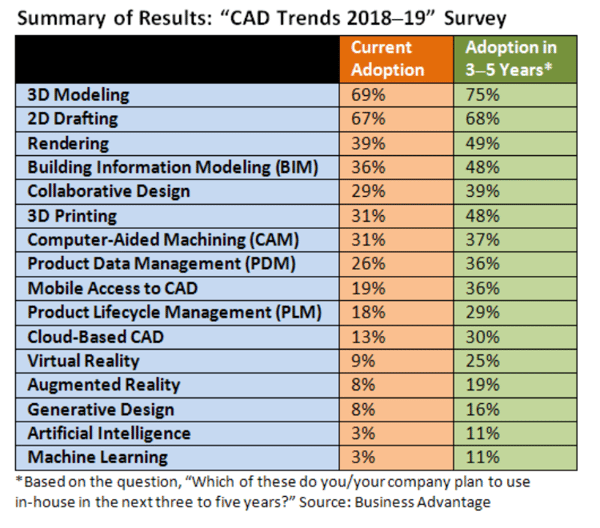 Source: Cadalyst
At G2, we believe this is a conservative estimate considering major vendors seem to be investing more in their SaaS offerings. We estimate that the SaaS-based CAD market will grow at least 30% over the next three-five years.
In the coming year, we'll revisit these predictions and reevaluate the state of the CAD market. Until then, make sure to check out more of G2's digital transformation trends for 2020.