Boston-based open digital experience company Acquia announced its acquisition of customer data platform (CDP) startup AgilOne. Acquia, a long-established company in the web content management (WCM) space, is building a next-gen Open Marketing Cloud for its Open Digital Experience Platform.
The acquisition of AgilOne, which serves B2C enterprise companies, marks Acquia's third acquisition this year, following its acquisition of Mautic in May and its acquisition of U.K.-based Cohesion in September. All three of these acquisitions are helping to move the company closer to offering the industry's first Open Digital Experience Platform.
The acquisition of Mautic, a B2B marketing automation and campaign management platform, assists customers in automating, personalizing, and measuring the entire customer lifecycle across multiple channels. By acquiring Cohesion and bringing Cohesion DX8 into its product portfolio, Acquia's customers and partners can create scalable websites from scratch on Drupal.
Additionally, in the midst of all these acquisitions, Acquia was purchased by Vista Equity Partners in September of this year, a deal valued at $1 billion. Robert F. Smith, founder and chairman of Vista Equity Partners, explained that brands understand that delivering a quality digital experience is essential to their success, and he sees Acquia as well-positioned in the market to help deliver that.
With the continued growth of the CDP market this year, which has added 19 vendors and is also expecting to reach $1 billion in revenue by the end of 2019, it's important to look at why Acquia chose to acquire AgilOne. AgilOne will provide the data and machine learning layer to Acquia's digital experience platform and will replace its existing data platform. For true personalization, a CDP would need AI and machine learning capabilities. These assist marketers in creating unified customer experiences while optimizing the customer journey by triggering behavior-based messages in real time. Machine learning and AI spot patterns in customer behavior that humans can't, which enables marketers to invest in marketing strategies that yield the greatest ROI, and make precise predictions about future activities.
Acquia cofounder and CTO, Dries Buytaert, stated that he "liked AgilOne because it used an intelligence layer while building the customer record."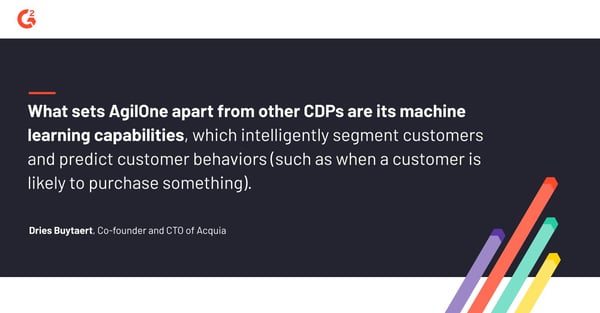 This is one of many acquisitions that have taken place in the CDP market in the past year, including Treasure Data being acquired by ARM Holdings, Allsight being acquired by Informatica, and Lattice Engines being acquired by Dun & Bradstreet.
Acquia plans to continue to sell AgilOne as a standalone product in addition to making it part of the Acquia Open Marketing Cloud.