When it comes to corporate social responsibility initiatives, tech companies have typically focused on making product donations to nonprofits struggling with limited tech budgets. These donations often include refurbished computers and discounted or free software licenses.
However, we're seeing a shift in tech philanthropy that goes one step further to spur digital transformation in the nonprofit sector. Tech companies want to ensure nonprofits have the tools they need to carry out their mission, and that they use those tools effectively. Tech companies can empathize with the challenges of leveraging technology to support their work, as they too are often budget-strapped in their early days.
Nonprofits and tech startups attract talented, motivated, and scrappy individuals who want to pour themselves into a cause, but hard work without sufficient funding can only make so much of an impact. Both entities rely on outside support to deliver on their promises, and both are faced with tough decisions regarding technology spend. Cost and scalability are two of the largest factors impacting startups as they must compromise digital adoption for the sake of moving more important business goals forward. Similarly, cost and time are extremely prohibitive to nonprofits that want to adopt the appropriate technology to maximize their impact. Without the proper funds, these organizations are stuck making the most of their existing tools that become less efficient over time.
Meet #ImpactCloud
In collaboration with Box.org, Team Rubicon, and NetHope, #ImpactCloud brought together seven cloud vendors to support crisis response organizations by "transform[ing] the way relief agencies deploy technology to respond to global crises—improving collaboration, increasing speed of response, and driving down costs." #ImpactCloud created a multi-vendor collaborative approach to help crisis organizations bring together different cloud vendors and experienced nonprofits to deploy custom tech solutions, increase digital capacity, and drive impact through innovation. Since 2016, the coalition has grown, and is now broadly focused on social impact organizations.
Most recently, #ImpactCloud teamed up with Full Circle Fund in late 2019 to launch a tech accelerator cohort in the Bay Area. This partnership brought together 22 executives from #ImpactCloud companies to facilitate cross-sector engagement with several vetted high-impact nonprofits leveraging technology for social good. Additionally, each tech company pledged $15,000 to support the project. This collaboration allows nonprofits to workshop their mission and supporting activities, while benefiting from #ImpactCloud representatives' business acumen and mentor feedback.
Today, #ImpactCloud includes the following cloud vendors:
Collaboratively, these vendors are committed to driving digital capacity at scale within the nonprofit sector, as well as launching specific tech philanthropy initiatives (I recently covered Oracle NetSuite's expanded Social Impact Program). While each individual vendor approaches tech philanthropy differently, #ImpactCloud works to expedite collaborative needs assessments, shared solution development, funding promotion, and streamlined acquisition and deployment to support the nonprofit organizations it serves.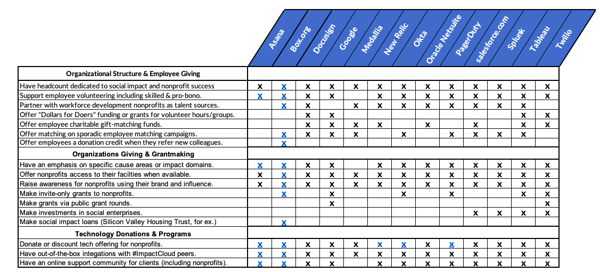 Source: #ImpactCloud
#ImpactCloud vendors have varying degrees of involvement in their commitment to supporting nonprofits. All housed on Box, each vendor's product comes together in a seamless integration to support a nonprofit's specific needs, with the broad goal of improving communication, cross-agency data sharing, and fundraising efforts. Notably, each vendor offers volunteer opportunities focused on a volunteer's skills, ensuring nonprofits receive the appropriate training for these new products. That's a crucial component, given that nonprofits often lack the time and resources necessary to devote time to learning their technology. The Taproot Foundation notes in their 2018 report, "Transforming Technology Pro Bono," that "nonprofits are not confident that they have enough skilled staff or training to effectively use technology." Pro bono training is one solution to bridging the gap.
Digital transformation can improve impact evaluation
While product donations help nonprofits in need, the sector still struggles overall to meet the increasing demand to demonstrate data-driven outcomes for funders. The issue is cyclical; nonprofits need technology to measure impact, but they lack the budget or expertise to adopt the appropriate technology. Even if they acquire the proper technology, there's no guarantee nonprofits will devote the time and resources to fully adopt the software into their daily functions. #ImpactCloud is one of multiple initiatives to address the digital adoption issue. Others include Tech Impact, TechSoup, and the Nonprofit Technology Enterprise Network (NTEN).
By closing this digital divide, tech companies can help nonprofits solve one of their biggest issues: measuring impact. In November 2017, the Stanford Survey on Leadership and Management in the Nonprofit Sector published a survey about the top three challenges facing the nonprofit sector. 43% of respondents reported "insufficient measurements and evaluations of organizational impact and performance" as the most common challenge. Additionally, 20% of respondents felt another significant challenge was the nonprofit sector's inability to leverage technology and the internet.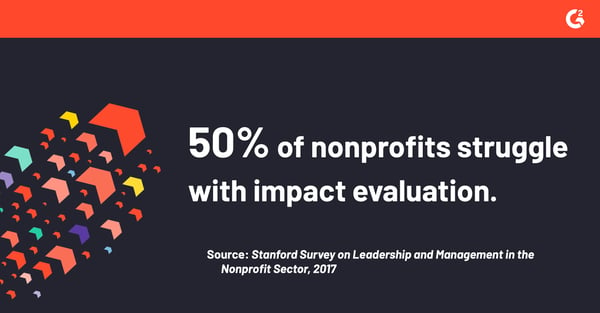 Speaking to digital transformation trends in the nonprofit sector, Justin Spelhaug, general manager of Microsoft's Tech for Social Impact, recently said that nonprofits are behind the curve due to barriers such as "digital skills, time to devote to learning and using these tools, or the level of funding required." Funding seems to be the biggest gatekeeper, as nonprofits can't learn and adopt these tools if they can't acquire or maintain them in the first place. Only 11% of respondents in Stanford's survey said that more than half of their donors were willing to pay for impact evaluation efforts.
Nonprofits still struggle to secure grant funding for technology, and while initiatives like #ImpactCloud help organizations adopt the tools they need, the sector as a whole needs broader support from donors before digital transformation can be fully achieved. These tech philanthropy efforts are definitely an improvement from the old "here's your product, good luck" donation style, which left nonprofits to tackle their newly acquired solutions like a Rubik's Cube. Without dedicated support in place for digital transformation, nonprofits will continue to resist change—even if that means their impact falls behind.
Vendors' role in nonprofit digital transformation
Tech employees, who are predominantly millennials, want to use their expertise for good, so #ImpactCloud and related social impact programs offer a chance to connect them with nonprofits who desperately need help. The Case Foundation's 2015 Millennial Impact Report found that 77% of millennials would be more likely to volunteer when they can use their specific skills or expertise to benefit a cause. As an added benefit, this close working relationship enables tech vendors to gain invaluable insight into the real daily challenges that nonprofits face, and how tech solutions can address those issues. This presents an interesting opportunity for the tech industry, as each nonprofit must contend with their own unique challenges; what might work for one organization's capacity building strategy may not work for another.
In particular, nonprofit software vendors should be cognizant of the financial and technical limitations that many nonprofits face, and look to #ImpactCloud and similar initiatives for opportunities to play a role in the movement to bring digital transformation to the nonprofit sector.
There are no longer doubts that technology will separate the truly successful organizations from the ones treading water, but simply having the technology isn't enough. Vendors must be critical with how intuitive their software actually is, and if updates or invested customer support can help nonprofits make the most of their software.