Have you ever come face-to-face with a bear while wandering in the remote wilderness? I haven't, but let's pretend I have for the sake of this analogy. You lock eyes with the bear, your adrenaline starts to surge, and you wonder what to do. Do you stand still? Run? Bargain? You're caught off guard in unfamiliar territory. While the stakes aren't quite as dire for nonprofits, data is the proverbial bear that can leave organizations paralyzed.
In a recent study conducted by EveryAction that surveyed over 460 nonprofit professionals, 90% of respondents indicated that their organizations are collecting data, but nearly half said they aren't fully aware of the ways data impacts their work. Nonprofits have a lot of data to manage across their departments. Fundraising, marketing, programs, and even finance all capture specific data points over time to track program outcomes, organizational stability, and campaign performance. These can include monthly cash flow trends, program metrics such as improved communication skills or academic performance, and donor demographics. Much of this data is usually required by grantmakers along with state and federal governments. If properly utilized, it can serve as a transparent display to supporters that their donations are making an impact on the organization.
Beyond reporting requirements, data is an extremely powerful tool that helps organizations analyze their past performance and adjust their strategy to maintain financial stability and achieve success across all organizational goals. This is where nonprofits struggle. That same study from EveryAction found that only 5% of respondents said their organization's decision-making was driven by data. Most nonprofits understand the importance of collecting data, but too few leverage the data analysis process to make proactive decisions that enhance operations.
Why data analytics matters for nonprofits
In my column last month that covered mobile optimization in nonprofits, I noted that nonprofits must operate like for-profit businesses. Both nonprofit and for-profit organizations seek to solve a problem and create value for those impacted by said problem. Whereas businesses are tasked with operating effectively to create value for customers, nonprofits must operate effectively to entice donors to invest in their social impact. The "value" for donors is the gratification that comes from contributing to a cause. Businesses of all sizes across all industries rely on performance data to assess past, current, and future success, as well as identify problem areas and make corrections. Data analytics illuminate cause-effect correlations and allow for informed scenario projection. For nonprofits, data analytics often play an important role in assessing fundraising and communication efforts, such as donor retention and open rates for email campaigns, but that only scratches the surface of the potential use cases nonprofits could have for data.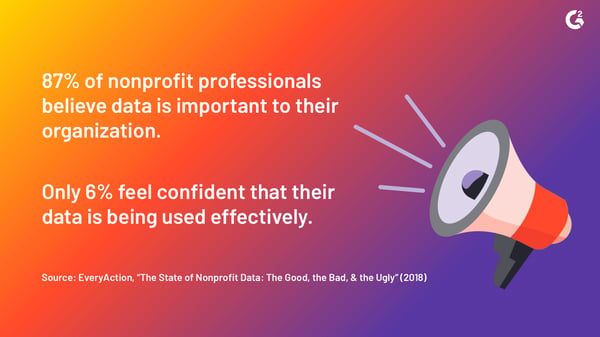 Let's touch on mobile optimization. Websites often serve as an individual's first introduction to an organization. However, an overwhelming number of nonprofits neglect capturing data about user behavior on their website. If potential donors are leaving the website on specific pages, nonprofits could identify that behavior through tracked data and take necessary action to improve. Nonprofits want to convert as many website visitors into donors as possible, but without leveraging data to ensure each web page is functional and conducive to that goal, nonprofits are losing out.
Nonprofits capture a tremendous amount of data every year, from donor biographical information to program surveys and forms. Often, this data exists in paper and digital formats across multiple systems that don't speak to each other. Fundraising staff track their data in donor management software, finance work is catalogued in an accounting system, and program staff might track their data in a human services software tool or similar system designed to capture participant data and progress. This becomes more complicated for organizations that have a sales element (museums, zoos, and theaters) or who provide an array of different services. When it's time to report, department staff scramble to pull data from their own systems and work to sync up results into one format.
When there aren't necessary reports, nonprofit data typically sits unused or underutilized. Fundraising staff assess which channel yields the strongest ROI, and use data analytics to factor in time of donation, the donor's age, donation size, the donor's location, and the donor's past event attendance or volunteer engagement into their strategy. The more data points an organization pulls in, the stronger analysis they are able to build.
With big data comes big responsibility
While one or two data points can be manually analyzed, data analytics tools become necessary as more data points come into play. There's simply too much for a person to spend time processing—time that is better served advancing the nonprofit's mission. For nonprofits, machine learning tools show lots of potential in driving data-informed decisions.
What is machine learning?
Machine learning is an algorithm that predicts an output based on one or more inputs, whose performance improves with more data.
Machine learning is an extension of predictive analytics, but the two terms are not interchangeable. Predictive analytics takes inputs and synthesizes a forecast model, but still requires human intervention to test the model and report data. Machine learning, on the other hand, tracks data in real time and continually refines its model. As nonprofits track more data over time, machine learning tools can be incredibly powerful in predicting key metrics such as campaign success, program outcomes, and prospective major donors. Predominantly within fundraising and donor management, there is a growing number of nonprofit software that incorporates some form of predictive analytics to help users parse large amounts of donor data to then inform strategy.
Nonprofits who don't make use of these tools are limiting their ability to turn data into actionable success. Time and staff capacity are the most common barriers for nonprofits when it comes to data management and analysis, but there's greater pressure to embrace data as these organizations continue to be impacted by shifting trends in philanthropic giving. I asked Matthew Miller, our research analyst specializing in AI, for his thoughts. We both agreed that nonprofits have all the answers to their burning questions hiding within their troves of data--they just lack the solutions to uncover them.
"Many nonprofits are sitting on a lot of data. It is early days for these organizations' use of advanced analytics and machine learning to make sense of this data. To achieve success and gain a competitive advantage, it is critical that they jump on the bandwagon and turn data into insights."
Without data insights, nonprofits might risk blindly conceptualizing their program models, major giving programs, or volunteer management process. One particularly interesting application of machine learning in the nonprofit sector is in grant management. Donors and funders want their money to go to organizations that are making transformative impact on communities that need it most. From a grantmaking perspective, private and public funding organizations can use machine learning to make smarter investments.
As grantees provide progress data over time, grantmakers learn how grants can yield greater investments based on the geographical location of the program, who the program serves, and how program participants fare after program participation (college acceptance and graduation rates, for example). With this knowledge, grantmakers refine their funding priorities and award grants to organizations that make a larger impact. Machine learning helps screen applications that would never be approved (based on writing quality or not following the request for proposal directions, for example), saving program officers time combing through hundreds of applications to manually pull out rejections.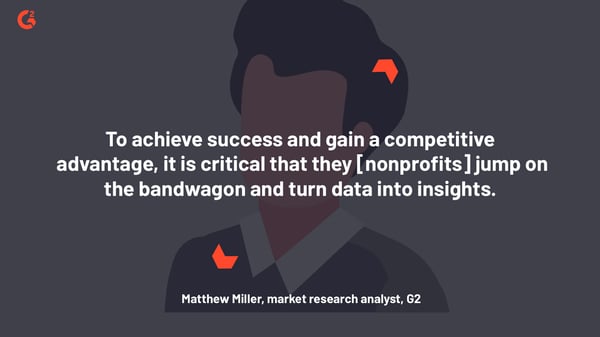 In this way, data analytics forces nonprofits to confront their current state of operations and see how much of an impact they actually make. For better or for worse, these insights give nonprofits the chance to make necessary adjustments if they take the time to learn from their data and utilize it in their decision-making. Of course, it's important to keep in mind that data insights are only as strong as the available data nonprofits have to use.
The challenge of collecting data
To get the most out of data analytics, nonprofits must ensure they are collecting as much data as possible. Getting a donor's name, address, and some form of contact information is easy enough, but what about their age or race? Nonprofits should be surveying their donors over time to access these key biographical details that can help shape strategy and unlock insights that determine when the proper time to launch a fundraising campaign is, for instance. Or, to see which volunteer opportunities appeal to which groups of people. Machine learning sifts through all this data and helps nonprofits operationalize it, saving hours of staff time spent on decision-making. Nonprofits must prioritize data collection to make this work.
While there are some generally agreed upon best practices for nonprofits, data insights often show that what works for one nonprofit may not work for another. Nonprofits may be pouring tons of money into particular channels for fundraising campaigns when their donor base actually prefers another method of communication. Maybe a nonprofit sees its largest fundraising spike in June, as opposed to the holiday season when donors are often the most charitable. Without data analytics tools, nonprofits might scratch their head at poor campaign performance, make excuses, and continue to make the same decision year over year without digging into why they aren't seeing the results they want.
If nonprofits want to achieve truly transformative impact in the current landscape, they must embrace data and the tools that analyze it, and they need to do it now.