Smart factories are becoming a reality that manufacturers cannot ignore. While fully automated factories are still rare, the primary Industry 4.0 trend we see in manufacturing is to "digitize" existing technology. Since most manufacturing companies cannot afford to rip out and replace their tech entire stacks, they need to take a phased approach to digital transformation.
At the same time, manufacturers need to gradually adopt new technologies such as the internet of things (IoT platforms), digital twins software, and manufacturing intelligence software. To avoid business disruption, these new alternatives need to be compatible with traditional software for manufacturing, such as ERP systems, manufacturing execution systems (MES), and Supervisory Control and Data Acquisition (SCADA) software.
One of the companies that provide technology and services for this type of transition is JWI Software Ltd. Its purpose is to help manufacturers improve industrial software while limiting the disruptions it may cause to their operations. To achieve its goal, the company provides solutions for digital engineering, digital factory, and digital thread, as well as services for application hosting, implementation, and support.
The company recently announced the availability of Device Mate 3.0, which helps companies develop and implement apps for smart devices and then deploy them without having to put a stop to operations. The solution was built to comply with the ISA-95 international standard created by the International Society of Automation for the development of automated interfaces between enterprise software and control systems.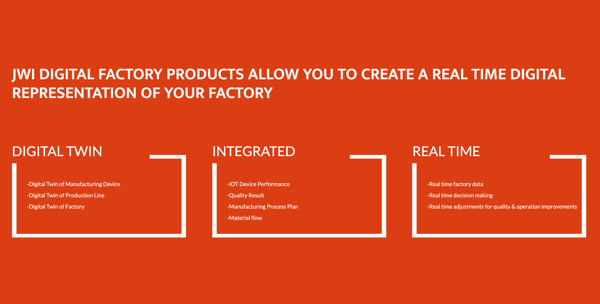 Image courtesy of JWI Software
Device Mate 3.0 has the potential to help manufacturers transition to Industry 4.0 technology and improve their chances of achieving digital transformation. At the same time, manufacturers need to understand that digital transformation isn't only about technology and requires a new mindset to create value while being flexible and innovative to adapt to market changes. As G2's chief research officer Michael Fauscette put it:
We started "talking" about digital transformation (DX) over a decade ago. In the naivety that was 2008, many believed that the journey was just about technology and had a beginning and an ending—at least one that would come before 2018.

We're now in the second generation of DX. I like to think we're finally starting to see that technology is the foundation of this journey, and a business still has to go through an entire transformation that includes business strategy, business model, workforce, customer interaction, and business operations.