The Salvation Army launched their cashless "Kettle Pay" donation option at 25,000 red kettle sites nationwide, giving shoppers the option to pay with Apple Pay, Google Pay, or a scanned QR code this holiday season.
Okay, show of hands. Who has ever used the "Sorry, I don't have any cash on me," excuse when solicited for donations? For some, this is an easy out to avoid the uncomfortable feeling of not donating, but there are many people who do not carry cash on them anymore at all; instead they use bank cards or digital wallets. According to Salvation Army national spokesman Dale Bannon, in recent years, many people have expressed they wanted to donate but had no cash on them. This prompted the new Kettle Pay initiative.
As consumers go cashless, nonprofits adapt
The Salvation Army piloted Kettle Pay last year in Kansas City, New York, Dallas, and Seattle before making their 2019 nationwide launch. While the results weren't astronomically high by any means, the additional giving option supported the organization's overall fundraising efforts. Roughly 60-70% of the Salvation Army's total yearly fundraising happens during the holiday season; this is a perfect time to roll out mobile payments as a way to collect donations from frantic holiday shoppers. Scott Justvig, executive director of development and communications for the Salvation Army Metropolitan Division, hopes the mobile option, "will motivate younger generations to contribute to the holiday campaign."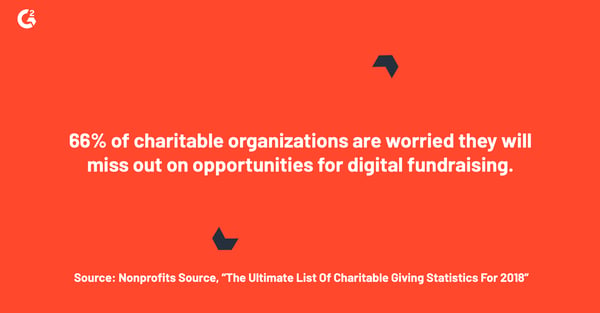 The Salvation Army is one of many nonprofits incorporating mobile giving methods into their fundraising strategy to capture as many donors as possible. As holiday retail traffic decreases and fewer shoppers use cash, the organization had to embrace digital tools. Pew Research Center released data at the end of 2018 showing that Americans are increasingly turning to cashless forms of payment. According to the report, roughly 29% of Americans don't use cash in a typical week, a 5% increase since 2015. Demographically, 34% of adults under 50 do not pay with cash in a typical week, compared to 23% of adults 50 and older.
Mobile payment options offer donors a quick way to give and more flexibility in how much they give. Potential donors might be more reluctant to donate if they only have a $20 bill, compared to the option to give $1 or $5 through Apple Pay. Now that Gen Z is entering the workforce and carving out a new demographic for nonprofits to target, digital options are more important than ever. Business Insider Intelligence's Banking and Payments for Gen Z report found that Gen Z is more interested in digital payment services and products compared to any other generation; in a given month, more than 50% use digital wallets and more than 75% use other digital payment apps.
Related: Learn more about Mobile POS Systems, here

→
American nonprofits aren't the only ones embracing mobile payments
Other nonprofits that rely heavily on donations have also been hit by the reduction in cash-holders—museums are a prime example of this trend. Several cultural institutions in Europe have turned to contactless payments to drive visitor donations, including the National History Museum, London, the Barbican, and the National Gallery. The National History Museum, London found that 22% of their total donations came from contactless payment after it was implemented, further, their total donations increased 64%.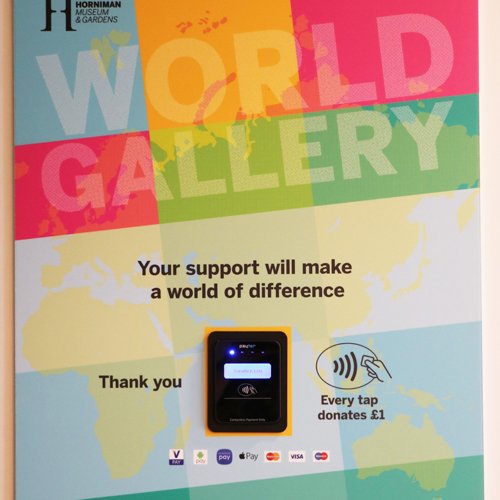 Photo of a contactless payment terminal at Horniman Museum and Gardens
These contactless pay terminals appeal to donors in several ways: They offer a cashless option to give, they are attention-grabbing, and they are a nonintrusive alternative to employee-solicited donations. Some institutions even allow donors to have their photo taken and displayed on a rotating video wall after making a contactless payment. Unlike the Salvation Army's Kettle Pay, the institutions using contactless pay terminals typically set a predetermined donation amount. This approach is comparable to the way some grocery stores ask you to donate $1 with your purchase. The amount is small enough to warrant donating without a second thought, the "ask" is baked into your transaction process, and it creates the feel-good moment that comes from supporting nonprofits.
Museums are prime environments for this technology, given their focus on visitor experience and immersion. User-friendly fundraising technology that integrates directly into the exhibits themselves go a long way towards incentivizing visitors to donate. They aren't removed from their experience by a fundraising ask. Unless the Salvation Army wants to install pop-up exhibits outside stores, the contactless terminals may be a bit excessive for them.
Universally, nonprofits need to create options
The Salvation Army's mobile pay adoption signals a shift in consumer and donor trends, and certain nonprofits need to respond quickly to save their revenue streams. While overall giving is down for the Salvation Army, they are smart to invest in digital options that provide a cushion as cash continues to decline in favor of cards and digital wallets. For nonprofits that can utilize this technology particularly well--looking at you, museums and theaters--mobile and contactless payment options will position organizations to solicit the new wave of donors that are ditching cash but still want to support important causes.