Google announced plans to acquire Fitbit for $2.1 billion. This move has the company poised to contend in the wearable technology market, but raises concerns about the integrity of health data. If approved, the deal could close next year.
Rick Osterloh, senior vice president of devices and services for Google, wrote a blog post that confirmed the rumored acquisition. "We see an opportunity to invest even more in Wear OS as well as introduce Made by Google wearable devices into the market," Osterloh said. Combining Google's global platform with Fitbit's existing wearable technology and long-standing digital wellness experience, this acquisition has the potential to shake up the smartwatch market and drive competition.
The pending acquisition signals that Google is serious about competing with Apple in the wearable tech market. Since 2014, Google has operated Wear OS (formerly known as Android Wear) to use with smartwatches, but never developed branded hardware to accompany it. So far, Wear OS has failed to gain any real traction in the market, even though it's used on smartwatches made by Samsung, Huawei, and Fossil. Fitbit could help Google easily remedy this issue.
Fitbit would be the latest in a string of digital wellness and healthtech companies that Google has acquired as it continues to leverage its platform to improve the digital health space. Tech giants like Google have been steadily moving on this opportunity. Interestingly, the latest medtech consolidations and investments show that the health care industry is seeking to promote more digital health innovation that emphasizes patient experience and learns from consumer behavior.
Dr. Google will see you now
Google's high ambitions for the healthtech industry are nothing new. After acquiring Apigee for $625 million in 2016, Google leveraged Apigee's API management platform for their Healthcare Cloud solution, which boasts reputable customers such as the Cleveland Clinic and the American Cancer Society. That's only one of their many projects. Google Brain is a deep learning AI tool that collaborated with the United Kingdom's National Health Service and Cancer Research Center at Imperial College London to use machine learning to detect breast cancer earlier, and improve radiotherapy mapping for head and neck cancers. This doesn't even touch on Google Fit or Google Nest, the latter was acquired by Google in 2014.
In 2017, Google's Nest quietly acquired Senosis Health, a University of Washington healthtech startup that uses smartphones as health monitoring tools. This happened before Nest was rolled back into Google and combined with Google Home. Nest wanted to develop tech solutions that would help senior citizens and individuals with limited mobility live more independently. Senosis might have been a key player for Nest to break into the digital health solution market. While Nest, like its parent company Google, have remained quiet on the implications of tackling digital health via Nest's home security and automation, experts have considered the ways this acquisition can enhance Senosis' smartphone patient monitoring efforts. For example, Nest's smart home monitoring technologies have the capability to monitor and assist individuals with limited mobility, potentially impacting the healthtech market.
It's also important to consider Google's parent company, Alphabet. After restructuring in 2015, Alphabet moved its health care projects to siloed subsidiaries. Much of Alphabet's, and by extension Google's, health care endeavors have been derided as moonshots; this restructuring helped focus more energy on health care initiatives. The three resulting subsidiaries from this project were Verily Life Sciences, DeepMind, and Calico. It's not surprising that AI is central to each subsidiary's strategy, as Google stands out from the other tech giants with its machine learning algorithms. There's also Google's venture arm, GV, which has invested in almost 60 health care companies since 2009.
Alphabet's Health Care Investment Portfolio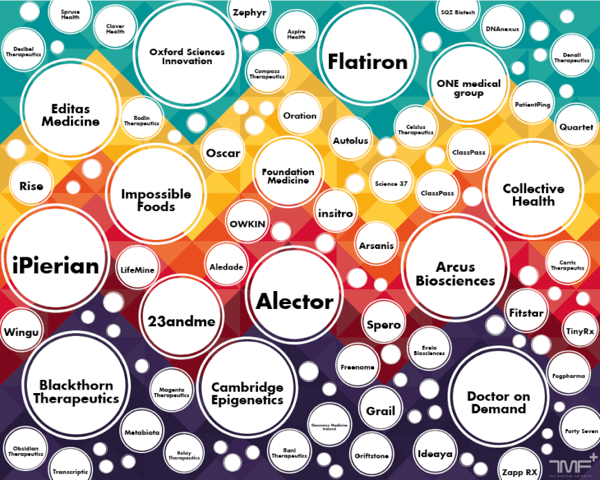 Source: TMF
Google isn't the only tech giant concerned with making its mark in the health care industry. GeekWire recently reported on the health care data sharing pledge made by Amazon, Google, IBM, Microsoft, Oracle, and Salesforce, as these companies continue working on technology solutions to promote data sharing and interoperability in the health care industry. While health care companies and vendors are taking data sharing and interoperability into consideration, they will still significantly benefit from the expertise and innovation that non health care tech giants have reaped from providing these services for years.
Jasmine Lee, G2's senior market research analyst specializing in healthtech and medtech, weighed in on this trend.
"The downsides of a monopolization of the health care industry aside, tech giants and VC firms see that getting involved in healthtech and medtech is a win-win situation for them. There's a lot to gain here; market consolidation promises benefits to hospitals, practices, and medical networks. Innovative technology can be learned from and applied to both health care and non health care sectors. Health care providers can take notes from B2C health and wellness apps and devices, and work those innovations into their day-to-day.

Medical professionals can reap the benefits that their tech peers have experienced in HR, staffing, and work-life integration. And at the end of the day, patients finally get to be treated like modern humans. No longer are they tied to a single medical practice, devoid of options and leverage to get the patient care that they deserve. No longer must they grapple with antiquated methods of communication, payment, prescriptions, and procedure updates."
Health care providers are yearning for more opportunities to engage patients in their care plan and to utilize tech solutions to streamline patient treatment. Tech giants are trying to use their expertise to develop solutions that will impact the way the modern market operates. For example, Google, Apple, and Microsoft have all branched into the EHR technology space. As these tech giants continue to permeate the health care sector, data will be the key to success.
Conveniently, Google is buying tons of data
By acquiring Fitbit, Google would also gain access to the health data of approximately 27 million users. Of course, Fitbit's own press release about the acquisition noted, "The company never sells personal information, and Fitbit health and wellness data will not be used for Google ads." Users will be able to review, move, or delete their data within Fitbit, and some are already rushing to do so. While Google avoids using data for advertisements, their broad array of health care initiatives will benefit greatly from this mass data acquisition. Especially since artificial intelligence is paramount to Google's strategy to impact health care.
For example, DeepMind's AI tools have beat human pathologists at detecting cancer, as well as detecting retina damage that could lead to blindness. The more health data Google can collect from Fitbit and its other subsidiaries, the more health care innovations they will develop. However, they must develop trust with consumers. Currently, more than half of polled consumers are wary of Google's health data privacy practices.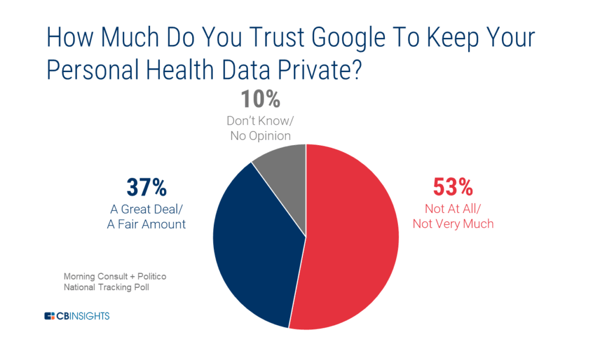 Source: CBInisghts
Merry Marwig, G2's market research analyst for privacy and security, has a different take on this acquisition.
"I think this acquisition has big implications for passwordless authentication. Currently Apple Watch offers its wearers a way to sign into their accounts without typing in their passwords; Google does not yet have such an offering, but with the Fitbit acquisition, this may be the start. Nok Nok Labs, a leader in consumer authentication, said in a press release that 'smart watch usage for applications beyond fitness has grown to include banking, productivity applications such as Slack, e-commerce such as Apple Pay, as well as home security applications such as Nest.' In October 2019, Nok Nok labs announced their Nok Nok App SDK for Smart Watch, which is the industry's first FIDO-based authentication solution for smart watches, and is the technological underpinning for Apple Watch's passwordless authentication. FIDO-based authentication is becoming an industry standard, with well known businesses such as Bank of America, Ebay, GitHub, Facebook, Google, Salesforce, and Dropbox, adopting FIDO2 standards.

What also signals to me that this may be about a solution for the passwordless authentication use case is that Google's Rick Osterloh underscored the company's commitment to privacy and security and said in a press release, that 'Fitbit health and wellness data will not be used for Google ads.' If that is the case, what will Fitbit data be used for? Well, Google could use heartbeat monitoring as a biometric marker to validate a user's identity. Apple was awarded a patent in 2016 for technology that validates a user's identity by measuring his or her heartbeat using an Apple Watch and comparing that data to prior heartbeat records. This may be Google's take at similar functionality."
This acquisition announcement also comes at a time when Google and other tech giants are facing intense scrutiny by regulators across the United States and Europe regarding anti-competition behavior, data hoarding, and breach of privacy.
Together, Google and Fitbit stand to shake up several markets by combining their technology and influence. Fitbit has also had its own health ambitions lately, recently acquiring digital health coaching platform, Twine Health. By combining their plethora of health data with Twine's chronic disease management platform, Fitbit can offer health and fitness tracking tools with a personalized coaching service to impact population health trends on a broader scale. This has the power to push wearable tech to a new level that empowers users to make actionable changes to their health behavior in response to the health information captured on wearable tech devices.
G2's Jasmine Lee weighed in on this phenomenon.
"Medtech is taking cues from healthtech. The software that's being developed and the technology that's being implemented in the health care industry, by medical professionals, are helping the industry become efficient but not at the cost of effectiveness or humanity.

Active, not reactive, patient engagement is at the forefront of every medical professional's mind. Active, engaged patient translates to patients who are invested in their health and who use apps and wearables to maintain their health or treat their conditions. Retaining patients and cultivating patient loyalty in the era of avid consumer research and comparison is the best indicator of the livelihood of a medical practice."
Jasmine Lee
G2 Senior Market Research Analyst
Healthtech & MedTech
In Google's announcement blog, Osterloh also wrote, "We believe technology is at its best when it can fade into the background, assisting you throughout your day whenever you need it." Indeed, these digital advancements in health and wellness could drive a shift in how people manage their health. However, the depth of usable data that can be tracked by Google, and other tech companies like them, should raise some concerns. There's something to be said about how tech innovations have allowed many of these tools to become silent assets in our daily lives, but we should never forget that big tech companies have something substantial to gain--troves of user data.
*Jasmine Lee also contributed to this piece.