In what is the second-largest acquisition of a software as a service (SaaS) company ever, SAP has purchased Qualtrics for $8 billion in cash, right as the survey software company was making arrangements for an IPO.
Qualtrics' Research Core product falls into G2's survey software category, but in recent years the vendor has evolved its data collection product into much more actionable business solutions by offering enterprise feedback management software and employee engagement software. SAP is intending to leverage Qualtrics' data with this acquisition.
SAP Recent Acquisition History
SAP has long held a large market share in the enterprise resource planning (ERP) space. In an attempt to gain ground on Salesforce, the leader in the CRM market, SAP has been heavily expanding into cloud customer experience over the past few years.
The company has recently made major acquisitions with purchasing the e-commerce solution Hybris in 2013, customer identity tracking software Gigya in 2017, and CallidusCloud—which offers a slew of sales acceleration, performance, and configuration tools—in early 2018.
These acquisitions have all been rolled into SAP's new cloud customer experience and CRM offerings, named C/4HANA, which includes a large list of sales, marketing, e-commerce, customer service, and customer data products.
Similar to Salesforce, SAP has named these collections of products SAP Customer Data Cloud, SAP Marketing Cloud, SAP Commerce Cloud, SAP Sales Cloud, and SAP Service Cloud. Each cloud is made up of a number of tools beneficial to the overall customer experience.
Why SAP acquired Qualtrics
The benefit of the Qualtrics acquisition is that now SAP will be able to continuously engage and survey customers around their experiences to better understand customer interactions and touch points.
By combining that customer-facing data from Qualtrics with SAP's horde of operational data from its ERP business, the company believes it can achieve unique insights into customer satisfaction and revolutionize the customer experience and front-office SaaS world.
SAP's CEO on the purchase
SAP's CEO Bill McDermott believes the acquisition gives his company a clear leg up in the CRM world. According to TechCrunch, McDermott likened the Qualtrics acquisition to Facebook's purchase of Instagram.
"The legacy players who carried their '90s technology into the 21st century just got clobbered. We have made existing participants in the market extinct," he said. McDermott also added, "By combining this experience data with operations, we can combine this through Qualtrics and SAP in a way that the world has never done before, and I fundamentally believe it will change this world as we know it today."
What Is SAP Getting With Qualtrics?
While McDermott believes this acquisition is transformative and revolutionary, industry analysts are a bit skeptical. CRM analyst Paul Greenberg believes the acquisition is a good one, but not the game changer McDermott has hyped it to be. "This will be a beneficial acquisition for SAP's desire to continue to pivot the company to the customer-facing side, but it isn't a decisive one by any means," Greenberg told TechCrunch.
At the end of the day, SAP is adding a sturdy SaaS company to its repertoire, according to G2 Crowd reviewers. Qualtrics Research Core is a Leader in G2 Crowd's Survey software category, where it holds a higher market presence than the recently IPO'd SurveyMonkey.
The survey solution has also received higher satisfaction ratings than SurveyMonkey for Quality of Support and Ease of Doing Business With*.
Qualtrics' high-level customer satisfaction
Additionally, Qualtrics Customer Experience has the highest G2 Score (a combination of Satisfaction and Market Presence) in the Enterprise Feedback Management software category. In the Employee Engagement category, Qualtrics is also a Leader with its Employee Experience solution.
The high ratings of these two products are significant because that is where the bulk of the data that impacts SAP's customer experience and human resources products will come from.
As a Leader in all three G2 Crowd categories where its products are featured, Qualtrics has received high satisfaction ratings across all metrics. Frankly, SAP cannot say the same about its products.
At a vendor level, SAP lags greatly in all of G2 Crowd's satisfaction metrics in comparison to the products of its two most recent acquisitions. While CallidusCloud was a definite step up in terms of reviewer satisfaction, Qualtrics greatly exceeds both in all of G2 Crowd's six satisfaction metrics.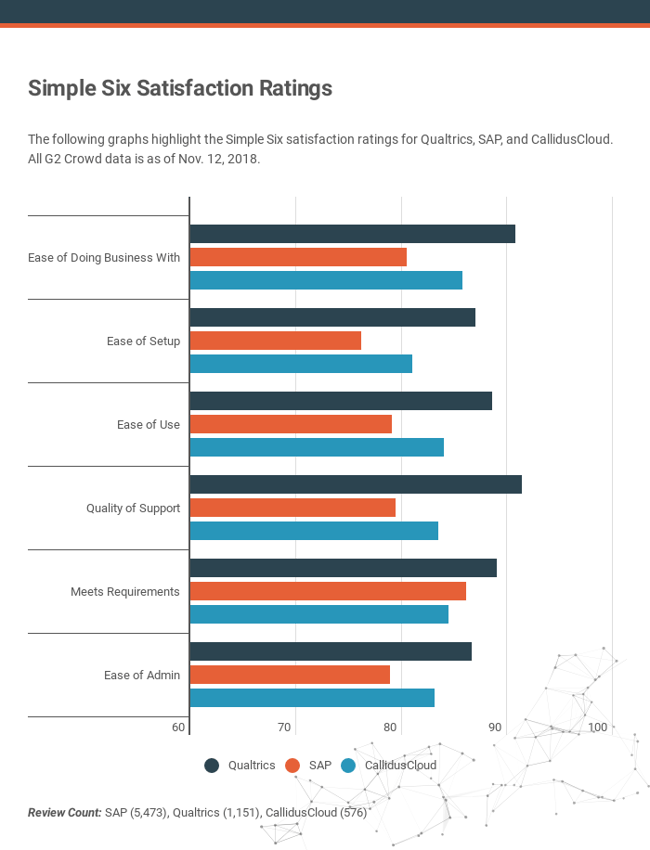 It is clear that not only is SAP gaining access to a customer experience data solution with Qualtrics, but also a business that has a loyal customer base that generally enjoys its products.
The two satisfaction metrics rated highest by G2 Crowd reviewers of Qualtrics are Quality of Support (91.4%) and Ease of Doing Business With (90.8%). These are areas where enterprise vendors tend to fall short, according to G2 Crowd data, and that is evident with SAP ratings for both metrics. Reviewers rated SAP's Quality of Support at 79% and its Ease of Doing Business With at 81%.
The future of the SAP/Qualtrics' relationship
As Qualtrics becomes embedded within SAP's customer experience cloud offerings, it will need to strive to maintain its high user satisfaction ratings, particularly in the customer relationship areas.
A customer base like SAP's provides seemingly infinite scale for a product like Qualtrics. If the company can maintain high satisfaction levels for metrics like Quality of Support and Ease of Doing Business With, which helped get the business to a $8 billion exit, then SAP will have made a very solid acquisition.
Learn more about how this acquisition plays into the overall digital transformation of businesses in 2018 with this year's most innovative digital trends.