On Jan. 13, Visa entered into a definitive agreement to acquire Plaid, the preeminent provider of financial data APIs, for $5.3 billion.
The purchase price was twice the final private valuation of Plaid, which was valued at $2.65 billion in late 2018, after a final funding round of $250 million. All told, the purchase price is nearly $5 billion over the total funding for the company, $353.3 million, signifying a huge windfall for investors and employees.
This acquisition is another indication of the emphasis that large incumbents in the financial services space are placing on advancing their digital capabilities. Plaid, which provides easy-to-use application program interfaces (APIs) designed to connect fintech applications to financial institutions and their data, has proven the value of connectivity and looking at the financial ecosystem as a whole. Essentially, the company's APIs allow fintechs to connect to financial institutions to use their customers' accounts or data. The result is more embedded financial applications with increased scope of capabilities. Acorn, Chime, Transferwise, and Venmo all leverage Plaid's APIs to enable their products.
Visa's acquisition of Plaid: what it means
The move is an expensive one for Visa, but a savvy way to keep up with a financial services landscape that is experiencing rapid change as a result of fintech. This purchase places Visa firmly in the center of the fintech landscape, and the company has made itself a necessity for fintechs looking to operate within the existing financial landscape. Visa, via Plaid's extensive fintech customer base, now has another prebuilt market to sell to.
In summer 2018, after recognizing the growing impact of the space, we created the financial data APIs software category on G2.com. Plaid has been leading the category ever since, with 4.3 out of 5.0 stars and solid reviews across the board, with particularly good ratings in Ease of Use (score of 9.4 out of 10 as of publication).
Sharon L. had this to say in a Plaid review:

"I really liked how easy it was to get started and integrate Plaid into our platform. It was intuitive and well-documented the entire way through."
The financial data APIs space is growing, as evidenced by an 80% increase in traffic to the category over the past six months. Plaid's leadership in the space is also readily apparent, as over a third of the visitors to the financial data APIs category visited the product's page.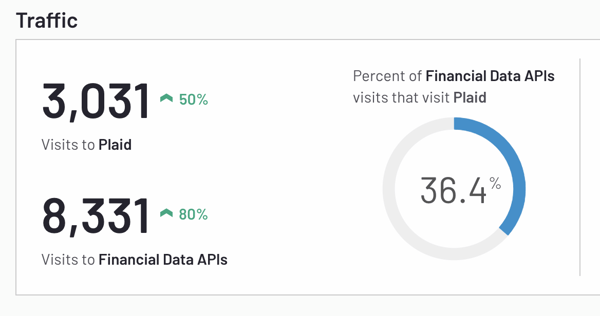 Plaid is the clear leader in the space, and the extensive resources available to the company post-acquisition will only increase its ability to expand to a global customer base and improve its current product line.