On Dec. 3, 2019, Twitter announced it is making Twitter Brand Surveys available to all managed accounts in the U.S., Canada, the UK, Brazil, and Japan.
In a post on the official Twitter blog, product marketer Dianne Francisco, and product manager of revenue products, Lauren Perini, said the feature was designed with the intent of enabling marketers to better understand which specific tweets drive the most brand lift, for campaigns both large and small.
Surveys are displayed natively on users' Twitter feeds on both mobile and desktop.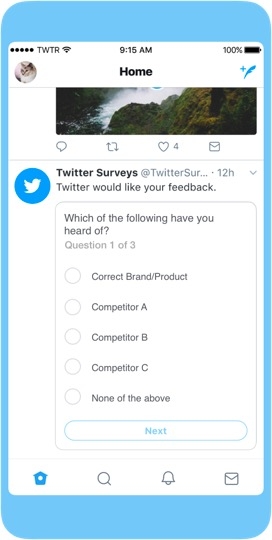 Image courtesy of Twitter
According to Francisco and Perini:
"Twitter Brand Survey reports provide insights beyond topline results—they deliver insights into how certain elements of your campaign and creatives are driving brand lift. We developed a proprietary Creative Attribution model to identify the Promoted Tweet or In-Stream Video Ad responsible for high and low brand lift, which helps marketers hone their creative strategy for the future."
Since the surveys are a first-party solution, Francisco and Perini added, Twitter is able to offer marketers a low minimum spend requirement "while still delivering statistically significant results." They said the network's goal is to provide reports to clients within 10 business days after the campaign ends.
Twitter brand surveys were first launched in 2012 as part of a collaboration between the social network and media measurement company Nielsen. However, the feature was only made available to a select group of advertisers. This is the first time Twitter has expanded access to the tool to a larger audience.
What this means for marketers
Twitter has posted two case studies featuring brands that leveraged Twitter Brand Surveys: jewelry brand Pandora and video game developer Capcom. Both brands surveyed groups of Twitter users after running their campaigns, targeting users who were and were not exposed to the ad. The results revealed that the brands' campaigns contributed to gains in brand awareness and tweet recall.
RELATED: Learn 18 expert tips for building brand awareness,

here →
Though Twitter Brand Surveys may be nothing revolutionary for marketers who are already using some form of attribution software, the tool opens up new brand marketing possibilities for small businesses and brands that run smaller campaigns on Twitter. Of the 180 reviews for Twitter Ads on G2, just over 50% are from small businesses.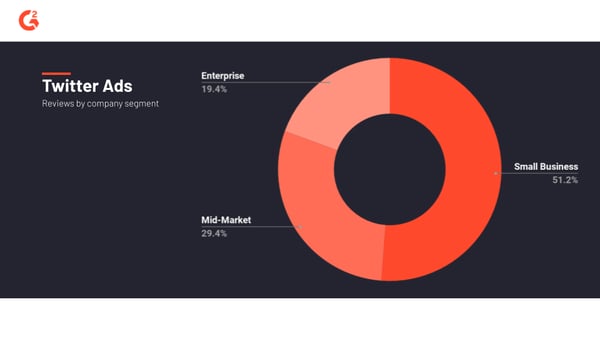 Conducting surveys and attributing specific marketing campaigns to positive results can be a challenging task for many brands, especially small businesses. Even larger companies may not take the time to analyze the ROI on small-scale campaigns. For businesses already running ads on Twitter, the Brand Surveys feature should prove to be an especially useful tool for measuring the success of smaller campaigns, empowering marketers to strengthen future creative and social media marketing strategies.