This post is one part of G2's 2020 digital trends series. Read more about G2's approach to digital transformation trends in an introduction from Michael Fauscette, G2's chief research officer.
With a new year comes new marketing technology (martech) and advertising technology (adtech) trends and predictions. In 2019, we saw that personalization is still very top-of-mind for marketers. In 2019, 78% of internet users in the United States said that hyper-personalized content from brands or companies increases their purchasing activity. Additionally, further advancements in AI resulted in increased adoption of conversational marketing tactics and chatbots.
A State of Conversational Marketing report from Drift found that only 14% of people prefer filling out a website form over using a chatbot. In 2019, we witnessed a trend around location-based marketing and advertisements. This can be attributed to advancements in beacon technology and proximity marketing. Beacon marketing uses physical devices in a specific area, allowing marketers to target people within range of the beacon; proximity marketing helps marketers target campaigns to consumers using geolocation technology.
For 2020, our focus will revolve around programmatic advertising, contextual ad targeting, the customer data platform (CDP) software market, and immersive, experiential marketing tactics. This article will provide a high-level summary and prediction for each trend. Throughout the next few weeks, a new article will be published with a deeper dive into each trend.
Four major martech and adtech trends for 2020
Continued growth of programmatic advertising
PREDICTION:
At least 60% of all digital ad spend will be programmatic by the end of 2020.
There are a couple reasons for this prediction, one includes advancements in artificial intelligence, or AI. Many advertisers increasingly leverage AI to bid for ad space with publishers in real time. Additionally, machine learning helps advertisers intelligently target consumers with relevant, hyper-personalized messages on the most optimal channels. In turn, businesses optimize their advertising spend. According to a May 2018 survey conducted by MediaMath, only one fifth of 400 digital advertising professionals worldwide said they do not plan to use AI for audience targeting or audience segmentation. Due to the advancements in AI and machine learning, we should expect that number to increase.
According to eMarketer, programmatic digital display ad spending in the United States will approach $80 billion by 2021.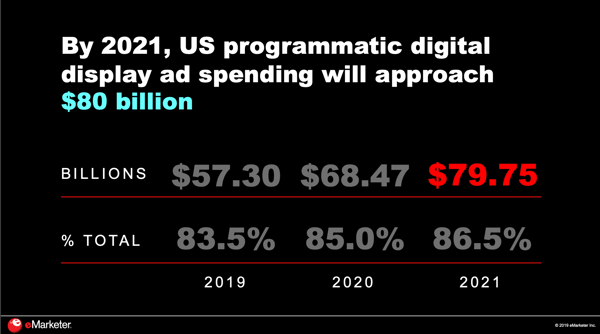 Source: eMarketer US Programmatic: Top Trends Driving Growth and Ad Spending
Another contributing factor to the growth of programmatic advertising is the rollout of 5G, or fifth generation network. 5G has slowly rolled out in 2019 and will continue to proliferate the market in 2020. 5G will increase speed and move more data, as well as be more responsive and connect to more devices at once. Additionally, latency, or the lag between when a user requests something and views it on the device, will improve with 5G. Since programmatic advertising is an automated process that uses big data and machine learning to run sizable advertising campaigns, it will definitely improve on mobile devices with the help of 5G. According to WARC's Global Ad Trends report, there was strong growth in mobile ad marketing fueled by programmatic trade, with 63% of all digital display ads implemented in 2018 being automated.
Related:
Learn more about 5G's disruption to digital marketing,
here
.
Finally, connected TV (CTV) and over-the-top (OTT) advertising will continue to grow in 2020. CTV refers to any type of TV that connects to the internet to access information beyond regular cable television offerings. OTT content is used on the internet with the support of multisystem operators. According to Telaria, a software platform that manages premium video advertising, 30% of households in the United States aren't reachable through traditional TV; in the next two or three years this percentage could reach 40%. As more people opt for CTVs, marketers must consider OTT and CTV programmatic advertising. In fact, according to an H1 2019 OTT/CTV Supply Chain Intelligence Report, there has been 2x growth in OTT/CTV programmatic ad-supported applications year over year. Considering all of these factors, we predict at least 60% of all digital ad spend will be programmatic by the end of 2020.
Increase in usage of contextual targeting
PREDICTION:
Contextual targeting will increase 30% in 2020.
Due to an increase in data privacy regulations, including the CCPA, or the California Consumer Privacy Act, businesses must rely more on native and contextual advertisements since these types of ads don't rely on cookies or audience data. Contextual advertising involves placing ads using relevant keywords based on what consumers are searching or viewing. For example, when a user visits a page on a website or social media channel, that page's content gets sent to an ad server, then matched with personalized ads for that content or keywords. Personalization is still important for targeted advertising—consumers want ads tailored to their preferences and habits. It's imperative for advertisers to curate relevant content while adhering to regulations. Consequently, more marketers will turn to contextual targeting in 2020.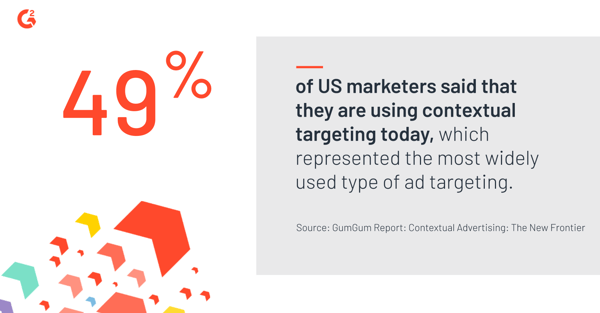 According to a 2018 report published by GumGum, Contextual Advertising: A New Frontier, 49% of marketers in the United States said they are using contextual targeting today, the most widely used type of ad targeting.
Conversely, 46% use demographic targeting, 44% use geolocation targeting, and 25% use behavioral targeting. We should expect these numbers to increase due to more stringent data privacy regulations. Finally, 31% of the brands they surveyed stated that they plan to increase their spend on contextual advertising next year.
Growth in the customer data platform (CDP) market
PREDICTION:
The CDP industry will grow by 45% in 2020.
The customer data platform (CDP) industry continues to grow year over year. In 2019, we witnessed enterprise companies like Salesforce, Adobe, and Oracle announce their own CDP offerings. More CDP vendors have received additional funding this year, including Tealium, Segment, Simon Data, and Amperity. In fact, according to the CDP Institute's semi-annual industry update (the first half of 2019), cumulative funding for the industry grew by $680 million, reflecting funding during the current period and the previous period for vendors entering the industry. Additionally, the industry added 19 vendors and raised $317 million in new capital.
$317 Million was raised in new capital by CDP vendors and 19 new vendors entered the market in the first half of 2019.
There were multiple strategic mergers and acquisitions (M&As) in the CDP industry, including Informatica acquiring AllSight, Dun & Bradstreet acquiring Lattice Engines, Mastercard acquiring SessionM, and RichRelevance consolidating business with Manthan Software. Finally, five CDP vendors made the Deloitte Tech Fast 500 list: mParticle (1752% growth), Lytics (1565% growth), Segment (313% growth), Reltio (311% growth), Tealium (210% growth). Figures are self-reported three-year revenue growth rates. Like contextual ad targeting, we can expect the CDP market to grow due to increases in data privacy regulations. CDP's ability to find and link all data related to consumers will enable businesses to meet GDPR (General Data Protection Regulation) requirements for assembling, sharing, and correcting data.
As machine learning and AI advance, we expect CDPs to expand their capabilities to help marketers analyze and activate customer data. For true personalization, a CDP needs AI and machine learning capabilities. These help marketers create unified customer experiences while optimizing the customer journey and trigger behavior-based messages in real time. Additionally, CDPs powered by AI help marketers determine a customer's lifetime value and which products customers are most likely to buy. Machine learning and AI spot patterns in customer behavior that humans can't, which enables marketers to invest in marketing strategies that yield the greatest ROI, and make precise predictions about future activities.
Increase of experiential and immersive marketing tactics
PREDICTION:
---
The use of extended reality for marketing campaigns will grow by 25% in 2020 to create immersive experiences.
As mentioned in the programmatic advertising trend, the rollout of 5G will have a profound impact on the digital advertising industry, including the use of extended reality for marketing campaigns; this includes augmented reality (AR) and virtual reality (VR). According to a Verizon Media survey, which surveyed advertisers and consumers about how they expect 5G to transform experiences, 85% of consumers believe 5G will benefit AR.
In the past, extended reality has been limited with VR and AR as a result of mobile connectivity issues. Latency is crucial for marketers, however, 4G's latency, at 60 milliseconds, can cause delays in ads. 5G cuts down that time to around four milliseconds. Due to the low latency and bandwidth that 5G can provide, marketers can create immersive consumer experiences through VR and AR. We predict that with these advancements, marketers will use an increased amount of immersive experiences for marketing strategies. Google announced earlier in 2019 that they will add 3D augmented reality (AR) models to its search results.
There are some recent examples of brands using extended reality for marketing campaigns, including Fossil using Unity Technologies, Home Depot and Pottery Barn partnering with Verizon to place 3D items in people's homes, and Amex marketing at Coachella music festival with a shoppable AR feature. According to the IAB, studies show that extended reality increases retention and consideration among consumers when they are offered an XR experience.
Over the next few weeks we will discuss each of these four trends even further and how they will impact the martech and adtech industry.