I recall—and many of us can relate to—picking up X-ray sheets from one doctor and driving them to another so I could have a cast put on.
No one's exactly brilliant in high school (the X-ray sheets were because I broke my foot running haphazardly at summer camp), but the ways we created, stored, and transferred health data weren't brilliant either.
Health care goes digital
The health care industry benefits massively—in provision, management, and research—from the continual march of technological advancement. G2 healthtech analyst Jasmine Lee and I collaborated on a two-part piece focused on the effects of technological progression in health care and health care-adjacent industries. Here, we dive into how the advent of accessible cloud computing has radically overhauled the concept of health care infrastructure, while Jasmine's piece (link below) explores how various technologies improve and streamline workflow, patient-provider interaction, and more.
Learn how cloud-based solutions address inefficiencies and close the gap between facility realities and patient experience in the latest edition of The G2 on MedTech column series.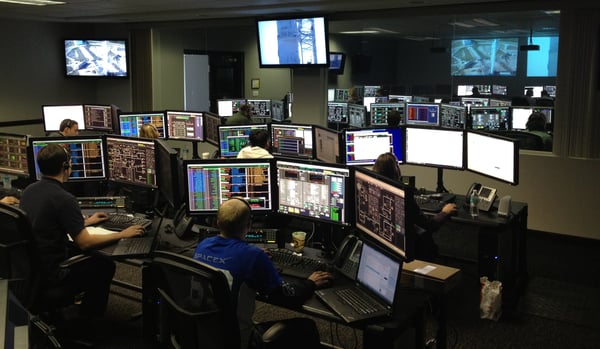 While necessary considering the technologies of the time, file cabinets, patient folders, and faxed health data, aren't pinnacles of efficiency, security, organization, or portability. Cloud computing—particularly, cloud infrastructure—has turned all that on its head.
Cloud adoption's cost
Cloud infrastructure or infrastructure as a service (IaaS) removes the need for on-premises computing hardware and accompanying support; this is incredibly beneficial for providers of all sizes. Building and maintaining an on-premises data center is expensive. Linux Labs estimates the cost of building, running, and maintaining a single data center rack over its lifetime to be $120,000—half of which is upfront capital expenditure (CapEx).
As I've written previously, one of the driving forces behind cloud adoption across industries is the ability to shift away from CapEx into operating expenditure (OpEx). In other words, businesses pay less up front and opt to break up costs over time with a usage-based or subscription-based software model. Health care is no exception.
The health care industry struggles to digitize due to the high cost of building data centers; many providers simply can't keep up. Cloud computing makes digitizing significantly more cost-effective. We've seen a variety of big players in the health care space (e.g., Healthcare.gov and Mayo Clinic) make the shift to cloud recently.
Leveling the playing field
Aside from the financial benefits of cloud infrastructure conversion, a push to the cloud in health care can drastically benefit care provision. From the perspective of small and midsize providers, cloud-driven health care means higher availability and tracking capability for patients, as well as easier data fluidity between providers. Providers can be more attentive during patient visits since they don't have to acquire the same patient information. This improved accessibility and fluidity creates enhanced patient experiences and can improve patient engagement—which is especially important in population health initiatives, where providers must work collaboratively to dispense the best possible care for the entire regional population.
The seamless syncing of patient data is vitally important when transferring provision of care from small to large health centers. Smaller care providers often lack the resources to handle niche or high-intensity cases; the transfer of patient data must happen as quickly and efficiently as possible. Cloud-to-cloud transfer enables the highest quality care in these situations.
Cloud computing infrastructure's scaling and remote connectedness capabilities lend themselves to large health care systems as well. Hospital campuses benefit greatly from centrally available data stores that can scale with a growing patient population. Cloud infrastructure eliminates the need for numerous on-site data centers or server stacks, instead consolidating data on a single private data center or cloud provider(s). Moreover, when moving a patient from office to office or building to building, it's much more efficient for a health system to access centrally, cloud-stored records than it is to transfer paper records with sensitive, possibly incomplete, patient information.
Cloud health care reservations
However, a full shift to cloud infrastructure can leave provider uptime potentially vulnerable. Cloud functionality, by nature, is contingent upon both provider-side and service-side network stability. Cloud service providers (CSPs) need to be up and accessible, and health care providers must have a stable connection to access their programs and data. Keeping a local backup of all necessary data can help combat any uncertainty. It's also important to ensure failover systems are in place. These can take the form of internet service providers (ISPs) or cloud providers; comprehensive municipal broadband offers additional help that ensures local network infrastructure can reliably and affordably deliver consistent, high-speed broadband to a wide variety of health care providers in a city or region.
Interoperability—standardized, efficient information sharing between two or more systems—has been a concern for cloud implementation in health care, due in almost equal parts to legal liabilities and the sensitive nature of health care. Obviously, health information needs to be complete when sent, or health care professionals could otherwise miss key pieces of relevant information. Furthermore, HIPAA, GDPR, and other policies regarding patient data and health information mandate this data must be shared as securely as possible. As cloud usage evolves in the health care space, health organizations are moving to standardize policies and data structures about PHI/PII (protected health information/personally identifiable information) sharing between sites; HL7 is a prime example of this standardization.
It would be remiss to not mention security in this list of concerns. Security is a perpetual issue with information digitalization, especially when working with PHI/PII. Data security must be a priority for health care providers as the world goes digital. Considering the aforementioned data privacy laws continuing to pop up, investing in quality data security is more important than ever. Providers must get ahead of these laws and enact data security measures now. Responsibility for cloud data and cloud security falls on cloud infrastructure users just as much as it does on the CSPs.
Health care shows incredible potential to thrive with cloud infrastructure. Aside from the immediate cost benefits, providers of all sizes can administer faster, more effective, and more comprehensive care aided by the multitude of available cloud computing technologies.